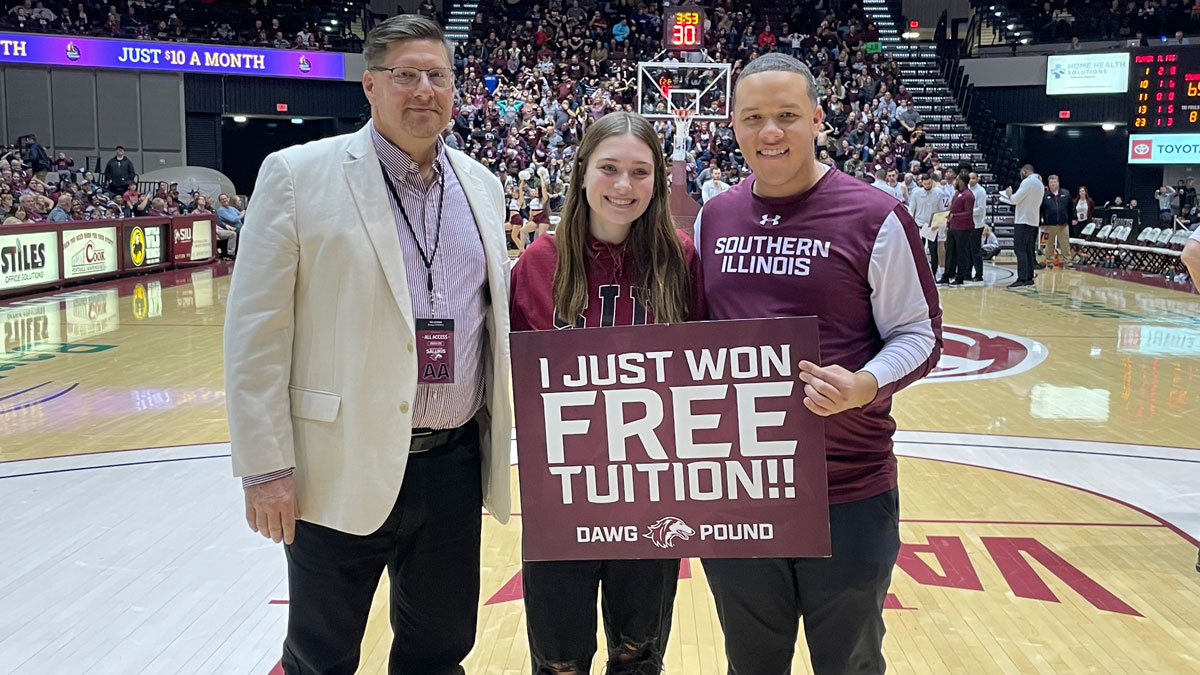 Two SIU students won free tuition for the spring semester during the Saluki men's basketball game against Illinois State on Jan. 14. Brianna Claypool, center, a freshman from Cary, Illinois, is with, from left, SIU Athletics Director Tim Leonard and SIU Dawg Pound President Dylan Chambers. Below, Cole Rushing, right, a junior from Goreville, Illinois, with his mother, Michele, who is a three-degree SIU alumna, also won free tuition for the semester.
January 18, 2023
Two SIU students win free tuition at men's basketball game Jan. 14
CARBONDALE, Ill. — Two Southern Illinois University Carbondale students — a freshman transfer in just her second day on campus and a junior with a legacy connection to the university — each won free tuition for the spring semester during the Saluki men's basketball game against Illinois State on Jan. 14. 
Brianna Claypool, an aviation flight and management major in the School of Aviation from Cary, Illinois, and Cole Rushing, a junior accounting and finance major in the College of Business and Analytics from Goreville, Illinois, each won one semester of free tuition Saturday night at Banterra Center. The Salukis beat Illinois State 69-57. 
"I was incredibly excited and grateful when I realized that I had won the free tuition," said Claypool, who was attending her first Saluki game. "This is a huge blessing and it doesn't seem real." 
Claypool transferred to SIU from McHenry County College in Crystal Lake. She was drawn to the university because of its aviation program and "the nature around it," she said. 
"SIU is a beautiful campus," she said. 
Meanwhile, Rushing, who is a sprinter on the Saluki men's track team, has attended many SIU events through the years. He came to SIU in fall 2021 and is academically a junior while as an athlete he is classified as a sophomore.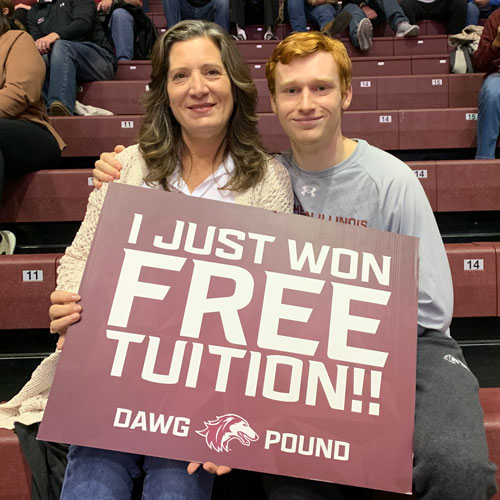 He has attended career fairs, Saluki fan events and numerous College of Business and Analytics events. Rushing is active in several registered student organizations, including the Accounting Society, Beta Alpha Psi and the Business Leadership Council.  He will participate in a summer internship with an accounting firm in St. Louis this summer and plans to obtain an MBA after his undergraduate studies are complete. 
"I am thankful for receiving this scholarship and proud to be a Saluki," said Rushing, whose parents, Michele and Theron, and sister, Sydnee, are all SIU alumni. 
A first-generation college graduate in her family, Michele Rushing is a three-degree alumna, earning bachelor's degrees in accounting and finance and a master's degree in business administration. She also worked nearly 30 years at SIU in a variety of positions before retiring as an assistant dean to what is now the College of Agricultural, Life and Physical Sciences.  She is now working an extra help position at the Student Recreation Center. 
Michele Rushing said she was surprised to have won the legacy scholarship for her son. In addition to her family's SIU-ties, Michele Rushing noted she and her husband have five brothers and sisters who also are SIU alumni and five nieces and nephews who are attending or who have graduated from the university. 
"SIU Carbondale has been good for my family," Michele Rushing said. "Your college education experience is what you make of it, and SIU has so much to offer to those who attend. You could say my family bleeds maroon! We love SIU Carbondale and I look forward to hopefully seeing some grandchildren attend SIU." 
The drawing for free tuition was part of a Saluki Legacy and Student Drawing promotion, open to all students and organized by the Dawg Pound, a registered student organization that supports Saluki athletics. The Jan. 14 drawing was open to the entire student body. 
Another drawing open to all students is set for Feb. 4 when the Saluki women's basketball team hosts Missouri Valley Conference foe Valparaiso in a "Maroon Out" game for fans. The goal is for that game is to have 1,000 students attend, said Dawg Pound President Dylan Chambers, a sports administration major from Metropolis, Illinois.