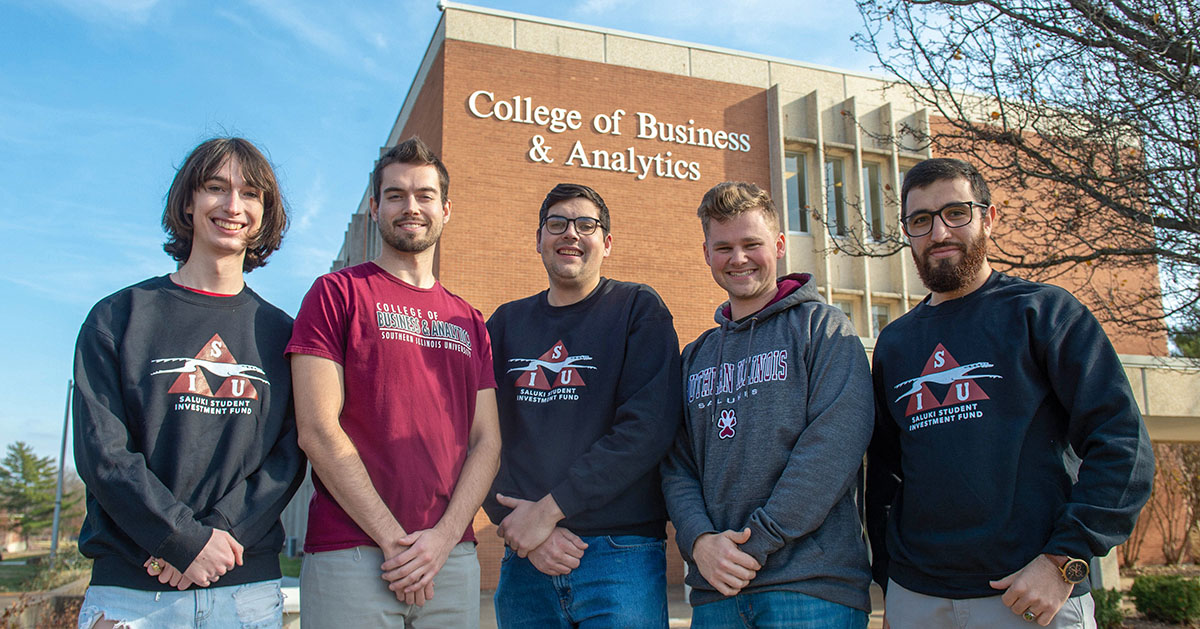 Members of the SIU team that placed 12th in an international trading competition include (from left) Itria Bonansinga, Adrian Veseli, Joe Ragnanese III, Joshua Payne and Shawkat Muslimwal.
January 10, 2023
SIU students finish in top 12 in global trading challenge
CARBONDALE, Ill. — A team of Southern Illinois University Carbondale students bested more than 930 teams in an international trading challenge, earning fourth place in North America and 12th place in the world.
It's the first time, at least in recorded history, that an SIU team has even competed in Bloomberg's Global Trading Challenge to earn the highest virtual profit, and their adviser, Tim Marlo, couldn't be prouder.
"This is an amazing accomplishment, and it shows how well our program does in preparing students to make important financial and investment decisions," said Marlo, clinical associate professor in the School of Analytics, Finance and Economics. "The coolest thing about this is that being in the top 12 in the world really shows SIU has a seat at the table and that our programs put students at the forefront. It's great recognition for the hard work our students do and shows the education and practical experience they get at SIU pays off."
The students say their classes and their role in managing nearly $3.5 million in real SIU Foundation assets in the Saluki Student Investment Fund (SSIF), were instrumental in developing their strategy, maintaining confidence and achieving their goals.
"Without our experience in SSIF, I don't know if we could have succeeded so well in this challenge," said Shawkat Muslimwal, a Fulbright Scholar and master's student in economics from Afghanistan.
Making a big 'profit'
The premise of the Bloomberg Challenge was fairly simple. Each team of three to five students was given $1 million in virtual funds to invest in any of the more than 11,000 stocks listed on the Bloomberg Index. The 946 teams from all over the globe had just four weeks in which to amass the largest profit.
Using Bloomberg terminals on campus, student could make any equity trades they wanted and  amassed a profit of more than $151,800.
"That's a 15% profit, which is really impressive," Marlo said.
Decisions, decisions
Adrian Veseli, an MBA student from Oswego, Illinois, who earned his bachelor's degree in finance at SIU, served as the team's captain. He and his teammates quickly agreed on a strategy that included picking "high-quality companies in the energy sector, since that industry had the best short-term performance, and we did not want to trade against the market. Once we picked the companies, we used technical analysis to create our entry and exit points. This was the main strategy since there was such a short time frame." 
He said the challenge was especially difficult because they could not do short selling, which occurs when a trader borrows shares from a broker and immediately sells them with the expectation that the share price will fall. If it does, the trader can buy the shares back at the lower price, return them to the broker, and keep the difference, minus any loan interest, as profit.
"The best part of the challenge was exiting our trades when they hit our profit target. It was exciting to see the realized profit we made compared to the benchmark, and it is a great feeling when you see that your predictions are correct."
Muslimwal said his strategy was to consider the macroeconomic situation in the world and its potential short-term impact on the stock market, both in the United States and globally.
"Combined with the overall strategy of our team, we considered the U.S. elections, the energy crisis in Europe and the OPEC decisions on oil production," Muslimwal said. 
"We knew that it was an all or nothing situation where we wanted to win, and in order to do that, we had to outperform the benchmark and that meant taking more risks and consolidating our investments," added Joshua Payne, a senior finance major from Carbondale, Illinois.
"I am proud of our performance, and I am humbled to have been a part of this effort. Students learn managing stressful challenges and making decisions in hard times." 
Itria Bonansinga, a senior mathematics major from Springfield, Illinois, said the most difficult aspect of the challenge was determining strategy as leaderboards were posted each Monday. They wanted to make sure they didn't "play too aggressively or conservatively in order to not jeopardize the good standing we had obtained so far."
She's proud to note that one of the stocks she chose did extremely well, climbing nearly 30% in value.
"Seeing that was a really fun moment," Bonansinga said. "I think this challenge illustrates the value of trying your hardest, even if you aren't very confident in your abilities. I joined this challenge fairly unconfident in my abilities to pick a winning stock, but by performing my due diligence, I greatly benefitted the team."
SIU's classes and hands-on experience
Marlo, the team's adviser, noted that the College of Business and Analytics is home to the Burnell D. Kraft Trading Floor, featuring 12 state-of-the-art Bloomberg terminals that provide a wide array of market quotes, financial analyses and information in equity, fixed-income, money markets, derivatives and foreign exchange markets around the world.
"Very few, if any, universities have that many Bloomberg licenses, and even most investment companies don't," he said. "This enables our students to successfully handle real-time investments and trading. That experience and expertise is something prospective employers value immensely. This challenge demonstrated the Salukis' knowledge."
Muslimwal said the insights he learned in macroeconomics and security valuation classes helped him immensely, along with participating in SSIF, which has produced an average annualized return of 11.3% for the past 20 years.
"That's pretty awesome," Marlo said. "The S&P 400 Benchmark is 10.4% so we're breaking that by nearly a full percentage point. That amount matters in the real world of finance!"
Veseli credits SSIF with instilling a curiosity in him to explore the world of trading along with the skills to enable him to screen for new stocks and determine if they were financially healthy.
Payne said his classes and SSIF helped prepare him for the challenge, even though SSIF is about long-term investing rather than making a quick profit.
"A lot of the techniques transferred over, though," he said, "like the process of finding companies with healthy fundamentals."
Future goals
Joe Ragnanese III, an MBA student from Wood Dale, Illinois, who is also an assistant instructor in the School of Automotive, was also a member of the Saluki team.
All say their experiences in and out of the classroom at SIU are preparing them for their careers.  
Payne's plans include obtaining a consulting/advising position while also teaching financial literacy in the local community. 
After graduating, Veseli will work in the financial industry, and ultimately, his goal is to start his own fund office.
Muslimwal has secured a business analyst position with NISA Investment Advisors, ranked by Pensions & Investments as the largest liability-driven investment manager in the United States in 2021.
Bonansinga is looking forward to a career in the financial services industry and already has secured a position as a portfolio management group analyst with Hall Capital Partners LLC in San Francisco after she graduates in May.
Traditionally, the job placement rate for SSIF students within a few months after graduation, is nearly 100%, and Marlo and the challenge team members are confident that having this accomplishment on their resumes, will only enhance their employability and opportunities.