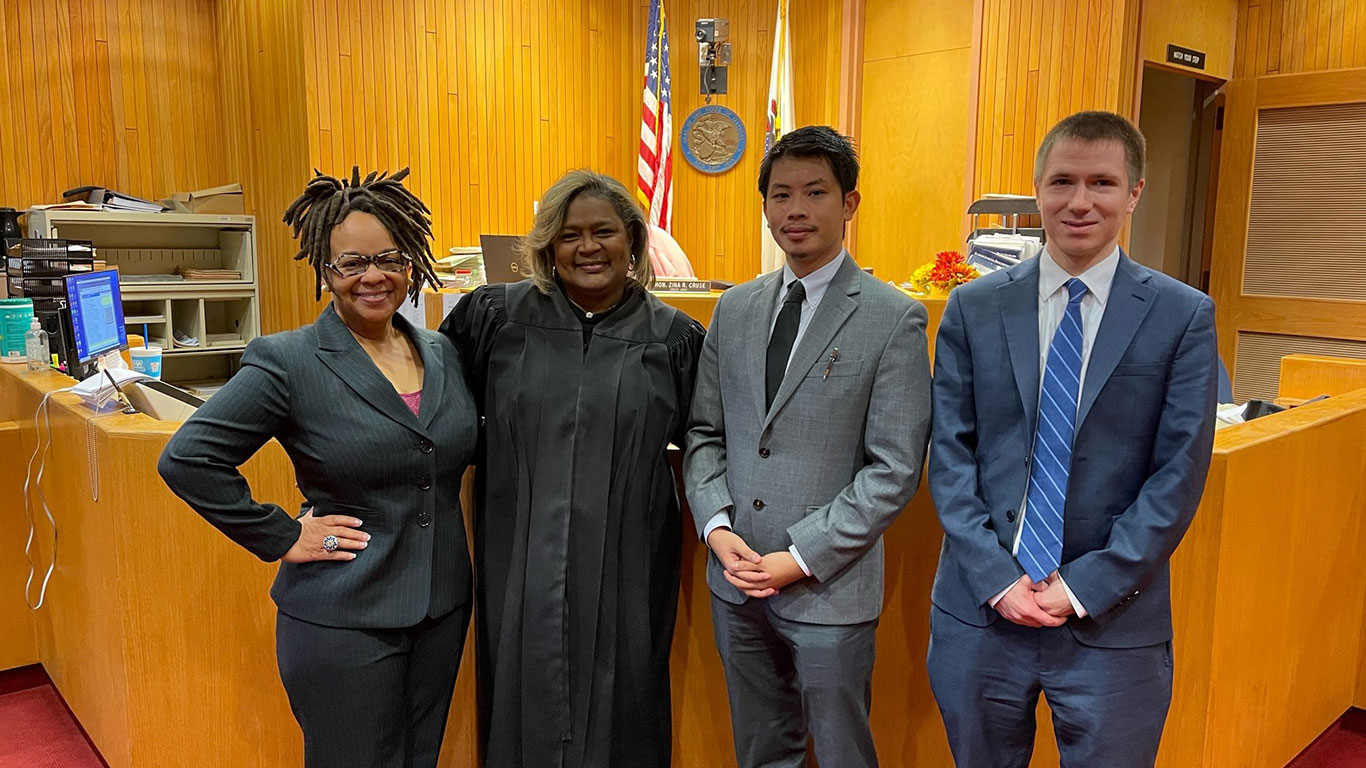 SIU Law students Jordan Blazek-Guinan (gray suit) and David Voss (blue suit) stand with Circuit Court Judge Zina Cruse (black robe) and Shelly Page, SIU Law experiential education director (next to Cruse). (Photos provided)
November 23, 2022
Making the case: SIU Law students get real-life experience in Metro East Criminal Justice Clinic
CARBONDALE, Ill. — Southern Illinois University Carbondale School of Law students David Voss and Jordan Blazek-Guinan are gaining an intimate look into the state's legal system and taking an active role in criminal legal proceedings.
During the inaugural semester of the law school's Metro East Criminal Justice Clinic, Voss and Blazek-Guinan are working in the St. Clair County state's attorney and public defender offices, respectively. The program started in mid-August.
"It is a wonderful program that anyone thinking of pursuing a criminal law career should take," said Blazek-Guinan. "The experience and learning opportunity are invaluable and just short of actually being an attorney for a semester."
Under Supreme Court Rule 711, Voss and Blazek-Guinan, both third-year law students, make court appearances, counsel clients, review evidence, present motions, negotiate plea deals and prepare documents. Both will graduate from law school in May 2023 prior to taking bar exams.
"I was surprised at how quickly my supervising attorneys had me talking to defendants, doing plea bargaining and compliance, on my own," said Voss, who is working in the state's attorney's misdemeanor and traffic division. "I enjoy the challenge of it. I was also pleasantly surprised that they have been giving me cases to argue at trial."
Few law schools offer this experience
Professor Shelly Page, the law school's director of experiential education, noted few law schools in the country offer "these types of immersive experiential learning opportunities. We are unique in this regard and want current and prospective students to know that we will do all we can to make sure that they can receive these kind of experiences."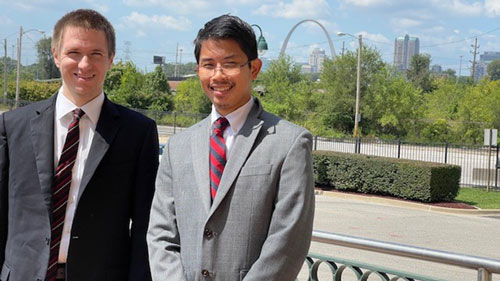 Blazek-Guinan and Voss live on the Southwestern Illinois Justice and Workforce Development Campus in Belleville, the former Lindenwood University campus, which is 6 minutes away from the courthouse. In addition to the 9 credit-hour externship, they both take an online law class in a regular class setting.
Retired 20th Judicial Circuit Judge Annette A. Eckert is one of the program's instructors. Along with experiential learning, Eckert noted the knowledge Blazek-Guinan and Voss are gaining by attending "problem-solving courts" and learning firsthand from judges the alternative ways to handle criminal cases, which allows them to see "the criminal justice system from a wider perspective."
Blazek-Guinan and Voss have done well as evidenced "by the cases that they have been assigned to work on and the amount and complexity of the hearings and trials they have done in each office," Eckert said.
Blazek-Guinan hopes to become a public defender after he graduates from law school and passes the bar exam. The program has helped him network with judges, attorneys and the "unique experience" will enhance his resume.
"Without a doubt the experience has helped me become a better attorney without yet becoming one," said Blazek-Guinan, who hopes to work in Belleville.
Voss, whose goal is to become a state's attorney, said he is open to becoming a public defender and plans to apply in St. Clair, Cook and DuPage counties. The externship provided essential networking opportunities, he said, adding that he has argued one case at trial and was recently preparing for another bench trial.
The most difficult part came when Voss started doing plea bargains on his own. Voss had to quickly learn the standard plea offers for each charge and then use discretion "in deciding when and how it might be appropriate to deviate from the standard offer in each case."
Accommodating, helpful classmates and faculty
Blazek-Guinan, who is from Wilson, North Carolina, before moving to Belleville in October 2021, graduated from the University of North Carolina at Chapel Hill in 2020 with a degree in philosophy. He chose SIU Law because of the cost.
He likes SIU Law's friendly environment.
"The students are very friendly and are not overly competitive," he said. "Rather, the professors are very accommodating, and my classmates are very welcoming and helpful."
Voss spent his childhood in Downers Grove, Illinois, before moving to Michigan and later New York, N.Y. He earned his bachelor's degree in psychology from Michigan State University. He came to SIU because of the scholarship opportunities. He enjoys the camaraderie with his classmates and the "intellectual challenge" he receives from his classes.
"It's tough work, but I feel like I earned the good grade when I get one," he said.
Program support
The law school is in the process of selecting students for the spring 2023 semester.  In announcing the law school's presence in the Metro East area in August, Dean Camille M. Davidson noted the federal and state court opportunities that would be available to students in both Illinois and Missouri. St. Clair and Madison counties have the largest number of attorneys in Illinois outside of the Chicago area, and Davidson pointed out that SIU Law is the only public law school within about two hours of Belleville.
Page said SIU Law has had "unwavering support from the various court agencies, lawyers and judges in the entire Metro East area. We have many additional agencies contacting us to be a part of our 'semester away' program."
Page added the connections the law school established through Eckert have been invaluable, introducing the students to the "problem-solving courts," comprising a teen court, mental health court, domestic violence court, the veterans' and service members' court, and the drug court. The courts take eligible cases and allow the defendants an opportunity to complete specific requirements while in the various programs. The case, along with court costs and fees associated with it, is dismissed if the program is successfully completed.
"These courts give many whom society deems as 'throw-away' people, a second chance at life and a chance to get their lives back on track," Page said. "Our students are able to observe these courts in action in an effort to offer an alternative to sentencing."
The program's success will be measured by gauging how SIU Law students are able to enter the legal field after leaving law school, Page said.
"This program is designed to prepare our students for the real world as lawyers," she said. "We pride ourselves on graduating practice-ready lawyers and this immersive program allows them to get their feet wet prior to becoming attorneys."
Editor's note: Jordan Blazek-Guinan's last name is pronounced Blaze-ick Guy-nun.