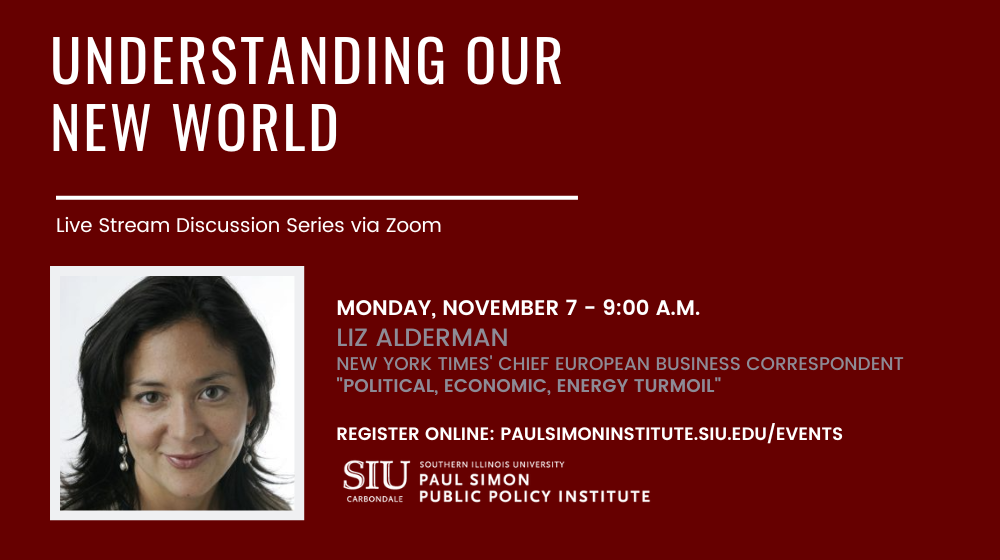 October 31, 2022
SIU's Paul Simon Institute to host New York Times' chief European business correspondent in webinar
CARBONDALE, Ill. — Liz Alderman, the chief European business correspondent for The New York Times, will join the Paul Simon Public Policy Institute for a virtual conversation at 9 a.m. Monday, Nov. 7. 
Alderman will discuss the political, economic and social turmoil cascading across Europe with John Shaw, institute director. 
The event is free and open to the public; registration is required to gain access to the Zoom webinar. Visit paulsimoninstitute.org/events to register. 
"Liz is a highly skilled and deeply experienced reporter whose articles chronicle the remarkable events unfolding in Europe, driven by revolutions in technology, disruptions in politics and Russia's brutal war against Ukraine," Shaw said. 
"Liz's writing about the convergence of politics, war, economics and energy is both important and riveting. Her stories are not about numbers and facts but about the struggles of leaders, governments and individuals trying to navigate their way through a geopolitical storm." 
Alderman began her career covering the U.S. Congress and the Federal Reserve in Washington, D.C. She then moved to Europe, where she served as the Paris bureau chief for BridgeNews, business editor for the International Herald Tribune and assistant business editor for The New York Times. She is now the paper's chief European business correspondent, based in Paris. 
This event is part of the Paul Simon Institute's Understanding Our New World virtual conversation series with government and private sector leaders, policy experts, political analysts, authors and journalists. 
Attendees are encouraged to submit questions for Alderman on their registration form or email questions to paulsimoninstitute@siu.edu.