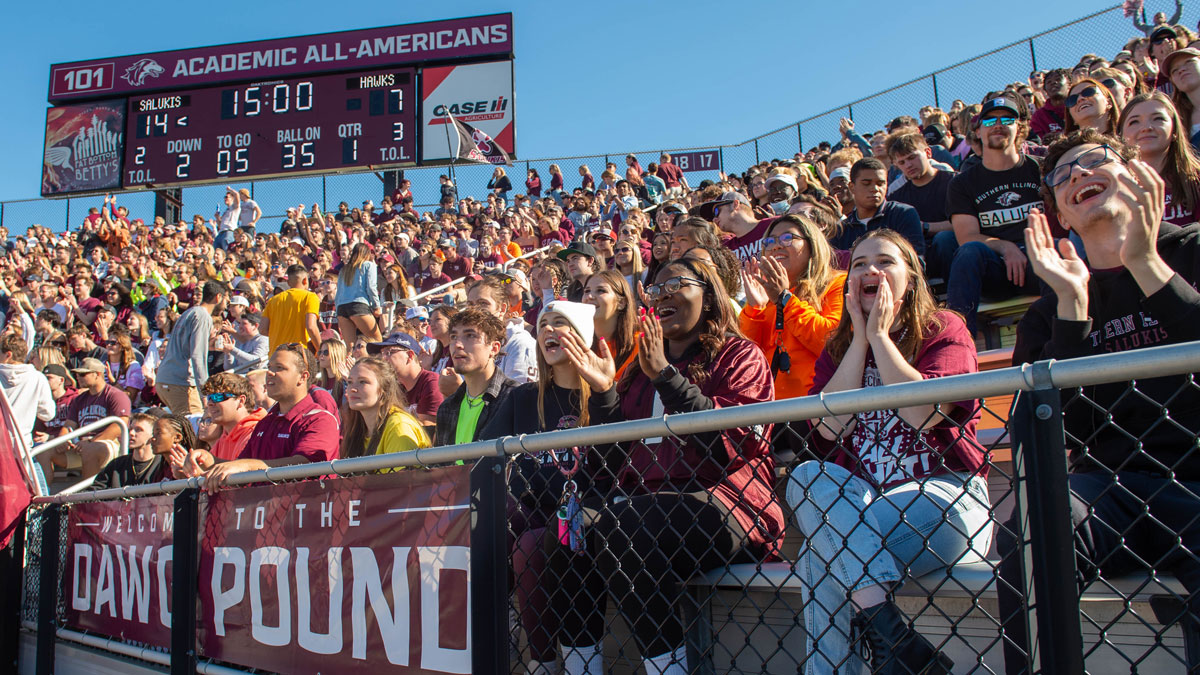 October 06, 2022
Join SIU in celebrating Homecoming Saluki Walk of Fame-style Oct. 10-15
CARBONDALE, Ill. — Homecoming 2022, Oct. 10-15 at Southern Illinois University Carbondale is a Saluki Walk of Fame – an ode to old Hollywood glamour with an added celebration of past and present famous Salukis.
The fun begins on Oct. 10 with the kickoff celebration at Faner Plaza, featuring the midsemester involvement fair showcasing campus student organizations from 5 to 7 p.m. and the big homecoming pep rally at 5:30 p.m. The evening will include the introduction of the homecoming court, a T-shirt giveaway, the homecoming proclamation and free food. Online voting for the court will run from noon Tuesday through noon Friday.
Throughout campus, faculty and staff are getting in the homecoming spirit by participating in the annual door decorating contest. Judging takes place the morning of Oct. 11.
Movie, concert, block party and more
Everyone is welcome at the drive-in movie featuring "Harry Potter and the Sorcerer's Stone," set 7 p.m. Oct. 11 in Lot 56, just south of Saluki Stadium. Those attending can even enjoy free popcorn, drinks and snacks, while supplies last.
A homecoming concert at 7 p.m. Oct. 12 at Shryock Auditorium features headliner Yung Gravy with Terror Reid opening. It's a complete sell-out already.
The big block party, set for 5-8 p.m. Oct. 13, was added to the lineup a few years ago and has proven especially popular with students and alumni. It takes place on Lincoln Drive near Pulliam Hall, and it's free and open to everyone. There will be a caricature artist, photo booth, carnival games, a DJ, food trucks and fun for all ages.
Salukis Care Day, a campuswide event designed to alleviate stress for students and the campus community, will feature a variety of activities from 10 a.m. to 4 p.m. Oct. 14.
Included are a tie-dye T-shirt event, from 11 a.m.to 2 p.m. at the Student Services Building pavilion to raise awareness about breast cancer and bring in funds for the SIU Saluki Strength Breast Cancer Scholarship fund. Anyone may donate $5 to make a tie-dyed shirt.
Also on Friday, the Saluki volleyball team takes on Belmont at 6 p.m. in Davies Gym, and the traditional annual Beta Eta Chapter of Alpha Phi Alpha Fraternity Inc. Homecoming Step Show, featuring step routines by various campus Greek organizations, starts at 6:06 p.m. at Shryock Auditorium. Get tickets in advance online; everyone is welcome to attend.
Parade, tailgating and football
The big homecoming parade, featuring bands, floats, marchers and more, will travel Illinois Avenue onto campus beginning at 10 a.m. on Saturday, Oct. 15.
Charlotte West, longtime SIU athletics coach, administrator, official and Title IX proponent, will be the grand marshal. A 2014 Women's Basketball Hall of Fame inductee, she is the recipient of numerous SIU, Missouri Valley Conference and national honors, and the SIU softball stadium bears her name as does a room in the NCAA national office building in Indianapolis. After the parade, there will be plenty of tailgating fun on Saluki Row.
The late Mike Hanes, the longtime Marching Salukis director, is the posthumous grand marshal. Hanes directed the Salukis from 1965 to 1996 and also served as director of bands until retiring in 2000, but he continued to lead the Marching Saluki alumni band during Homecoming football games and directed the band at SIU's McLeod Summer Playhouse for many years. He passed away this summer at the age of 80.
The Salukis take on Western Illinois in gridiron action at 2 p.m., but you won't want to miss the pre-game festivities inside the stadium. There will be a flyover during the national anthem, about 1:50 p.m., featuring multiple U.S. Air Force A-10 Thunderbolt aircraft with 1999 Saluki aviation alumnus Joshua Rose as the lead pilot. Rose is currently a pilot for Southwest Airlines and an Air National Guard lieutenant colonel for the 122nd Fighter Wing in Fort Wayne, Indiana.
Find the complete schedule of events and more information at homecoming.siu.edu.