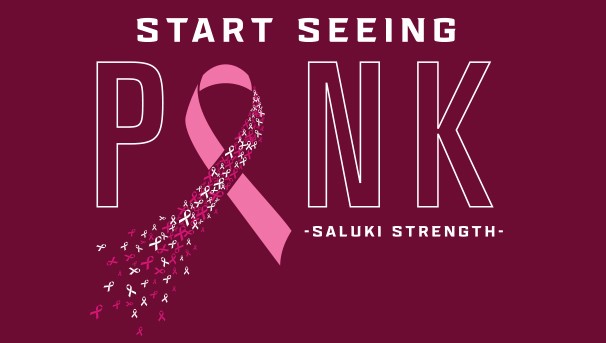 October 04, 2022
SIU's Start Seeing Pink campaign raises awareness, scholarship funds to fight breast cancer
CARBONDALE, Ill. — Southern Illinois University Carbondale is recognizing October as Breast Cancer Awareness Month through a couple of special events, including the sale of Start Seeing Pink apparel, to raise scholarship funds for SIU students affected by the disease.
Order now to help students
The online Start Seeing Pink – Saluki Strength apparel shop is now open, offering a variety of T-shirts and sweatshirts in adult sizes. Online orders will be taken through Oct. 9 and will be available for pickup in the Student Center administrative office on Oct. 19. Shipping is available for a small fee. A limited supply of shirts will also be available for purchase at the Student Center cross halls from 11 a.m. to 1 p.m. on Wednesday, Oct. 5.
All proceeds of the sales go to the SIU Saluki Strength Breast Cancer Fund, which has awarded more than $10,000 in scholarships to students who have been affected by breast cancer in one way or another since its inception.
Learn more about the scholarship and past recipients, or make donations online. 
Tie-dye event Oct. 14
There will also be a tie-dye T-shirt event from 11 a.m. to 2 p.m. Oct. 14 at the Student Services Building pavilion to raise awareness about breast cancer and to bring in funds for the scholarship. For a $5 donation, people can make their own tie-dyed shirt.