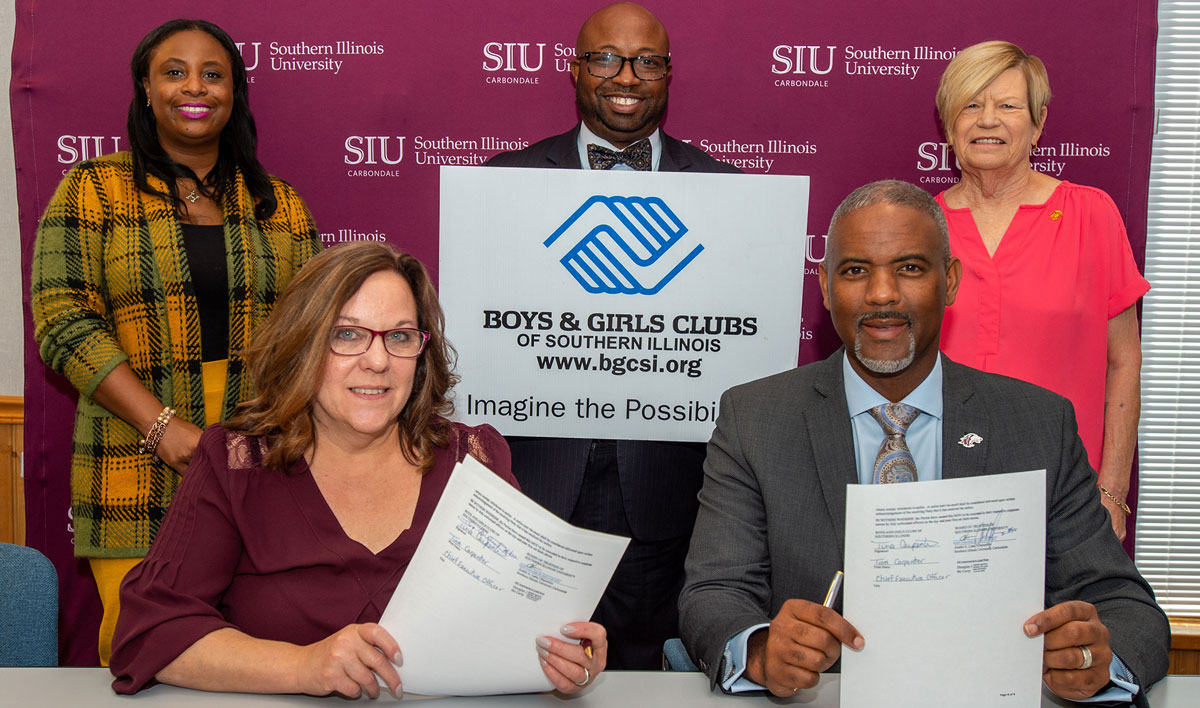 (From left, seated) Boys & Girls Clubs of Southern Illinois CEO Tina Carpenter and SIU Carbondale Chancellor Austin A. Lane celebrate the new agreement between their organizations. Standing are Boys & Girls Clubs board members Sherrica Hunt, director of development for diversity, equity, and inclusion for the SIU Foundation; Jeffery T. Burgin, Jr., SIU's vice chancellor for student affairs, and Kathie Fralish.
October 04, 2022
SIU will provide educational opportunities for Boys & Girls Clubs members in region
CARBONDALE, Ill. — An agreement between Southern Illinois University Carbondale and the Boys & Girls Clubs of Southern Illinois will provide mentoring and educational opportunities, summer camps, potential scholarships and collaboration between the university and the nonprofit organization that typically serves between 700 and 1,800 school-age youths annually.
SIU Chancellor Austin A. Lane and Tina Carpenter, Boys & Girls Clubs of Southern Illinois chief executive officer, today (Oct. 4) signed a memorandum of understanding during an event at BGCSI's administrative offices in Carbondale.
Lane said the agreement fit well with SIU Carbondale's strategic plan, Imagine 2030, and its pillar addressing partnerships.
"We are excited to collaborate with the Boys & Girls Clubs of Southern Illinois and plant the seeds of education at a doctoral university early," he said. "We hope students in our own backyard will imagine their future at SIU Carbondale, whether they are traditional age or BGCSI employees."
Carpenter notes that BGCSI and the university have worked on many partnerships since BGCSI's inception in 2004 through internships, volunteers, employing SIU students, bringing youths to campus and more. Making this a formal partnership "means a commitment to the youth of Southern Illinois and our commitment to the university," she said.
"This agreement gives us greater depth in providing our youth more opportunities and access," she said. "We want our youth and their families to know that they can go to college or gain technical training, and with our partnership, we can help them realize their dreams."
The agreement has numerous partnership areas, including:
Volunteer and internship opportunities.
Saluki Commitment scholarships for BGCSI employees.
A scholarship opportunity for BGCSI's Youth of the Year.
Participation in BGCSI's Passport to Life program.
Summer camp scholarships.
Educational opportunities.
Collaboration on early career assessments.
Potential professional development opportunities for BGCSI staff.
With six sites in Carbondale and Marion, the organization serves youths between 5 and 18 years old. Carpenter said that with SIU, the organization can "provide more opportunities to do whatever it takes to build better futures." When youths build relationships with SIU volunteers and students, they also gain a "firmer grasp" on their own individual possibilities.
"They build relationships with those they look up to and often feel they are out of their reach.  For example, oftentimes when we take youth to campus, many report they have never been and that somehow thought, SIU was in a different city!  The more we expose them to SIU, the more they can, again, realize their full potential and dreams," she said.
This is SIU's eighth agreement since 2021 with a school district or youth organization. Other recent partners include Carbondale Elementary School District No. 95, Girls Inc. of St. Louis, East St. Louis School District 189, Cahokia Unit School District No. 187, Girl Scouts of Southern Illinois, and Scouts BSA Greater St. Louis Area Council and Lincoln Heritage Council.