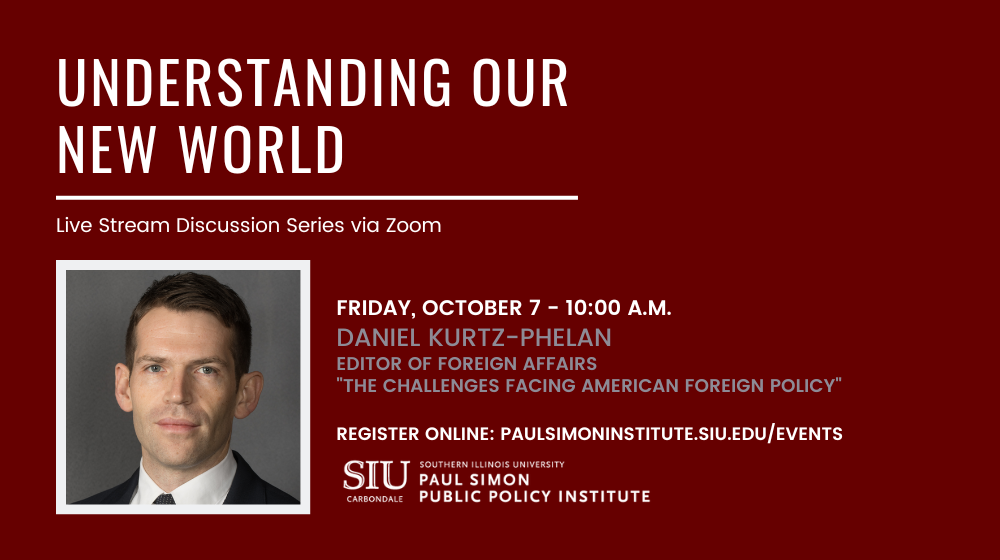 September 28, 2022
SIU's Paul Simon Institute to host Foreign Affairs editor in virtual discussion
CARBONDALE, Ill. — Daniel Kurtz-Phelan, an author, former U.S. Department of State speechwriter, and editor of the journal Foreign Affairs, will join the Paul Simon Public Policy Institute for a virtual conversation at 10 a.m. Friday, Oct. 7.
Kurtz-Phelan and John Shaw, institute director, will discuss the global impact of the United States' foreign affairs policies, Kurtz-Phelan's career in diplomacy and journalism, and his book, "The China Mission: George Marshall's Unfinished War. 1945-1947."
The event is free and open to the public; registration is required to gain access to the Zoom webinar. Visit paulsimoninstitute.org/events to register.
A graduate of Yale University, Kurtz-Phelan served in the State Department as both a speechwriter and in the agency's policy planning office. He was the executive editor of Foreign Affairs journal prior to being named editor in 2020.
"Foreign Affairs is the most important international affairs journal in the world and has been for virtually all of its 100-year history," Shaw said. "It has published some of the most important foreign policy essays in American history and has played an important role in shaping how Americans think about the world.
"Kurtz-Phelan is a skilled writer and editor. His book, 'The China Mission' provides an important and original perspective on one of America's great solider-diplomats, George Marshall."
This event is part of the Paul Simon Public Policy Institute's Understanding Our New World virtual conversation series with government and private sector leaders, policy experts, political analysts, authors and journalists.
Attendees are encouraged to submit questions for Kurtz-Phelan on their registration form or email questions to paulsimoninstitute@siu.edu.