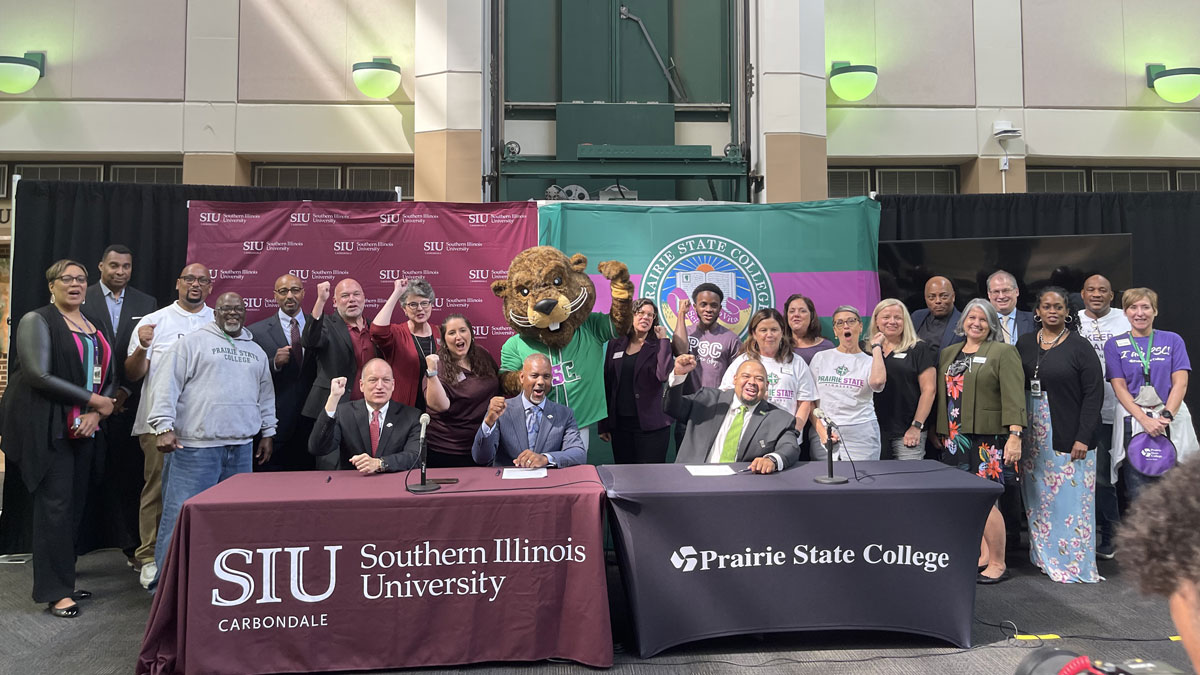 Saluki Step Ahead expands: Saluki Step Ahead gained two more members on Friday, Sept. 16, with agreements with the College of DuPage and Prairie State College. At Prairie State in Chicago Heights, (seated from left) SIU System President Dan Mahony, SIU Carbondale Chancellor Austin A. Lane and Prairie State College President Michael Anthony, along officials from both institutions, cheer "Go Pioneers! Go Dawgs!" (Photo provided)
September 16, 2022
SIU Carbondale inks agreements to improve access for Prairie State, College of DuPage students
CARBONDALE, Ill. — Southern Illinois University Carbondale strengthened its commitment to students in the Chicagoland area with agreements to bring the expertise of a doctoral research university to qualified community college students by providing the option to earn their bachelor's degrees remotely and at a lower cost in nine academic programs.
SIU Chancellor Austin A. Lane today (Sept. 16) signed agreements with Prairie State College and the College of DuPage to participate in Saluki Step Ahead. Established in 2021, the program enables students who graduate with an associate degree from the community colleges to complete their SIU bachelor's degrees online in accounting, business administration, criminology and criminal justice, early childhood, elementary education, health care management, nursing (RN to BSN), psychology and radiologic sciences. Nursing, early childhood and elementary education were recently added to the academic program offerings.
The signing ceremonies, which occurred during Saluki Takeover Tour: Chicago, are part of SIU Carbondale's commitment to provide Chicagoland students an affordable, high-quality college education at a university with high research activity. Other initiatives include partnering with Hope Chicago, which provides a debt-free education to students of five Chicago high schools and one of their parents, and closing financial gaps in tuition for Illinois residents who qualify with the Saluki Commitment and Saluki Transfer Commitment.
Lane said the latest Saluki Step Ahead agreements fit well with the university's strategic plan, Imagine 2030, and its pillars of student success and partnerships.
"We are proud of the first-rate education and unique opportunities Salukis receive on our beautiful campus," Lane said. "But we understand not all Chicago students can move to Carbondale to complete their education, so we will bring SIU Carbondale to the Windy City. We are committed to providing access and affordability, removing barriers for all students and opening new pathways for people with limited options."
The new agreements will bring SIU Carbondale to a total of 24 Saluki Step Ahead pacts that the university has with community colleges in Illinois, Missouri and Texas so far, including eight Chicagoland colleges.
Prairie State College is a two-year institution serving Community College District 515 and offers associate degrees, technical and career certificates, and workforce development and community college education programs. Prairie State is the first Illinois community college to guarantee all credits will transfer to other Illinois colleges and universities, an assurance that has grown through the Illinois Articulation Initiative.
"This partnership with Southern Illinois University is the epitome of our tagline, 'Start near. Go far,'" said Prairie State College President Michael Anthony. "Students get the opportunity to start their degree with us and finish online at SIU. We're exhausting our resources to set our students up for success and are thrilled to provide a pathway from PSC Pioneers to SIU Salukis."
The College of DuPage serves approximately 21,000 students each term and is the largest public community college in the state of Illinois. The college grants seven associate degrees and offers more than 170 career and technical certificates in over 50 areas of study.
"College of DuPage is excited for the scope of opportunities made available to our students through the Saluki Step Ahead program," said College of DuPage President Brian Caputo. "This agreement provides an invaluable platform for students to obtain affordable access to education as they pursue an array of academic goals."
Students in the program pay the community college rate for their first two years. In the third and fourth years, they receive an annual $4,000 scholarship. The goal is to allow them to earn their degree for $25,000 or less. For more about Saluki Step Ahead, read the press release announcing the initiative.
---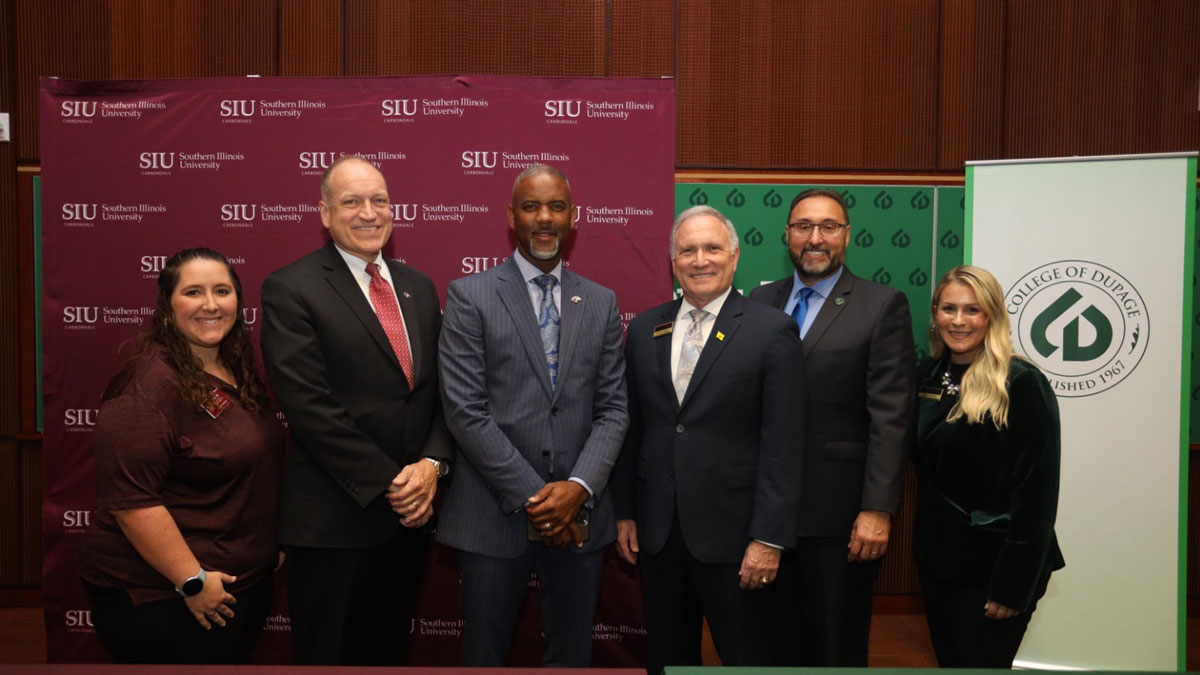 Celebrating the agreement at the College of DuPage in Glen Ellyn are (left to right) Josi Rawls, SIU associate director for transfer relations; SIU System President Dan Mahony; SIU Carbondale Chancellor Austin A. Lane; College of DuPage President Brian Caputo; Mark Curtis-Chavez, COD provost, and Courtney Hatcher, COD coordinator for articulation and partnerships. (Photo provided)
---