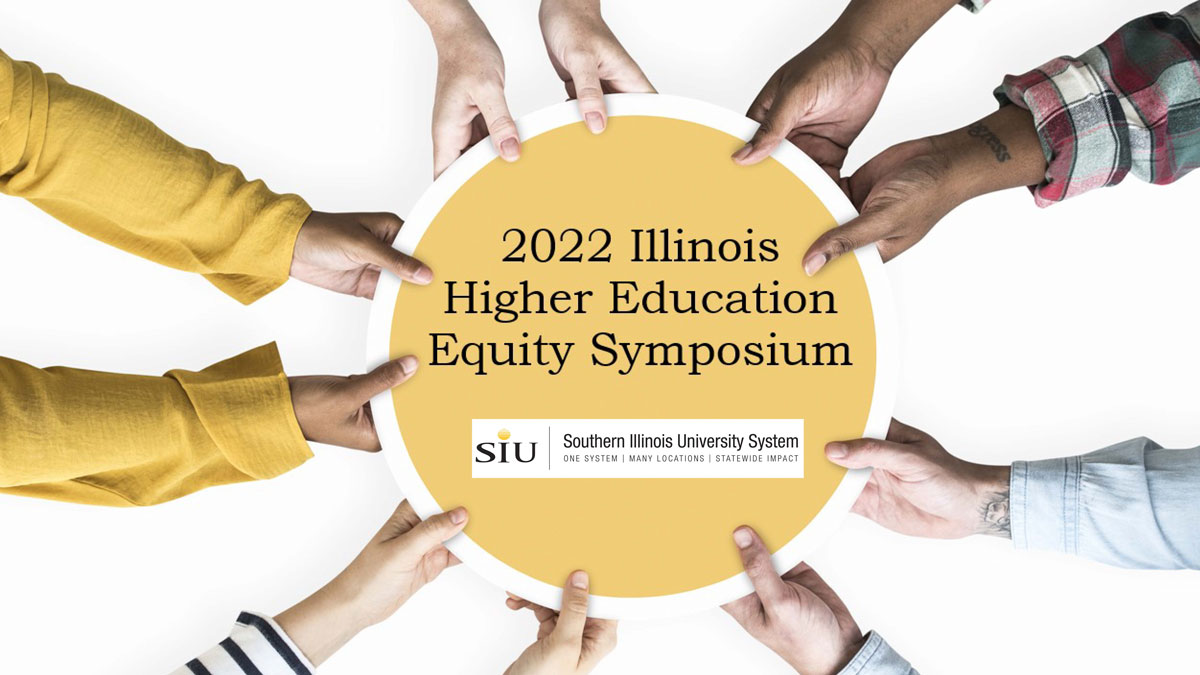 September 13, 2022
Register now for SIU System's Illinois Higher Education Equity Symposium on Oct. 3-4
CARBONDALE, Ill. — Registration is now underway for the Illinois Higher Education Equity Symposium, a two-day event coordinated by Southern Illinois University Carbondale's Conference and Scheduling Services to help promote equity in higher education for all.  
The SIU System-sponsored conference will take place at the Abraham Lincoln Presidential Library and Museum, 212 N. Sixth Street in Springfield, Illinois, from 3-8 p.m. Oct. 3 and from 7:30 a.m. to 3 p.m. Oct. 4. It's a time for educational leaders, legislators and community partners from all over Illinois to gather to learn and study ways to remove roadblocks and expand equity for every student, employee and community member in Illinois.
It was announced today that the Southern Illinois University System received the 2022 Higher Education Excellence in Diversity (HEED) Award from INSIGHT Into Diversity magazine, the oldest and largest diversity-focused higher education publication. SIU was the only system award winner in the country, joining 102 college and university recipients who will be honored in the November 2022 issue of the magazine.
Guest speakers featured
Nia Haydel, vice president for alliance engagement and institutional transformation at Complete College America, will present the keynote address. A native of New Orleans who grew up attending Catholic schools, she saw the differences in educational opportunities and also became a "social justice warrior" after meeting two 1960s civil rights activists. Before her current position, she served in a variety of roles at Dillard University, including dean of University College, and previously held administrative and faculty positions at Georgia State University, Oxford of Emory University and Texas A&M University.
Also speaking will be Michael Brown Sr. and Cal Brown of The Michael Brown Foundation/Chosen for Change. Michael Brown Jr. lost his life Aug. 9, 2014, at the hands of a police officer in Ferguson, Missouri, and his father established the nonprofit community support and outreach organization to "turn his pain into purpose." 
The agenda also includes discussions about equitable funding and HB5464, which became Illinois law in June to assure affordable and equitable higher education by requiring public state universities and community colleges to develop and implement equity plans and practices. There will be time for networking as well.
Sign up now
Register online now for the symposium, sign up by calling Conference and Scheduling Services at 618-536-7751 or fax the completed registration form to 618-453-5680. The cost is $300, and registration is limited to 200 people.
Hotel blocks are also available at the Crowne Plaza and the SpringHill Suites Springfield Southwest. Reduced prices are available at the Crowne Plaza site through Sept. 19 using the code IL Higher Education Equity Symposium.
Find complete details about the symposium at conferenceservices.siu.edu/conferences/illinois-higher-education-equity-symposium.php.