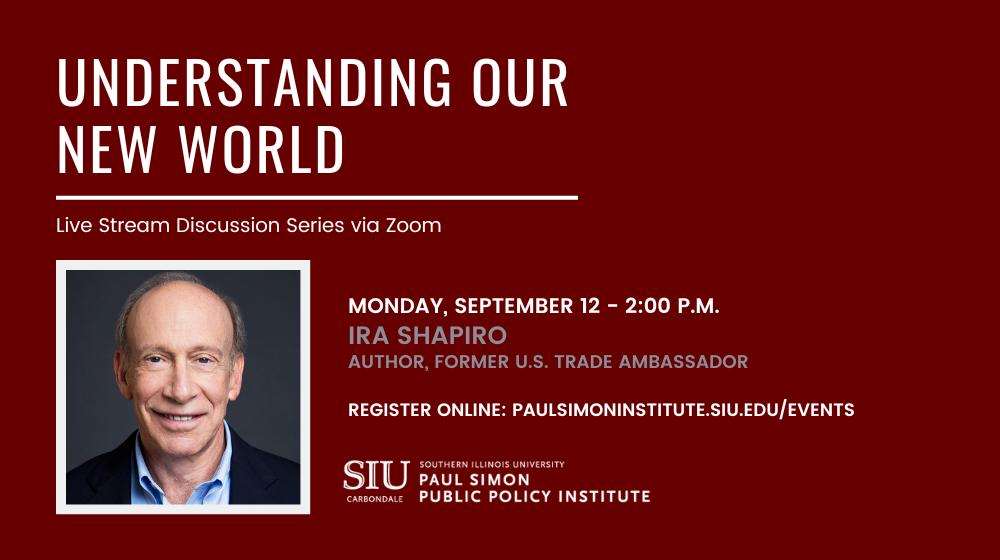 September 07, 2022
U.S. Senate expert to discuss 2022 midterm elections and future of the Senate
CARBONDALE, Ill. – Ira Shapiro, an author, former senior Senate staffer and former U.S. trade ambassador, will join the Paul Simon Public Policy Institute for a virtual conversation at 2 p.m. Monday, Sept. 12.
Shapiro and John Shaw, institute director, will discuss Shapiro's three recent books on the U.S. Senate and will assess how the upper chamber could be changed by this November's midterm elections. The event is free and open to the public; registration is required to gain access to the Zoom webinar. Visit paulsimoninstitute.org/events to register.
"Ira Shapiro is one of the nation's most respected experts on the United States Senate," Shaw said. "His writings and lectures on the Senate and on American politics are provocative, stimulating and sometimes controversial. We look forward to learning his assessment of how the 2022 midterm elections might affect the Senate."     
Shapiro's three books explore 60 years of Senate history. He was a senior Senate staffer for several years, then shifted his focus to practicing law in international trade. He advised the Bill Clinton and Al Gore presidential campaigns. Shapiro served in the Clinton administration as general counsel to the Office of the U.S. Trade Representative and became the chief U.S. trade negotiator with Japan and Canada, earning the rank of ambassador.
His first book about the Senate, "The Last Great Senate: Courage and Statesmanship in Times of Crisis," focused on the Senate in the 1960s and '70s and was nominated for a Pulitzer Prize. His second, "Broken: Can the Senate Save Itself and the Country?" analyzed the Senate during the early months of the Trump administration. Shapiro's newest book is "The Betrayal: How Mitch McConnell and the Senate Republicans Abandoned America."
This event is part of the Paul Simon Public Policy Institute's Understanding Our New World virtual conversation series with government and private sector leaders, policy experts, political analysts, authors and journalists.
Attendees are encouraged to submit questions for Shapiro on their registration form or email questions to paulsimoninstitute@siu.edu.