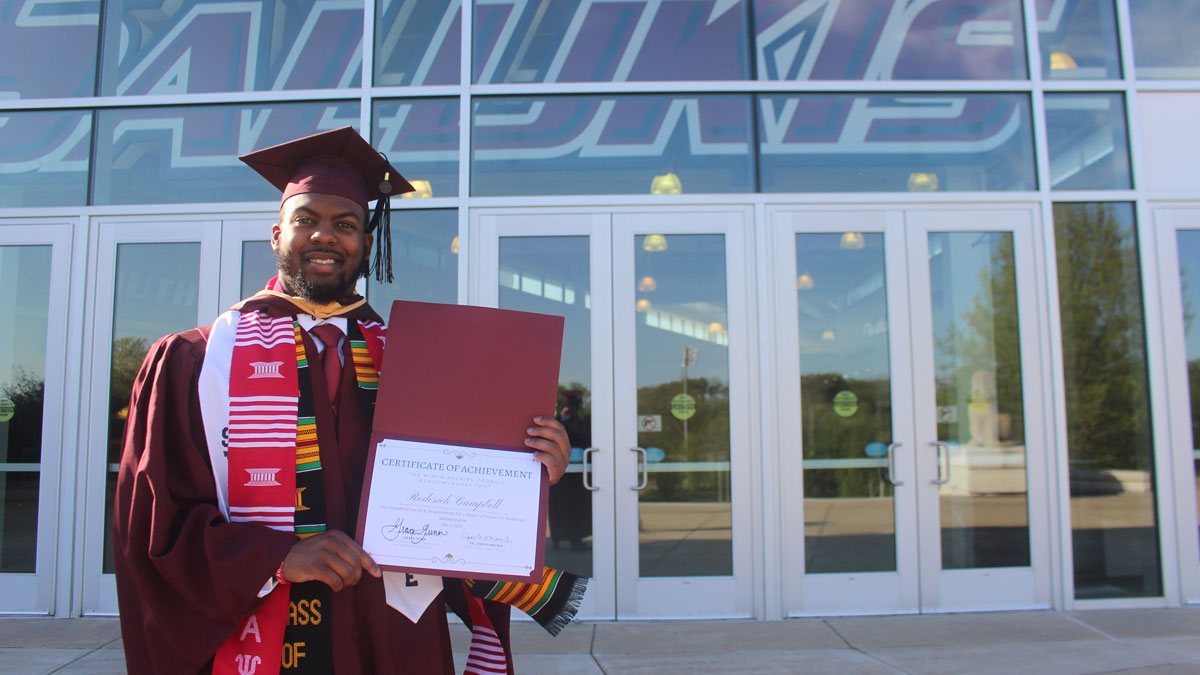 August 23, 2022
SIU grad seeks to improve ties between Black communities, health care industry
CARBONDALE, Ill. — The dicey relationship between many members of the Black community and the health care industry distresses Roderick Campbell, but after completing his master's degree in health administration at Southern Illinois University Carbondale this summer, he's determined to bring the parties together.
The St. Louis native has already made a habit of serving others, and he's scored a prestigious administrative fellowship at the Baylor College of Medicine in Houston that he's confident is building on his SIU experience to help him lay the groundwork for his goal.  
"There is a longstanding distrust between the Black community and the health care community, with reason, and I believe as a Black man in the health care industry I can be a catalyst for change on the business side of health care," Roderick said. "I want to help bridge the gap of health inequities in underserved communities, especially Black communities, by educating people about the health care system and building trust toward the medical industry. I also hope I can pave the way for what Black children can aspire to be, not just athletes and musicians."
His efforts both in and out of the classroom have already garnered the attention and acclaim of faculty, administrators and others at SIU.
"The amount of service this young man has given to the community is remarkable," said Sandra Collins, health care management program director, professor and distinguished faculty member. "He's an all-star student with a lot of potential in the health care field. He's going to change the world. He's got this ease about him that is amazing. The things he would write on assignments – it's just a gut feeling that something significant is going to come from this young man. He wants to bridge the trust gap minority populations have with health care providers, and I'm confident that he can help do that."
Energy and people drew him in
After a successful academic and athletic career at Chaminade College Prep and at Northwestern University, where he earned his bachelor's degree in health communications with a minor in African American studies, Campbell began searching for the next steppingstone. He sought a university where he could continue his football career, but more importantly, wanted a place with a top-quality Master of Healthcare Administration program. 
"I realized I wanted to do more on the business side of health care, and when I met Dr. Sandra Collins and other faculty and the coaches on campus, they really made an impression on me," Campbell said. "I could see the tradition of excellence and wanted to be part of it."
He also loved the "energy and authenticity" he found at SIU. A bonus was SIU's location, just a couple of hours from his hometown so that friends and family could watch him in action as a Saluki cornerback.
"I'm so glad I chose SIU," he said. "I'm grateful for my time at SIU. I learned a lot and met a lot of great people."
Dedicated to service
Campbell arrived on campus in the midst of the COVID-19 pandemic, and one of his first goals was to let the coaches, faculty and fellow Salukis "know where I was coming from and what I am passionate about, and that is bringing people together."
At SIU, he helped found Saluki Unity, a student organization aimed at connecting people and engaging with the community. He recruited other athletes and students from across campus to participate and served as president of the Black Student Union, which is part of Saluki United.
He was also active in Kappa Alpha Psi Fraternity Inc., where his volunteer work and community service included cleaning up roadways, helping with food drives and assisting with holiday gift baskets by collecting items, wrapping and packing. He and other members of the Saluki gridiron group conducted holiday toy drives and performed other community service projects.
Campbell was part SIU's "Conversation of Understanding" that focused on race and athletics during the spring of 2021, during which he joined SIU System President Dan Mahoney and a variety of coaches, SIU administrators and others. The panel discussion can still be seen on YouTube.
"I'm always looking for opportunities to serve. I really want to make a difference in the world," Campbell said. "These activities really have a big impact on me, too, so no matter where I go in life, I'll search for ways to help others."
Award-winning collegiate years
Along with his community service activities and playing two seasons on the Saluki football team, thanks to the extensions the NCAA granted due to COVID-19, Campbell also excelled in the classroom and his chosen field.
He has won the Mid-America Healthcare Executives Forum graduate student recognition award for the SIU Health Administration Program, netted a health care practice internship with WittKieffer (a global executive search and advisory firm in Oak Brook) and attended the American College of Healthcare Executives conference in Chicago.
Campbell said it's important and beneficial for him to speak multiple languages as he will encounter diverse populations working in health care, so he worked on his language skills every chance he got. He said he's fairly fluent in French and getting better all the time at Spanish.
Great learning experience
Campbell said he was very excited to receive the very competitive yearlong fellowship at Baylor, which he began in June while finishing his degree.
He credits SIU with doing "a great job preparing me for the didactic portion of the work I'm now doing." He said his studies and activities as a Saluki provided him with the experiences and academic credentials he needed to "get my foot in the door in this ever-changing world of health care."
He likewise believes this fellowship is giving him a chance to hone his organizational and administrative skills as he handles a wide variety of duties. He's also job shadowing various officials with Baylor and said his philosophy is always to "be a sponge," soaking up as much knowledge and on-the-job experience as possible.
He believes this great learning experience will "fast track" him to an executive health care position.
His dream job is to become the CEO of a health care organization.
"I want to make SIU proud," he said.
As his career begins, he will look for health care management occupations that allow him to grow, learn and have a positive impact.
"One of the reasons I got into health care is to help people," Campbell said. "I want to find ways to integrate my career with my higher purpose, serving the community."