July 11, 2022
Media Advisory: SIU prof, former import/export manager, can discuss effects of port labor dispute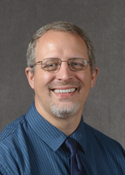 CARBONDALE, Ill. — Gregory D. DeYong, a Southern Illinois University Carbondale associate professor of operations management, is available for interviews about how a labor dispute at West Coast ports could affect the already weakened supply chain, the flagging economy, and increasing inflation rates – and what this could all mean to consumers.
The labor contract covering more than 22,000 port workers at 29 Pacific Coast sites stretching from California to Washington State expired July 1. According to news reports, about 40% of the nation's imports are handled at these ports. Negotiations began in May between the Pacific Maritime Association and the International Longshore and Warehouse Union, but the parties have so far failed to reach an agreement.
DeYong has personal experience as well as professional knowledge of the situation. Before becoming a faculty member, he worked as an import/export manager where he was responsible for importing about $100 million in products annually, with much of it coming through the port at Long Beach, California.
"I am very familiar with delays and labor disputes at that port," DeYong said. "My research and teaching are heavily focused on supply chain management and logistics as well."
DeYong can be reached at gdeyong@business.siu.edu.
At this time, dock workers remain on the job. But when negotiations broke down in 2015, they stopped work for eight days, resulting in product shortages across and country and siphoning an estimated $8 billion from the Southern California economy alone. Then President Barack Obama sent his labor secretary to help establish a new pact in 2016. Subsequently, both sides agreed to a three-year extension of the contract in 2019, and they are now seeking a new contract for the first time since.  
"Despite assurances from port management and the union that work will not be interrupted, the possibility of a slowdown or stoppage is already having an effect," DeYong said. "Some shippers are already routing cargo away from the West Coast, particularly Long Beach/Los Angeles, and that is in turn driving up costs and creating backups at ports elsewhere."