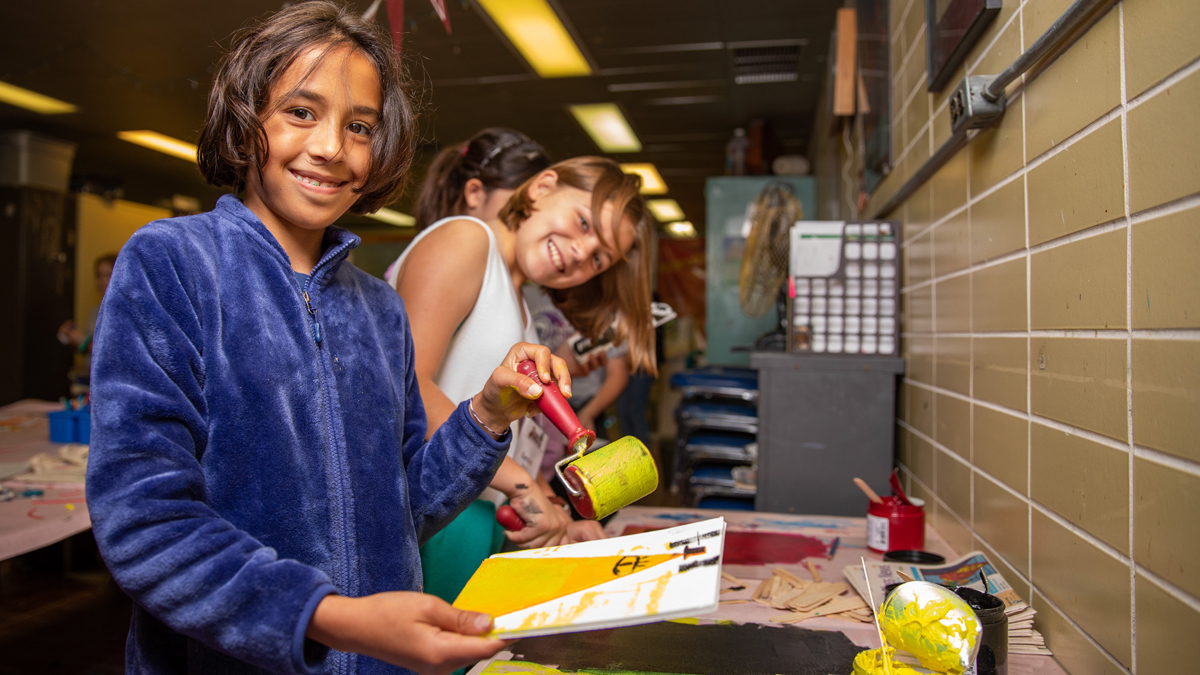 July 07, 2022
Media Advisory: SIU summer camps July 10-23
CARBONDALE, Ill. — Southern Illinois University Carbondale is hosting a wide variety of camps for children and youths of all ages this summer, offering numerous opportunities for reporters, photographers and news crews to capture engaging activity stories, photographs and video.
Several options for capturing good summer camp stories are available July 10-23. Camps include architecture, aviation, outdoor adventure and more.
Media opportunities July 10-16
Middle/High School Architecture – Youths in grades 7-10 will learn about architecture, buildings and design through hands-on activities, walking tours, and computer graphics. You will find them casting colorful concrete block designs in the lot next to the blue barracks at 1075 S. Washington St. from 9:30 to 10 a.m. July 12. You can also join them as they tour the R. Buckminster Fuller and Anne Hewlett Dome Home, located at 407 S. Forest Ave. in Carbondale from 1 to 3:30 p.m. on July 13. Fuller, a renowned architect, inventor and longtime professor at SIU, designed the dome and they resided there from 1960 to 1971. Contact Jon Davey at 618-453-1108 or jdavey@siu.edu or Rebecca Dycus at 618-559-1047.
Gamification Camp – Junior high and high school students will learn about incorporating virtual reality, artificial intelligence, augmented reality and podcasting together to gamify their stories and bring education together with virtual reality headsets, a podcasting booth and other technology July 10-15. You can join them throughout the week in the Digital Humanities Lab in Morris Library with each morning session beginning at 9 a.m. and each afternoon session at 12:30 p.m.:

Career Exploration Simulators on Oculus Quest, a presentation by ManTraCon at in the morning and "Constructed and Alien Languages" in the afternoon with Jeffrey Punske, associate professor and director of undergraduate studies in linguistics.
Exploring games that teach coding and coding logic Tuesday morning and "Choose Your Own Adventure PowerPoint" that afternoon with Craig Engstrom, associate professor of business and director of undergraduate studies in Communication Studies.
Exploring free game engines and dreams and taking a deep dive into the Construct3 game engine at Wednesday morning. That afternoon, campers will check out the world of artificial intelligence as they explore NightCafe and GPT3.
On Thursday morning, join campers as they explore Voyage: AI game creation at or delve into photogrammetry and basic 3D modelling during the afternoon session.
Friday morning participants will be involved with text adventures, choosing their own adventures, visual novels and the visual novel maker. You can see them make their final presentations for the week during the afternoon session.
For more information about Gamification Camp, contact Layla Murphy at layla@siu.edu, Pinckney Benedict at Pinckney@siu.edu, Nora Catalano at 618-201-8246 or Rebecca Dycus at 618-559-1047.
Touch of Nature Outdoor Education Center, located about 8 miles south of Carbondale on Giant City Road, will be hosting one camp this week, added to the camp lineup due to the high demand. Most of the camp activities will be outdoors, and campers will be at various locations throughout the park but members of the medica can either arrange a visit in advance by contacting Sydney Pogue  at 618-453-3952 or sydney.pogue@siu.edu or Brian Croft at 618-453-3954 or bcroft@siu.edu. Or they are welcome to come to the Touch of Nature administrative office during the camp hours and staff will direct them to the location of the campers and ongoing activities.
Here are the details for the camp happening July 11-15.
Adventure Camp:

X-treme Outdoors

, for ages 10-12. Children will enjoy outdoor adventures galore including rock climbing, hiking, the high ropes course, the zip line, kayaking, canoeing, stand-up paddleboarding, swimming and more.
Media options July 17-23
NASA Wings - High school students learn about space communications and navigation systems and how they benefit aviation in this camp presented by SIU's Department of Aviation Management and Flight and the National Aeronautics and Space Administration. Participants will learn about remote communication procedures, global positioning systems, the history of navigation systems and space flight and will fly through the skies. You can capture good stories on two occasions at the Transportation Education Center at the Southern Illinois Airport. At 8:30 a.m. July 19 at the Flight Operations area, campers will be doing preflight inspections and departing for air flights. At 1:30 p.m. July 20 in the Multipurpose Room, participants will be rotating between a variety of engaging activities including operating the flight simulations and constructing containers that will safely cradle eggs when dropped from tall heights. Contact Lorelei Ruiz at lemiller@siu.edu or 618-319-2440 or Steve Goetz at sgoetz@siu.edu or 618-997-5640.
Touch of Nature Outdoor Education Center will host five camps the week of July 18-22 as well.
Conference and Scheduling Services and Touch of Nature Outdoor Education Center coordinate most of the camps while Saluki Athletics and other campus units take care of the rest.