June 09, 2022
SIU to commemorate Juneteenth through arts, partners with community
CARBONDALE, Ill. — Southern Illinois University Carbondale will commemorate Juneteenth by hosting a special exhibition, presentation and reception featuring Nigerian-born artist Adedayo Laoye and his works, along with a gospel sing. SIU is also collaborating with a number of community partners to present a wide variety of events. All of the events are free and open to the public.
---
Media Advisory
Paul Frazier, SIU's vice chancellor of anti-racism, diversity, equity and inclusion, and Charah McKinzie, coordinator of the Black Resource Center, are available to speak to reporters, photographers and news crews about the importance of Juneteenth and other related topics. Frazier can be reached at paul.frazier@siu.edu or 618-453-1186. Contact McKinzie at charah.mckinzie@siu.edu or 618-453-3470.
---
Acclaimed artist
"People, Places and Things: Art Speaks to Life, The Works of Adedayo Laoye," an exhibition featuring the artist's paintings, will be on display at the University Museum in Faner Hall from June 14 to July 30. Laoye will speak at the museum at 5 p.m. Saturday, June 18, with a reception that day set for 4-7 p.m.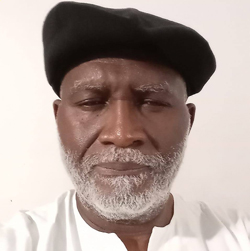 Laoye, an internationally recognized artist, was raised in the Yoruba culture and his striking artwork reflects the inspiration he draws from his upbringing. He was born in Ede into the royal family of Oba Adetoyese Laoye and began drawing at a young age. He studied the arts at Yaba College of Technology in Lagos, Nigeria, and Howard University in Washington.
Now a Chicago resident, he paints primarily still life, portraits and landscapes that explore the themes of African beauty, Yaruba culture and other elements of his life.  
Blended voices
There will be a big gospel sing at 3 p.m. Sunday, June 19, in the Student Center Auditorium. Everyone is invited to join in an afternoon of music.
The University Museum, the Black Resource Center and the Office of the Vice Chancellor of Anti-Racism, Equity, Diversity and Inclusion are sponsoring the events on the SIU campus.
Community events
The Juneteenth community calendar of events also includes:
Monday, June 13, 5 p.m. – March down Main Street from Rock Hill Baptist Church to Woodlawn Cemetery and then returning to Rock Hill via Walnut Street for a program featuring Marlene Rivera and Troupe.
Tuesday, June 14, 6 p.m. – Panel discussion, "The Busine$$ of Ballin'" at the African American Museum of Southern Illinois, located in the University Mall.
Wednesday, June 15, noon – Juneteenth Lunch and Learn at the Carbondale Civic Center with presentations by Anna Jackson, English lecturer at SIU; SIU Carbondale Chancellor Austin Lane; and Lorie Crenshaw Bryant, attorney and director of the SIU Students' Legal Assistance Office.
Thursday, June 16, 7 p.m. – "King Richard" movie showing at the Carbondale Super Block, concessions; grounds open at 7 p.m., and the movie starts at 8 p.m.
Friday, June 17, 3-8 p.m. – Block Party at the Eurma Hayes Center parking lot and Birch Street.
Saturday, June 18 – Parade with lineup at 9:30 a.m. with kickoff at 10 a.m. The parade begins on North Washington Street at Jackson Street, moving to James and Thelma Walker Avenue to Wall Street. Dorothy Lewis, a longtime Carbondale resident, is the grand marshal, and afterward, there will be activities for all in Attucks Park.
Partnering to recognize the Juneteenth holiday are SIU Carbondale, the African American Museum of Southern Illinois, the city of Carbondale, the Carbondale Park District, the Black Chamber of Commerce of Southern Illinois and the Carbondale Branch of the NAACP.