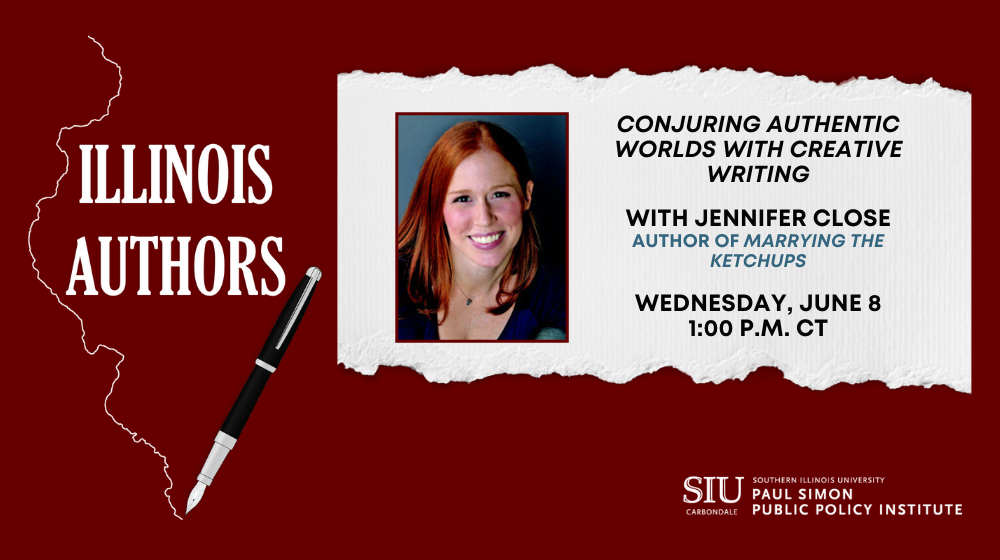 June 01, 2022
Author Jennifer Close to discuss new Chicago-based novel
CARBONDALE, Ill. — Chicago native Jennifer Close will discuss her new book, which takes place in the city, in a virtual event next week hosted by Southern Illinois University Carbondale's Paul Simon Public Policy Institute.
Close will appear as part of the institute's Illinois Authors series at 1 p.m. Wednesday, June 8, via Zoom.
The conversation, titled "Conjuring Authentic Worlds with Creative Writing," will focus on Close's newest release, "Marrying the Ketchups," a comedy that follows a Chicago family as they run a restaurant while contending with life's unexpected changes.
Close and John Shaw, institute director, will also talk about Close's work as a creative writing instructor, as well as her writing process as she creates compelling worlds in her fiction.
"Jennifer Close is a vivid, colorful and gifted writer with penetrating and amusing insights into family dynamics," Shaw said. "She is also a very popular and highly regarded creative writing instructor. We are eager to learn more about her master class on how to write a novel in 12 weeks."
The event is free and open to the public; registration is required at paulsimoninstitute.org/events. Attendees are encouraged to send questions for Close with their registration forms or by email to paulsimoninstitute@siu.edu.
Close's other titles include the best-selling "Girls in White Dresses," "The Smart One," and "The Hopefuls." Close lives in Washington, D.C., and teaches creative writing at Catapult and part-time at George Washington University. She studied at Boston College and got her Master of Fine Arts in creative writing from the New School. She was born and raised on the North Shore of Chicago.
The Paul Simon Public Policy Institute's Illinois Authors series is an opportunity to get to know the writers who bring the Prairie State to life on the page.