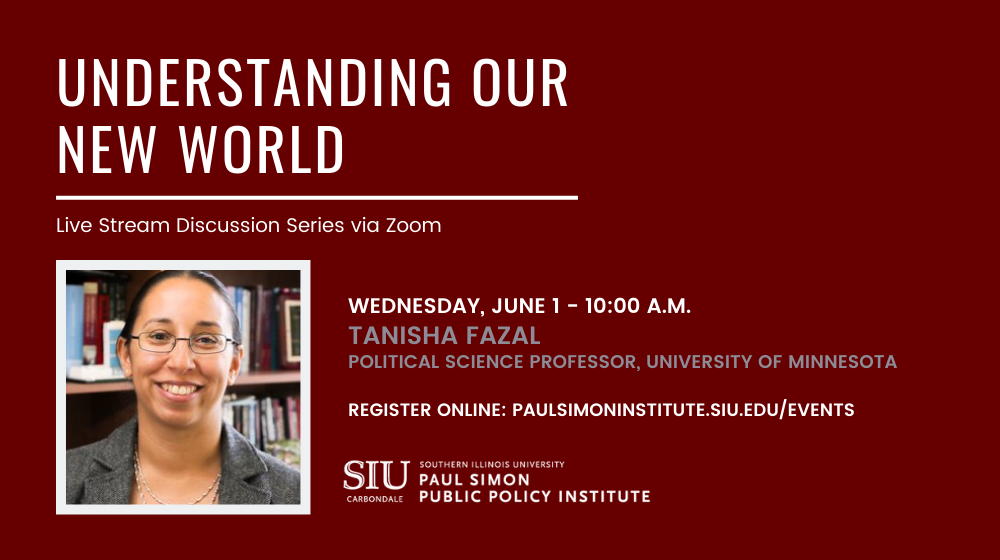 May 26, 2022
Political science professor to discuss global implications of Ukraine war
CARBONDALE, Ill. — Tanisha Fazal, a political science professor at the University of Minnesota, will discuss the global implications of Russia's invasion of Ukraine in a virtual conversation next week hosted by Southern Illinois University Carbondale's Paul Simon Public Policy Institute.
Fazal, who studies armed conflict, will join John Shaw, institute director, for the virtual conversation at 10 a.m. Wednesday, June 1.
Fazal and Shaw will discuss Fazal's Foreign Affairs essay "The Return of Conquest? Why the Future of Global Order Hinges on Ukraine," which explores how Russia's invasion of Ukraine is testing norms regulating international boundaries. They will also discuss Fazal's research on health diplomacy and medical care in conflict zones.
"Professor Fazal is a world-class scholar with remarkably wide-ranging interests and penetrating insights into global affairs," Shaw said. "We are especially eager to learn about her assessment of the war in Ukraine and the status of America's pandemic diplomacy."   
The event is free and open to the public. Registration is required at paulsimoninstitute.org/events. Attendees are encouraged to submit questions with their registration form or send them to paulsimoninstitute@siu.edu.
Fazal has taught political science at the University of Minnesota since 2017. She is a 2021-2023 Andrew Carnegie Fellow, working on a project titled "Military Medicine and the Hidden Costs of War," which considers how improvements to military medicine have impacted the long-term costs of war. She is the author of two books: "Wars of Law: Unintended Consequences in the Regulation of Armed Conflict" and "State Death: The Politics and Geography of Conquest, Occupation, and Annexation."
She previously taught at the University of Notre Dame and Columbia University in New York. She attended Harvard University for her undergraduate degree and earned her doctorate at Stanford.
This event is part of the institute's Understanding Our New World virtual conversation series with government and private sector leaders, policy experts, political analysts, authors and journalists.