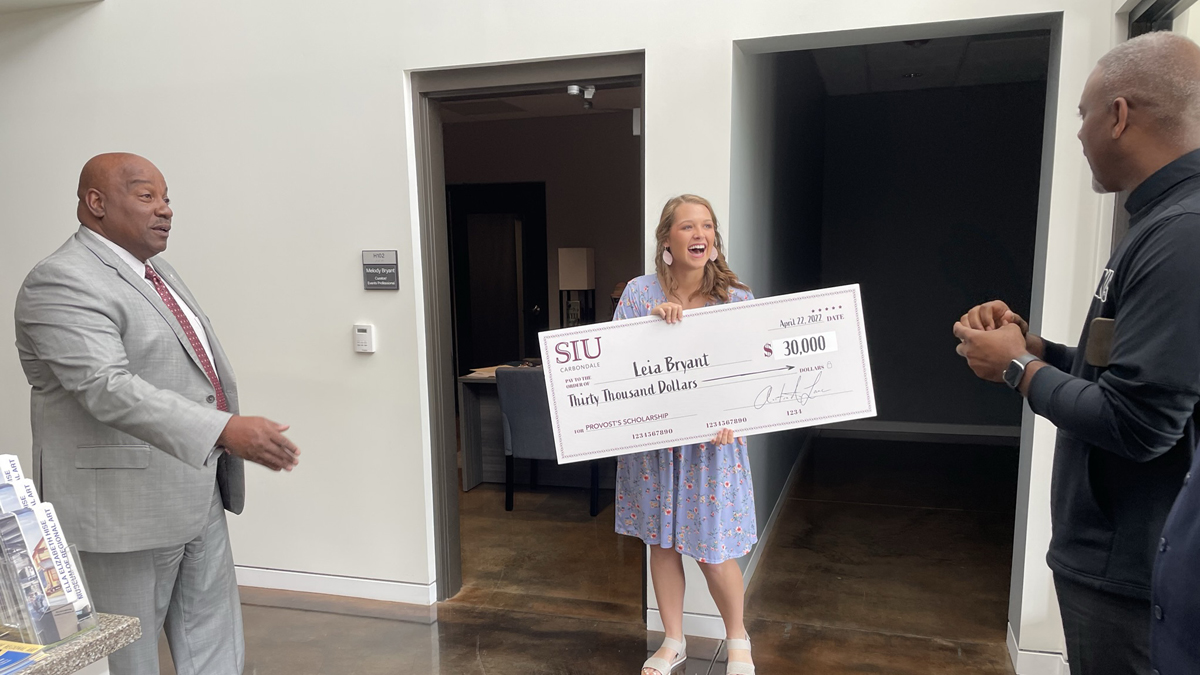 Magical moment: Leia Bryant, a student at Southeastern Illinois College, learns from Chancellor Austin A. Lane, right, and Wendell Williams, associate chancellor of enrollment management, she has received an SIU Carbondale Provost Scholarship. Bryant graduates from SIC this month and will major in English at SIU. (Photo courtesy of Southeastern Illinois College)
May 19, 2022
SIU Carbondale awards Provost's Scholarships to local community college students
CARBONDALE, Ill. — Eleven high achieving community college students from Illinois will be receiving Southern Illinois University Carbondale 2022 Provost's Scholarships, which covers tuition and mandatory fees for two years.
"These high-achieving students are being named Provost's Scholars because of their hard work and their ability to imagine a better future," Chancellor Austin A. Lane said. "I am excited to award our university's highest honor to transfer students in our own backyard and encourage them to continue their education close to home. Scholarships like this fit in well with our Imagine 2030 strategic plan, which includes a pillar for student success and engagement. We look forward to seeing our Provost's Scholars in the fall."
The students selected demonstrate high academic achievement, a strong record of leadership in their communities and participate in numerous extracurricular activities. Four recipients received surprise personal visits from university officials recently. The scholarship is valued at over $30,000. The students, by hometown, name, community college, and primary program major, include:
Galatia: Brooke Jordan, Southeastern Illinois College, criminology and criminal justice.
Jonesboro: Jessica Cates, Shawnee Community College, social work.
Harrisburg: Leia Bryant, Southeastern Illinois College, English.
Murphysboro: Daleece Moore, John A. Logan College, elementary education.
An article about all of the 2022 Chancellor's and Provost's Scholars will be published this fall.