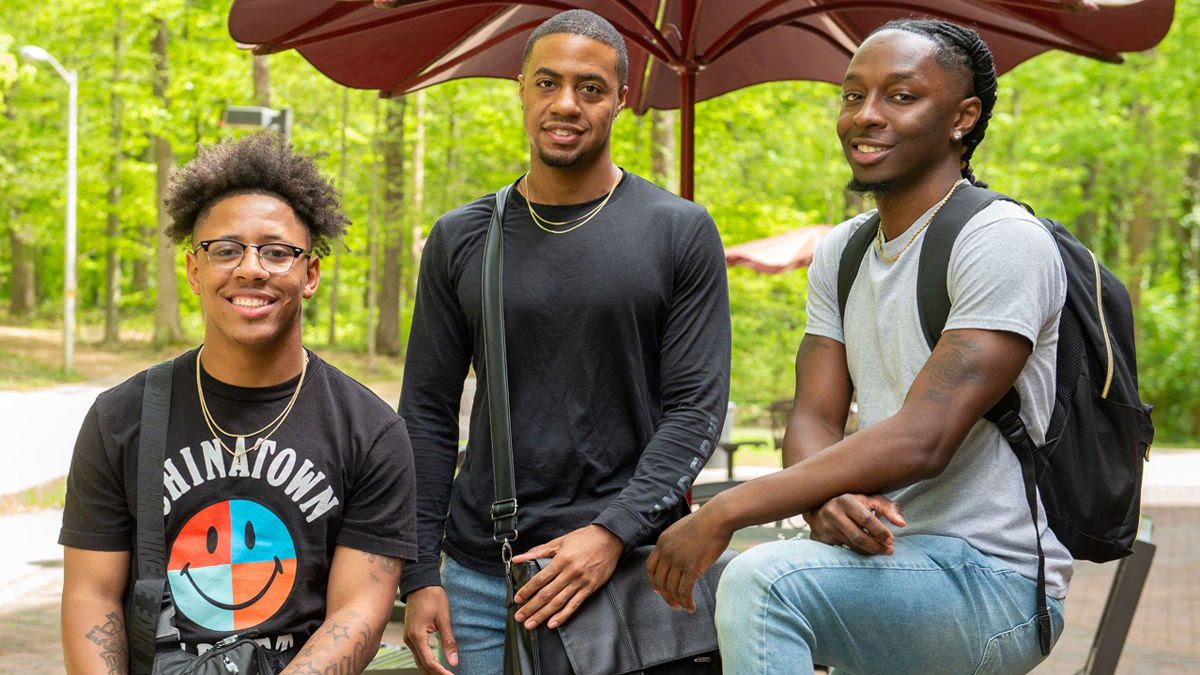 Chicago area cousins (left to right) Marcellous Pollards, Eric Banks and Jarelle "Relle" Shipp will all graduate with their Master of Social Work degrees Saturday at SIU. (Photo by Russell Bailey)
May 05, 2022
Three Chicago area cousins earn SIU Master of Social Work degrees, hope to break stigma for seeking help
CARBONDALE, Ill. — Chicago metropolitan area cousins Eric Banks, Marcellous Pollards and Jarelle "Relle" Shipp will stand out when they receive their Master of Social Work degrees at Southern Illinois University Carbondale's commencement Saturday morning, May 7.
Not only is it rare that three cousins are graduating with the same degree at the same time, but it's unusual that the three have chosen this particular major. According to a 2020 report from the National Association of Social Workers, the Council on Social Work Education and the George Washington University Fitzhugh Mullan Institute for Health Workforce Equity, about 90% of new social workers are women and just over 22% are Black. Thus, a very small percentage are Black men.
They all chose to become social workers specifically to help overcome stereotypes and stigmas though.
"I want to help change the narrative so people know it's OK to seek help," Banks said.
He and his cousins said as young Black men they are well aware of the need many of their peers and others have to appear strong, macho and tough. But he said that even the strongest, toughest people have problems.
"I want to let people know it's all right to get the mental health help they need," Shipp said. "A lot of times people think it's not cool ask for help, especially in some communities, like where we come from. But everybody needs help sometimes."
Elaine Jurkowski, social work professor and graduate program director, said she is proud of the soon-to-be graduates.
"I have had the opportunity to work with these three fine men since they were juniors in our social work program," Jurkowski said. "It has impressed me as to how they have stood by each other and supported each other through both their undergraduate and graduate studies. All three will make a tremendous difference in our field because they are able to reach and touch the lives of young, impressionable boys and men, especially within the school system. I look forward to watching them bloom within their profession."
Pathways converged
The trio say they all chose different routes to reach the destination they'll arrive at on Saturday. Following high school graduation, Banks took some time off to work while Shipp played football for and attended North Park University in Chicago. Pollard went straight from high school to Elgin Community College, where his cousins joined him. Then they began looking for a university to transfer to, and all were impressed with SIU's social work program.
Pollards said he was also looking a place that felt like home.
Shipp liked the location of the university as well as its proximity to his hometown. "It was far from home and close to home," he said.
Banks said as the three began exploring programs and universities it soon became apparent that "SIU chose us."
All three transferred to SIU, where they earned their bachelor's degrees in social work.
Looking after each other
The journey hasn't been easy for any of the three, they are quick to say.
"The hardest part for me has been being a first-generation student, not having a blueprint," Banks said. "I've learned to be proactive and not reactive. And we've really leaned on each other."
Shipp echoed those sentiments saying that the cousins always "had each other's backs. We pushed each other, helped each other and were always there for each other."
Pollards agreed, adding that he's not sure he could have reached his goals without the support of his cousins.
The three also were quick to give a lot of credit to SIU, its faculty and staff, for playing a major role in their success stories.
"I personally thank SIU for welcoming us and say that it's the place that helped us flourish into who we are today," Shipp said.
Pollards said he found an excellent mentor on campus in Joseph Brown, professor in the School of Africana and Multicultural Studies.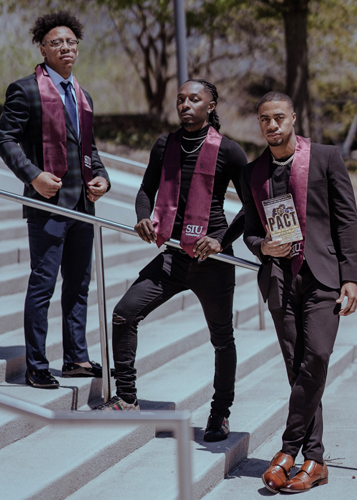 "Father Brown gave me a blueprint to help me find the way," Pollards said. He also expressed appreciation to Steven Gear, a graduate assistant in the undergraduate admissions office and SIU MSW graduate, for helping connect him with the Trauma-Based Behavioral Health Fellowship, offered through the Social Work program with Health Resources and Services Administration funding. Pollards recently complete the intensive fellowship.
"We found support throughout campus," Banks said. "We are proud of our overall experience here. The last time I was home visiting, my mother made a comment that perhaps says it best. We came here as boys and we are leaving as men."
Another layer of support
The three say there's one more critical element in their story – their families and especially their mothers.
"Kudos to their mothers for their unconditional support and membership in 'the mothers' club,'" Jurkowski said.
Dale Banks, Tamika Shipp and Rita Pollards have been "our lifelines," Pollards said. "They can tell instantly when something is wrong. They are always there to help and support us no matter what."
The trio say their mothers have encouraged them to pursue their dreams and never give up and have been there for them every step of their journey, for which they are grateful.
Helping others
In conjunction with their master's degrees, Shipp specialized in mental health while Pollards and Banks specialized in school social work.
Pollards said they are most eager to use their education and experience to help others and believe that their expertise can be especially useful in the Black community.
Banks said he drew inspiration during their long journey from a story not unlike theirs, the 2002 book, "The Pact: Three Young Black Men Make a Promise and Fulfill a Dream." He said the tale of three men who leaned on one another as they pursued advanced education to become doctors rather than get sucked into a life of violence on the streets resonates with him.
After they take the mortarboards from their heads this weekend and celebrate their big accomplishment, the trio will be heading north to enjoy some time with family and friends. Then, they will be striking out in different directions. Banks intends to stay close to home, probably living and working in the Elgin/northwest Chicago suburbs area and likely later moving to downtown Chicago. Shipp plans to move to Texas. Pollards is still exploring his options but will likely land in Arizona or Texas, at least initially.
The cousins have a long-range dream though. After they all get more experience in the field of social work, they would ultimately like to come back together and open their own facility.
"It's something we as a community need," Pollard said. "We want to help people."
---
Media Advisory
Cousins Eric Banks, Marcellous Pollards and Jarelle "Relle" Shipp will all receive their Master of Social Work diplomas during the 9 a.m. commencement ceremonies Saturday at the Banterra Center. Reporters, photographers and news crews are welcome to cover the graduation and the three men will be available for interviews and photographs immediately following commencement. To arrange an interview, email Christi Mathis at cmathis@siu.edu no later than 3 p.m. on Friday.