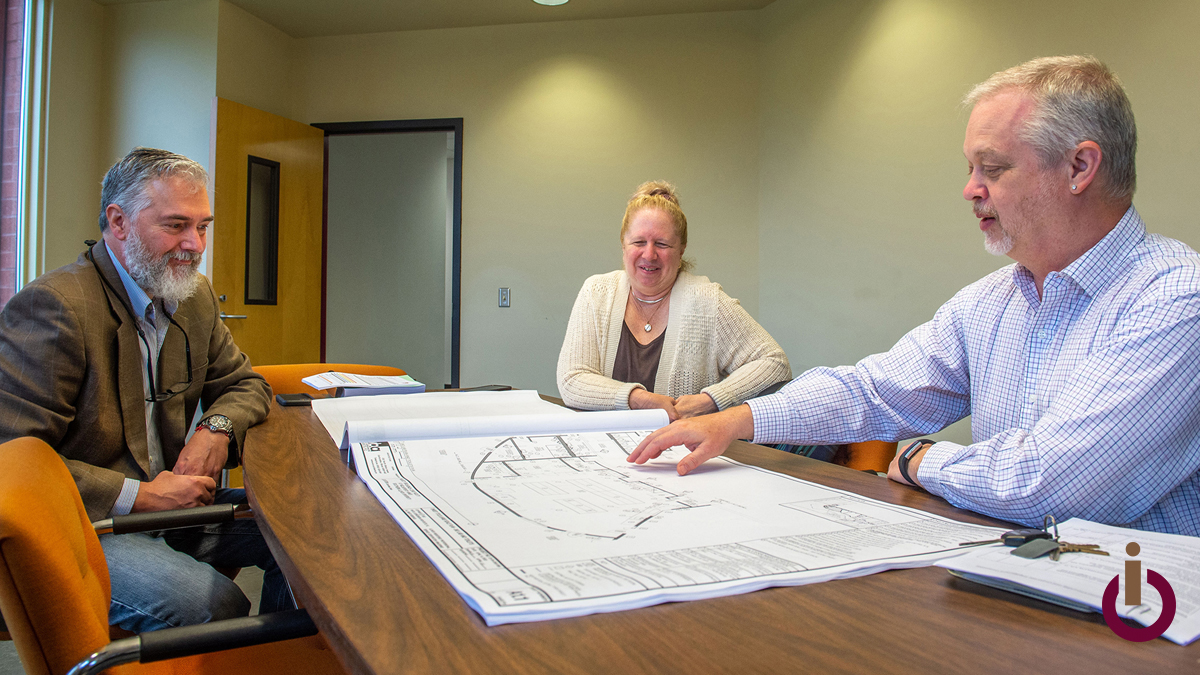 Matt McCarroll, director of the Fermentation Science Institute at Southern Illinois University Carbondale, left, confers with Lynn Andersen Lindberg, executive director of the SIU Research Park, and Gary Kinsel, vice chancellor for research, over architectural plans for the Illinois Food, Entrepreneurship, Research and Manufacturing (iFERM) Hub at McLafferty Annex. (Photo by Russell Bailey)
April 28, 2022
SIU's $13M interdisciplinary food, fermentation and biotech research hub advances
CARBONDALE, Ill. – Southern Illinois University's Board of Trustees today (April 28) approved agreements clearing the way for a new multimillion-dollar interdisciplinary research and economic development hub, capitalizing on SIU Carbondale's research into food, fermentation and biotechnology.
Illinois Food, Entrepreneurship, Research, and Manufacturing (iFERM) Hub will provide a state-of-the-art research and training suite for faculty use, students, start-up companies and private firms in the region. The suite, at the McLafferty Annex on the main campus' far west side, will include a Biotechnology Core Laboratory, an Analytical Core Laboratory, a Business Support Annex and a Value-Added Agriculture Pilot Facility, and will be staffed by current university scientists and researchers.
The project has acquired $6.3 million in grant money from three agencies: Illinois Department of Commerce and Economic Opportunity ($2.7 million), the Illinois Innovation Network ($2.5 million) and the SIU Foundation ($1.1 million). Taken together with several grants from related projects and matching in-kind funds from the university, the project has a total value of $13 million.
The iFERM Hub is aimed at solving food/nutrition, agriculture and health challenges through interdisciplinary research, innovation and education. It also will provide infrastructure for the development of Illinois agriculture value-added products to promote and support successful entrepreneurial activities. It also will benefit SIU students and researchers engaged in such pursuits and enhance public-private partnerships.
"This is a big project that has been in the works for several years as we pulled it together," said Gary Kinsel, vice chancellor for research at SIU Carbondale. "When it is completed and operational, it will rival any such facility at any other university in the country.
"I'm optimistic it will be a real game-changer for both the university and the region."
The board's action today marks a milestone in bringing to life a vision for McLafferty Annex that campus leaders began forming a decade ago as the massive building would need another purpose than a temporary storage facility for Morris Library materials during a major remodel. The new project will involve about 13,900 square feet of the building's approximately 65,000 gross square feet.
McLafferty annex also currently is home to the Fermentation Science Institute, the Center for Fisheries, Aquaculture and Aquatic Sciences, and a laser facility, all of which are part of the new hub, as well.
The funding for the iFERM Hub began coming together in earnest during the last few years, as campus leaders applied for various state funds while also garnering industry support. Kinsel said plans call for bids going out this summer with construction slated for fall 2022 and anticipated completion in summer 2023. The university has engaged local firm White & Borgognoni Architects for the project.
BioLaunch facility
The BioLaunch Core Facility is funded by a grant through the IDCEO's Wet Lab Capital Construction Program. It was one of eight new wet lab spaces in the state funded through the Rebuild Illinois capital program and will occupy about 7,500 square feet.
Wet labs offer spaces for cutting-edge research in life sciences and represent a critical component of research and development for companies in biotechnology, pharmaceuticals and medicines, medical devices and diagnostics, research and manufacturing organizations, and more. Wet lab space is customized with ventilation and other infrastructure needed to handle chemicals and materials commonly associated with biotech research.
The Biotechnology Laboratory will cover about 2,500 square feet and will have cutting-edge features such as a cold room for experiments, a biosafety laboratory, benches and benchtop scientific instruments and a suite of bioreactors. Open to use by all researchers at the university and regional businesses, much of the lab's mission will include developing, characterizing and prototyping various microbes used in the fermentation processes for beverages, foods and the advanced processing of materials.
"Fermentation science is all about the study of using microbes to turn a material into something of higher value or more desirable qualities," said Matt McCarroll, director of the Fermentation Science Institute. "These new facilities will provide greatly improved opportunities for regional business, our students and our researchers to make advances in those areas."
The Analytical Core Laboratory nearby will focus on using high-end instrumentation to deeply analyze materials. As part of the effort, the university will move much of its mass spectrometry equipment to the lab, where it will add new equipment and provide a centralized location for researchers and regional businesses alike.
"It will provide a close working relationship and a synergy with the Biotechnology Core Facility," Kinsel said.
The third component of the BioLaunch facility is the Research Park Business Annex. Comprising about 2,500 square feet, the space's purpose is closely tied to regional business and economic development and will provide technical assistance, business support, private and public meeting spaces, hybrid training spaces, and other services, said Lynn Andersen Lindberg, executive director of the SIU Research Park.
"Its role is a business incubator for emerging and expanding regional enterprises," Lindberg said.
During the first three years of operation, the effort is expected to create 52 temporary full and part-time construction jobs, Lindberg said. She also expects it to create 59 full- and part-time jobs for SIU and regional businesses and retain 130 full- and part-time jobs for those entities, as well. It would also create various student jobs, as well as seasonal agricultural positions throughout the area.
Value-Added Agriculture Pilot Facility
Another aspect of the project will include labs and equipment focused on agriculture products. Funded by the Illinois Innovation Network and the SIU Foundation, the Value-Added Agriculture Pilot Facility will include a fermented dairy facility, a fermented beverage facility for distilling, malting, winemaking and brewing, and the Faye Minor Magill teaching kitchen and sensory laboratory.
The project also will include infrastructure build-out such as extension of utilities, installation of the HVAC and an exterior loading area. Those improvements will be key for the fermentation science program's planned work with a commercial company that eventually will lease about 8,000 square feet for brewing and packaging. Ravinia Brewing Co. plans a full-scale production site, which will also serve as an important teaching tool for fermentation science students and support to regional breweries, McCarroll said.
Other agriculture-related programs on campus, including the Cannabis Science Center and the Center for Fisheries, Aquaculture and Aquatic Sciences, also will benefit from the facility's infrastructure and labs, Kinsel said.
Attracting more research money
With stiff competition for research funding from various government and private sources, Kinsel said the new iFERM Hub will help SIU attract additional funding by demonstrating the university's commitment to quality research.
"Centralizing much of the university's research equipment in one area, where it can be maintained and used more efficiently, will provide a certain synergy that also will help the university vie for more research grant money, as the granting agencies can be assured the equipment has a good home," Kinsel said. "It will give us a great advantage."