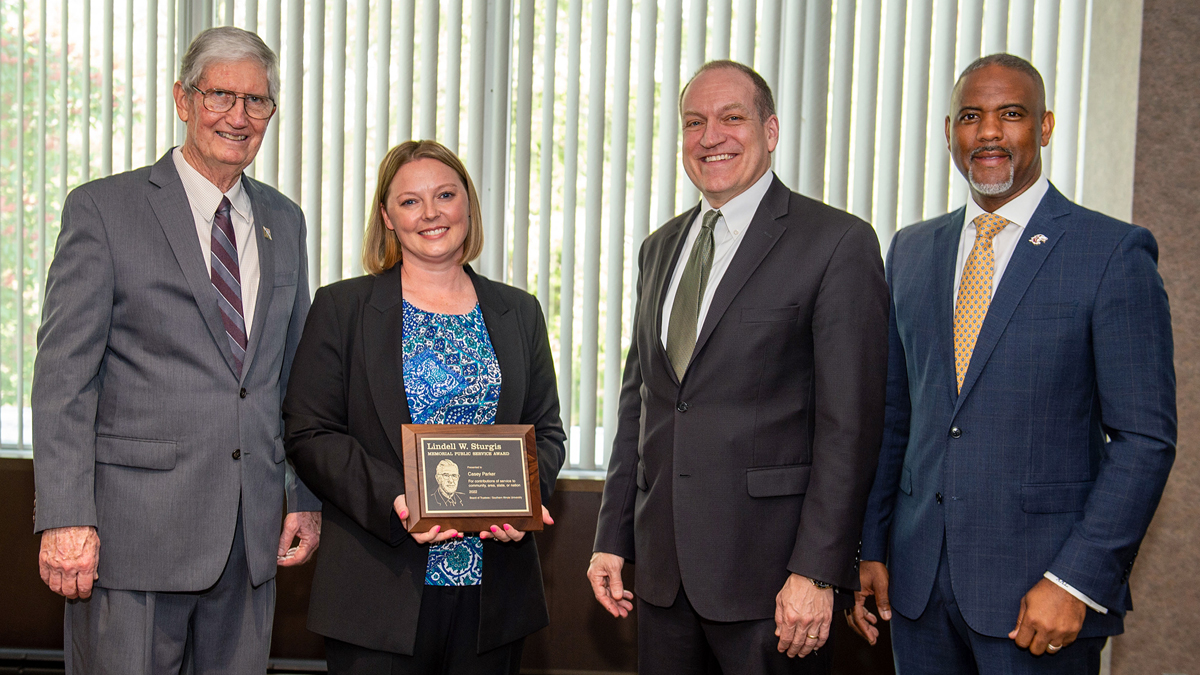 2022 Sturgis Award recipient – Casey Parker, second from left, was honored with the 2022 Lindell W. Sturgis Memorial Public Service Award. With Parker, from left, are SIU Board of Trustees Chair J. Phil Gilbert, SIU President Daniel Mahony and SIU Carbondale Chancellor Austin A. Lane. (Photo by Russell Bailey)
April 28, 2022
SIU 2022 Sturgis Award recipient Casey Parker has a passion in volunteering
CARBONDALE, Ill. — Southern Illinois University Carbondale Sturgis Award recipient Casey Parker's penchant for volunteering started early in Crawford County with the guidance of both sets of grandparents.
"My grandparents were all volunteers, and from when I was a very, very young age, they would drag me to whatever Shriners' event or community event; the Masons would do something, or the American Legion would do something," Parker recalled. "My grandparents would bring me to whatever they were volunteering for and put me to work."
Her desire to be involved and help continues. Parker, who is coordinator for the Office of Equity and Compliance, was honored for her altruism with the 2022 Lindell W. Sturgis Memorial Public Service Award today (April 28).
Parker's many volunteer efforts include more than 15 years with the Humane Society of Southern Illinois (HSSI) board, where she is president; current president of the Rotary Club of Jackson and Williamson Counties Sunset; active volunteer with the SIU School of Law, including as a moot court judge, and a faculty adviser for the Delta Zeta sorority on campus. Some of Parker's prior volunteer work includes the Carbondale CrimeStoppers board and Court Appointed Special Advocate (CASA) program of Williamson County.
"It was kind of a shock to just get nominated; it really was a shock to actually win," Parker said. "This is something that I have always just done."
Always looking to help
Parker's nomination essentially began as two separate efforts that later coalesced into one. Bobbi Knapp, an associate professor in the School of Human Sciences, and Dawn Legier, an office administrator in the Office of Equity and Compliance, both detailed Parker's work.
When Knapp organized a collection of goods and funds to go with volunteers to help in the aftermath of the December 2021 tornado in Mayfield, Kentucky, the nomination notes, Parker "was one of the first people to reach out to lend support, tapping into her network and giving herself to provide much-needed supplies for people whose lives were devastated by this natural disaster."
Gwen LeBeau, who served on the HSSI board with Parker, wrote that "the shelter animals are her (Parker's) passion and she has devoted countless hours to making their lives better. When Casey commits her time to an organization, she does so wholeheartedly with both her time and money. She has worked tirelessly for HSSI, giving up her evenings and lunch hours to meet with staff or attend a committee meeting."
An important initiative started during Parker's time on the HSSI board is a transport program where homeless pets are taken to other rescues for adoption elsewhere. That has raised the number of animals saved from 70% to 99% annually. HSSI is an open access shelter, which means it takes in every animal that comes to the facility.
Award honors former longtime board of trustee member
Presented by the SIU Board of Trustees since 1980, the award recognizes SIU Carbondale employees for public service unrelated to their jobs. The award honors Sturgis, a Metropolis native who served more than 30 years on the SIU board. Sturgis passed away in 1972. 
Parker came to SIU Carbondale as a student in 1995 after graduating from Robinson High School. She is a three-degree alumna who earned bachelor's degrees in psychology and the then-administration of justice program in 1999, followed by a law degree in 2003.
She has more than 11 years of service to the university. She became part of the criminology and criminal justice faculty in 2010 and started in the Office of Equity and Compliance as a specialist in rights and responsibilities. Hired as the equity and compliance coordinator in 2015, Parker provides campuswide oversite for Title IX, Title VII, the Americans with Disabilities Act and the Illinois Human Rights Act. She meets with campus officials about compliance, as well as training staff, faculty and students on those issues. Parker also investigates allegations of misconduct involving discrimination, sexual harassment, gender-based violence, stalking, sexual assault, dating violence and domestic violence.
"It's not an easy position, just based on what we have to deal with. But it is something that is needed for the betterment of the SIU community," she said.
Volunteering is key
Parker takes the Rotary Club motto of "Service Above Self" to heart.
"That is something that has been ingrained in me," she said. "It's part of the fabric of who I am. I don't know what I would do with myself if I wasn't volunteering. I spend so much time every week doing something, that that is just who I am. I want to be involved and I want to make my community better, especially for those who I feel are the most vulnerable. That's my motivation."
Recently, Parker began assisting the Southern Illinois Irish Fest board; the festival is from 10 a.m. to 6 p.m. Saturday, April 30, at Turley Park in Carbondale. She is also working to start a 100 Women Who Care Giving Circle in Jackson County through the Southern Illinois Community Foundation. The concept is simple — 100 women get together three times a year, with each donating $100 per meeting. Local charities, or local branches of a national charity, will then make presentations and the group decides which charity receives $10,000 per meeting. She hopes to start the effort this summer; a similar program is in place in Williamson County.
Recalling her work with the Humane Society and noting that it relies solely on local donations, Parker said $10,000 could really help organizations.
"I knew it could be a big boost. I like the idea of local women helping local charities," she said.
Volunteering 101: Just ask
Parker recalls her grandparents volunteered throughout their lives. She believes that same kind of role models are lacking today.
"In my various roles, I've seen a lack of volunteers and a lack of people wanting to be board members and do things like that because I don't think they have a lot of people mentoring them to do community service," she said.
The answer in being a volunteer is simple: Just ask. Mostly likely, that question will be met with excitement from other volunteers, according to Parker.
"It just takes a passion for something and find something you are passionate with," she said, noting her own passion for animals. "Find a way to take that passion and turn it into good for the community."