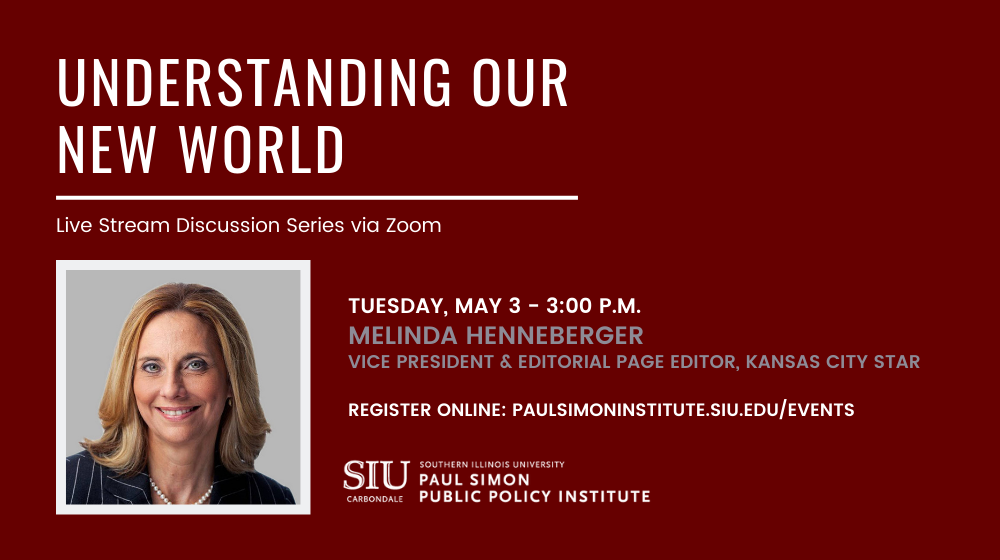 April 27, 2022
Kansas City Star editor to discuss news media's challenges
CARBONDALE, Ill. — Melinda Henneberger, the Kansas City Star's opinion page editor, will discuss the state of the American news media in a virtual event next week hosted by Southern Illinois University Carbondale's Paul Simon Public Policy Institute.
Henneberger, the newspaper's vice president and editorial page editor, will speak via Zoom in conversation with John Shaw, institute director, at 3 p.m. Tuesday, May 3. Topics will include Henneberger's notable journalistic career and the challenges facing the American news media — especially newspapers. They will also discuss the role of the press in chronicling the life of a community and explaining and analyzing public policy.
The event is free and open to the public. Registration is required at paulsimoninstitute.org/events.
"Melinda Henneberger is one of the most impressive journalists in the United States," Shaw said. "A native of Southern Illinois, Melinda's writing is insightful, incisive and intrepid. She is a fair-minded and forthright truth-teller."
Henneberger has covered national politics, government, social services, prisons and crime. Before she joined the Kansas City Star, she was a reporter for The New York Times based in New York, Washington, D.C., and Rome. Henneberger, who grew up in Mount Carmel, Illinois, was also a columnist for USA Today.
She is a three-time Pulitzer Prize finalist: In 2021 and 2019 for commentary, and in 2020 for editorial writing. She received the Mike Royko Award for commentary and column writing from the News Leaders Association in 2019 and the Scripps Howard Walker Stone Award for opinion writing in 2018.
Attendees are encouraged to submit questions for Henneberger on their registration form or send them by email to paulsimoninstitute@siu.edu.
The event is part of the institute's Understanding Our New World virtual conversation series with government and private sector leaders, policy experts, political analysts, authors and journalists.