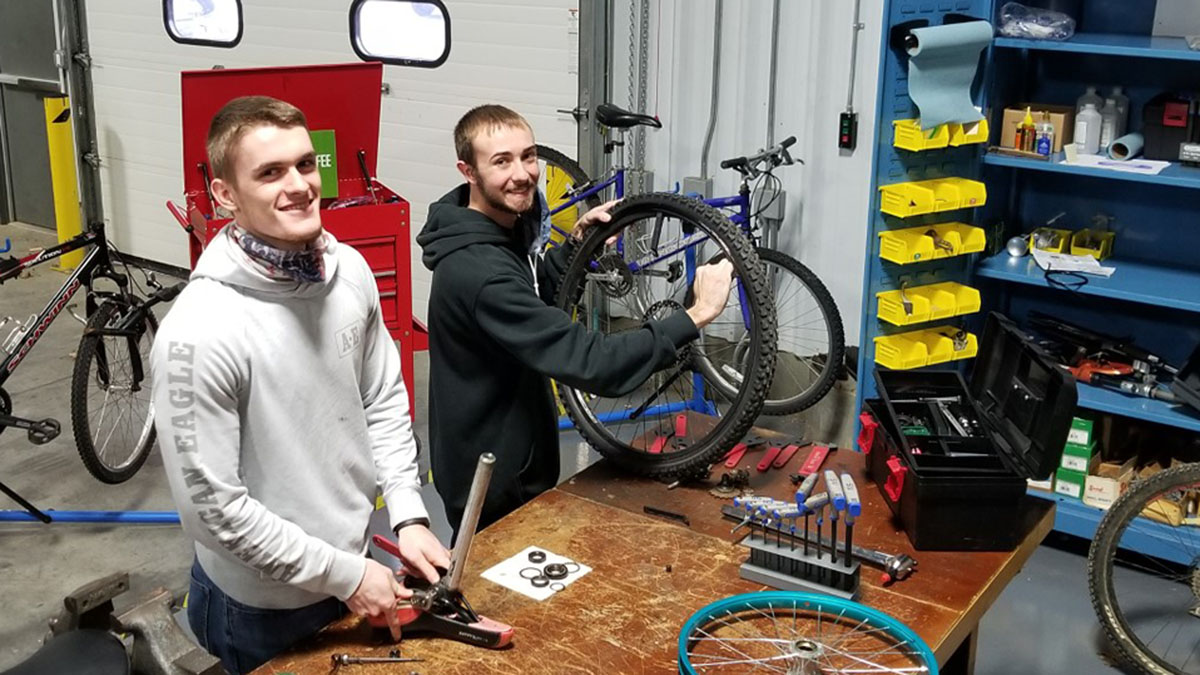 Saluki Recycle Your Bicycle is one of the 2022 Green Fund grant recipients, claiming a $4,500 award. Through this collaborative program from the School of Automotive and University Housing a student team will refurbish unwanted, donated bicycles at the end of each semester and re-distribute them to incoming students.  The program initially launched in 2020 as "Recycle Your Bicycle" with a $4,740 Green Fund grant. It has been in operation since and the picture is from that time. (Photo provided)
April 22, 2022
SIU celebrates Earth Day with more than $63,000 in Green Fund grant awards and more
CARBONDALE, Ill. — Projects focusing on clean energy, sustainable farming, recycling and other initiatives to help make the region and planet Earth a greener place were awarded funding at Southern Illinois University Carbondale's Earth Day celebration April 22, which marked the culmination of a month of special activities focusing on the environment.
The announcement of the 2022 winners of grants funded by the student-initiated Green Fee was made during a special ceremony Friday afternoon at Morris Library. This year 14 proposals were submitted from across campus, and following a careful review, using specific, predetermined criteria, the Sustainability Council chose to fully fund seven proposals to the tune of $63,052.
Karen Schauwecker, sustainability coordinator, said the Green Fund grants fit well with SIU's strategic plan, Imagine 2030, whose pillars include sustainability.
"These projects will move sustainability forward on campus and will provide both social and environmental benefits," she said. Schauwecker noted that projects with significant student leadership, outreach and educational components are given preference by the committee, which comprises students, faculty and staff. In addition, the council favors projects that are collaborative in nature, involving multiple units and departments, and fit into existing SIU sustainability priorities.
This spring, four of the proposals came from students who prepared their applications as part of a project for class credit. The remaining 10 applications requested a combined total of $124,242.
"I enjoyed looking over the Green Fund proposals. They showed how dedicated the SIU community is to sustainability and how we are pushing boundaries," said Kate Held, a finance and pre-law major with minors in environmental studies, Spanish and economics, from Chatham, Illinois, who serves on the Sustainability Council.
Winners named
The 2022 Green Fund grant recipients are:
"It is exciting to see the ideas people have across campus and how the Green Fund grant process works. It's a great opportunity to help Salukis accomplish any vision they have to advance sustainability," said Seth Traiteur, a senior engineering major from Christopher, Illinois, who serves on the Sustainability Council. "The fund has been a vital part of SIU over the past 13 years and hopefully will continue to be in the future."
Recognizing student environmental dedication
SIU also presented special awards to recognize students who went above and beyond in their environmental dedication efforts during the past academic year.
Agnieszka Sawrasewicz, senior forestry major from Chicago, received the Environmental Ambassador Award, presented to students who dedicate at least 30 hours during the academic year toward environmental stewardship and service through campus and community organizations. The majority of Sawrasewicz's volunteer efforts were spent with the Red Hen Garden, a local gardening and food security group, and the Saluki Food Pantry. She also currently serves on the Tree Campus Higher Education committee.
Several Sustainability Service Awards were presented as well, recognizing outstanding student leadership on campus. The recipients include:
The Green Roof Team members honored for cross-campus efforts and successes in establishing renewable energy learning opportunities and their continuing professionalism and collaborative efforts. Members include Nelson Fernandes, Prem Rana, Zachary Boehl, Stephen Schulte, Olivia Sapp, Tanner Clark, Joshua Konvalinka, Aron Taylor and Gustavo Felicio-Perruci.
Seth Traiteur, senior engineering major from Christopher, Illinois, recognized for his dedication to improving recycling processes on campus and for serving on the Sustainability Council for three consecutive years.
Breanna Whitley, a master's student in plant biology from Pinckneyville, Illinois, honored for her leadership with the registered student organization S.E.N.S.E and her dedication to moving the climate action planning forward on campus through education efforts.