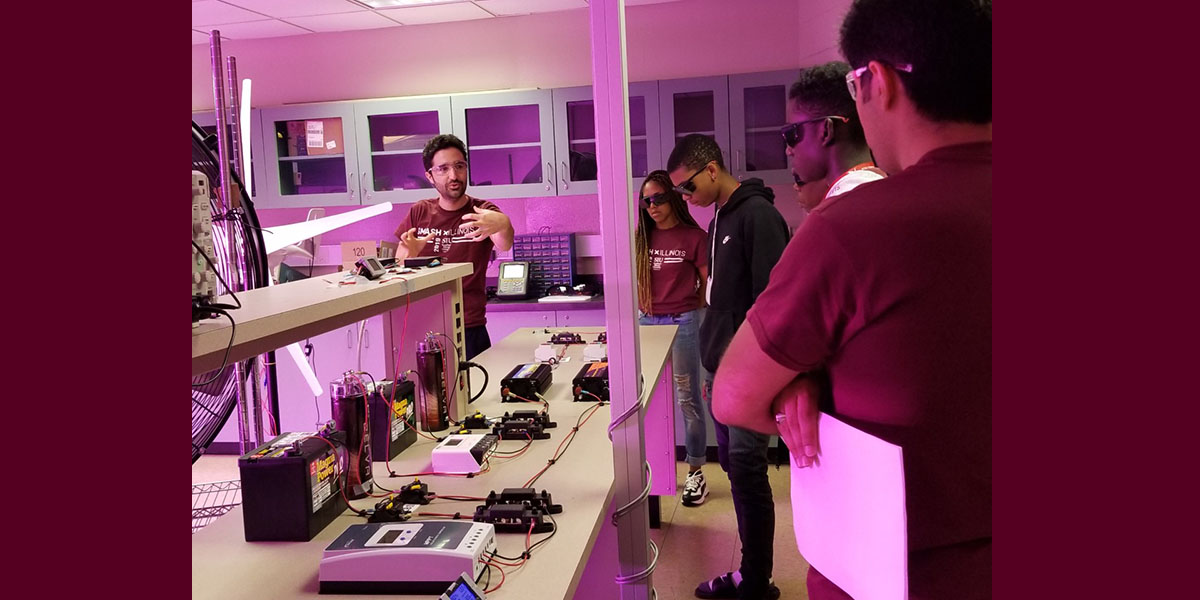 Arash Asrari, assistant professor of electric, computer and biomedical engineering, leads an activity in his Power Systems Design renewable energy lab with high school students from across the state as part of the SMASH Illinois program, a program that focuses on training scholars from traditionally underrepresented communities in core STEM skills at the intersection of technology and innovation. (Photo provided)
April 14, 2022
SIU leads coalition for regional transition to renewable energy
CARBONDALE, Ill. — A partnership led by Southern Illinois University Carbondale is one of just 22 groups across the country chosen to receive technical assistance to plan and lead transitions to clean energy at the community level. The U.S. Department of Energy recently awarded the Communities Local Energy Action Program (LEAP) Pilot Program assistance to Growing Jackson County Through Clean Energy Development, a diverse 16-member coalition. Nationally, up to $16 million has been allocated for the program.
"We are honored to be selected and excited about the benefits that being a part of the LEAP Pilot Program will bring to our community to build energy resilience," said Karen Schauwecker, SIU sustainability coordinator. "This technical assistance will essentially aid us in creating a roadmap for clean energy economic development, which will result in many positive impacts for Jackson County and its residents. 
"We are thrilled at the opportunity to work with the Department of Energy. This will position us to take advantage of energy investments in the future and can propel our region forward in green infrastructure and renewable energy."
Schauwecker said various and diverse sectors will advance.
"We anticipate that this development will bring new jobs to the community and via efficiency measures will decrease the utility costs for public agencies, businesses, renters and homeowners, all while improving public health and creating a more equitable future," she said.
Partnership involves numerous groups
Organizers say the Growing Jackson County team sees opportunities in solar energy, agriculture, energy efficiency, energy storage, electrification of buildings and transportation, and social justice for marginalized communities.
Partners include SIU; City of Carbondale; Carbondale Sustainability Commission; Carbondale Branch of the NAACP; Illinois Social Equity, Equality and Environmental Justice Consortium; Egyptian Electric Cooperative Association; Jackson Growth Alliance; Southern Illinois Airport Authority, and Southern Illinois Healthcare.
The notice of award from the Department of Energy stated officials were impressed with the Jackson County application and the strong commitment from community partners to effect positive change. The community partners are likewise enthusiastic about the opportunities this assistance will provide and the impact it will have.
"The community LEAP initiative is an opportunity for the Black, Indigenous and people of color (BIPOC) population to ensure their ideas are part of a community-wide plan that addresses racial equity through a justice, equity, diversity and inclusion lens," said Gregory Norris, NAACP Carbondale branch environmental justice chair and president of Illinois Environmental Social Equity Equality and Environmental Justice Consortium (ISEE-EJ). "We are excited about this partnership and the positive impact it will have on the community."
Jackson County is a designated Economic Development Agency Persistent Poverty County, with declining population and "disproportionate environmental injustice," which are some of the qualifying criteria for the assistance.
Bringing plans to reality
Beginning in May, the National Renewable Energy Laboratory and DOE staff will work with the group over the next 12-18 months to provide technical assistance and lead in-depth discussions to help establish a plan for clean energy economic development across Jackson County, focusing on industrial and commercial energy efficiency, electrification, renewable energy and storage.
Justin Harrell, senior engineer with Facilities and Energy Management, said that when the plan is finalized, he hopes the various organizations involved will formally endorse it and continue to work together, using the blueprint to secure more funding and to develop clean energy projects for the benefit of the community.
Schauwecker notes that by providing the technical assistance, LEAP may open the door to access significant, federal programs and funds, such as monies included in the recently approved $1.3 trillion Bipartisan Infrastructure Law. She said the current administration also earmarks a percentage of the clean energy funding investment for disadvantaged and "hard-hit" energy communities, such as Jackson County, and this technical assistance will help ensure Jackson County and the other participating communities are prepared when funding opportunities become available.
Learn more about the LEAP program online. For details about the Growing Jackson County LEAP program, contact Schauwecker at karens@siu.edu or Harrell at harrell@siu.edu.