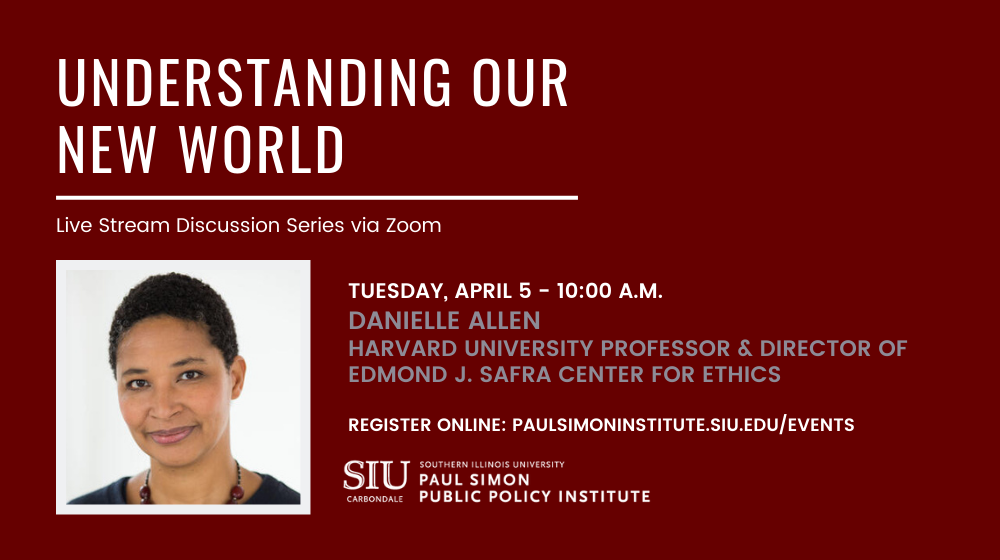 March 30, 2022
Democracy expert to discuss pandemic's impact on American politics
CARBONDALE, Ill. — Danielle Allen, a Harvard University professor, author and democracy expert, will discuss how the COVID-19 pandemic has impacted America's political and civic institutions during a virtual event next week hosted by Southern Illinois University Carbondale's Paul Simon Public Policy Institute.
Allen, the director of Harvard's Edmond J. Safra Center for Ethics, will speak at 10 a.m. Tuesday, April 5. The event is part of the institute's Understanding Our New World series of virtual conversations and will be held via Zoom. Registration is required at paulsimoninstitute.org/events.
Allen and John Shaw, institute director, will discuss Allen's new book, "Democracy in the Time of Coronavirus," as well as her views on the state of American democracy and her run for governor of Massachusetts.
"Professor Allen is one of the most creative and respected scholars in the United States," Shaw said. "Her remarkable range of interests extends from ancient Greece to 21st century America.
"A world-class scholar who has also battled in the trenches of electoral politics, Danielle Allen will offer penetrating insights into the strengths, weaknesses, and overall health of our democracy."
Allen is also Harvard University's James Bryant Conant University Professor. She took leave from her Harvard positions during the 2021-2022 academic year to run for governor of Massachusetts, a campaign that she suspended in February.
Allen's book, published in December, investigates the strengths and weaknesses of the United States' COVID response. She was also the lead author for the report "Roadmap to Pandemic Resilience," which partially informed the Biden-Harris COVID Response Plan. Her scholarly work has focused on justice and citizenship in ancient Greece and modern America.
Allen formerly chaired the Mellon Foundation Board and the Pulitzer Prize Board. She founded the Democratic Knowledge Project Design Studio and is the faculty adviser for its K-12 civic education work. She was a longtime columnist for The Washington Post and writes for The Atlantic.

Attendees are encouraged to submit questions for Allen ahead of the event. Questions may be submitted on the event registration form or by email to paulsimoninstitute@siu.edu.