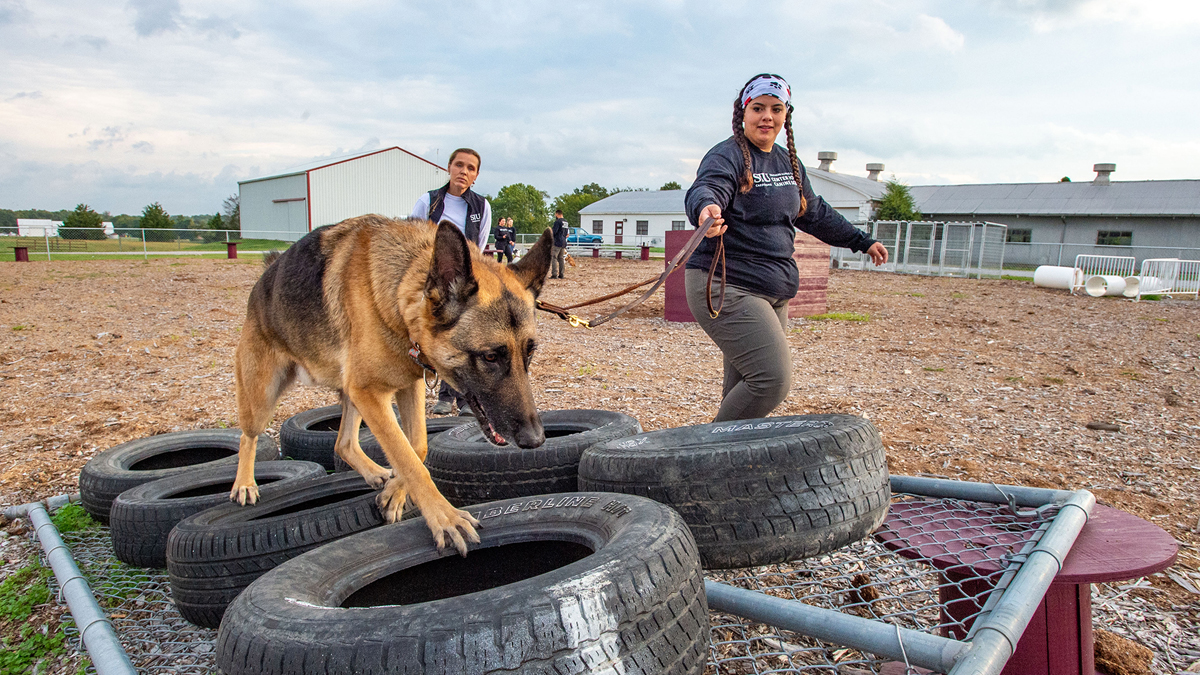 Erin Perry, left, associate professor in the School of Agricultural Sciences at Southern Illinois University, works with doctoral student Dakota Discepolo and her dog Topa. The school is leading the way in researching and expanding the ancient human-dog partnership and finding new ways to benefit both.  (Photo by Russell Bailey)
March 08, 2022
SIU researchers seek improved care and training for working dogs
CARBONDALE, Ill. — Erin Perry went to Joplin, Missouri, with her search dog, Pic, to help folks who had lost everything. Instead, she almost lost her dear, four-legged companion to the toxic wreckage of a home improvement store – an experience she applies to her research at Southern Illinois University Carbondale.
Whether it's learning how to properly decontaminate search dogs like Pic after they've worked the scene of a disaster, or teaching other canines how to sniff out a deadly fungus before it ruins an entire field of grain, the School of Agricultural Sciences, part of SIU's College of Agricultural, Life and Physical Sciences, is leading the way in researching and expanding the ancient human-dog partnership.
Perry, associate professor in the School of Agricultural Sciences, is focused on the challenges and dangers working dogs face. She runs her research at the Metabolism & Physiology Center at University Farms, where she and students work closely with canine subjects find ways to help them deal with stress in a healthy way, which also benefits their human partners.
Stressing out
Everyday factors like travel, temperature, exertion and new environments can combine to stress out dogs, resulting in poor health and performance, and possibly increased risks to their human handlers, as well.
"Service dogs, search and rescue dogs, and military dogs are all faced with stressors associated with travel, environment and other dangers," Perry said. "My research aims to provide solutions for these challenges."
Some of Perry's research, therefore, centers on diet, a key factor in dogs' health and a common indicator of how well they are handling stress. She currently is experimenting with various fiber supplements and examining the subsequent impacts on the microbial changes and other impacts on dogs' gastrointestinal tracts.
Perry guides students through original research projects aimed at finding new opportunities for dogs to perform valuable services, as well as ways to better keep them safe while doing so.
A close call
A canine handler for the Federal Emergency Management Agency (FEMA) for more than 15 years, Perry has witnessed first-hand the problems that dogs face during travel or stressful situations. Such stressors can result in serious gastrointestinal issues and can negatively impact the dogs' health and ability to perform their duties to their partners. 
"If this is a service dog with a partner that depends on their ability to provide a service for a medical disability, this can be dangerous for the human too," Perry said.
A personal experience with Pic also pointed to the need for canine-specific care measures when working a disaster. Called out by FEMA to work the site of the deadly 2011 Joplin, Missouri, tornado, Perry and Pic were assigned to search the remnants of a home improvement store, where a toxic soup of chemicals – from paint thinners to fertilizers and weed killer – had been mixed and dispersed by 200-mph winds.
While Pic received decontamination measures at the end of each search, she nonetheless began experiencing liver failure. Being a scientist, Perry analyzed the situation and realized Pic's malady probably stemmed from the practice of using human-centered decontamination measures on dogs, when dogs actually required decontamination tailored to their physiology.
"We could take off our dirty clothes every day, for instance," Perry said. "But dogs can't take off their fur. We have learned that search dogs need specialized procedures, specific types of shampoos and such, to really keep them safe."
Perry's current research is focused on keeping dogs and people safe from exposure to dangers in the environments where they are working. While inspired in part by Pic's situation, the work has potential to impact everyone that travels with their dog. 
"Chemicals on the street, bacterial or viral pathogens, and many other potential toxicants can seriously impact the dog's health," Perry said. "This is particularly important when you consider that dogs and humans share a dermal microbial community.  Keeping our dogs healthy also means keeping people healthy."
Pic survived her illness.
"It was a close call. We almost lost her," Perry recalled. "But her near-death experience has resulted in a great deal of improvement in canine decontamination procedures."
Sniffing out toxins, saving farmers money
Another research project involves doctoral student Dakota Discepolo and master's student Cierra Crowell. Discepolo, of Chicago, and Crowell, of Lincoln, are training their dogs to sniff out vomitoxin (also known as deoxynivalenol, or DON), a mycotoxin that can occur under the right moisture conditions in grain crops such as corn, wheat or barley. The toxin can be fatal to animals and humans, leading to the loss of entire fields upon harvest and testing.
The students are teaching their dogs – their personal Labrador retriever and German shepherd, respectively – to detect the toxin's scent in a field, thereby preventing the farmer from harvesting that designated area so that the clean yield from the rest of the field is saved.
Along the way, they've learned to identify the types of traits good working dogs possess, such as sociability, energy, attention span and playfulness.
When it comes to biosensors – something engineers and scientists continue trying to perfect – a plain old dog's nose, with its quarter-million olfactory cells, is hard to beat, Perry said. And the students are excited about the possibilities.
"We're learning to take this natural partnership between humans and dogs and deploy it in a novel way," Discepolo said.
So far, Crowell and Discepolo have successfully "imprinted" the toxin's scent on the dogs, who can now recognize it and signal its presence to the humans. The next step is teaching them to identify the scent in the field – literally. The two will work with the dogs as they attempt to identify the toxin in standing corn fields within a 3- to 5-foot accuracy.
"We're talking about potentially saving farmers many millions of dollars," Perry said. "It's just another way dogs and humans can work together to improve each others' lives."