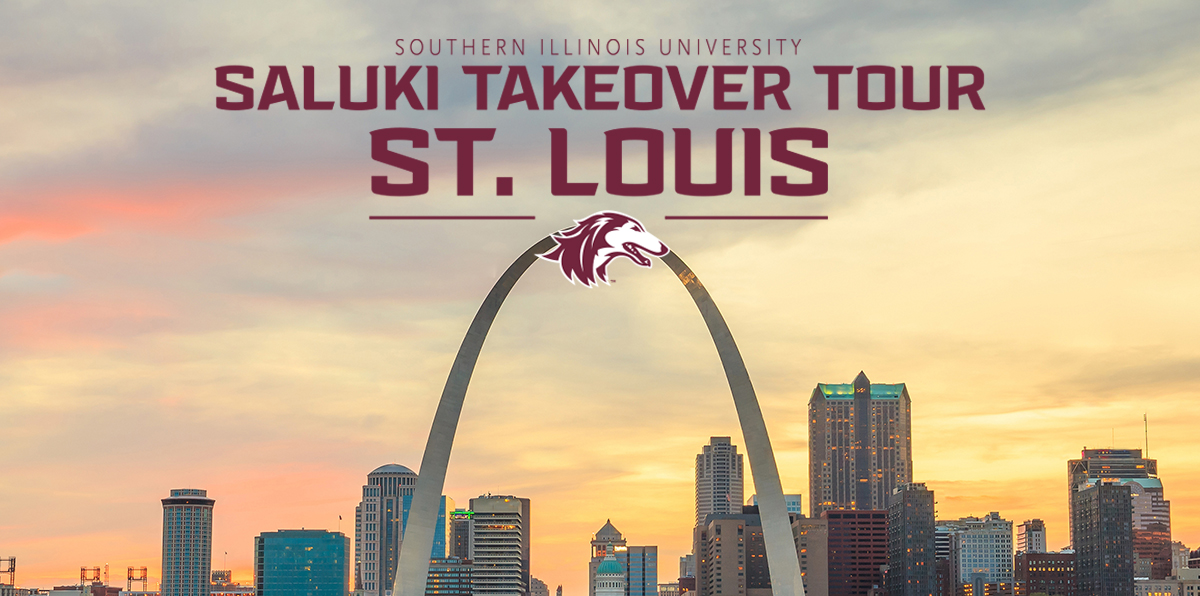 February 28, 2022
Saluki Takeover Tour heads to St. Louis, March 2-5
CARBONDALE, Ill. – For a few days in March, SIU is planning a takeover of St. Louis.
In conjunction with the Missouri Valley Conference's Arch Madness men's basketball tournament, Wednesday through Saturday, March 2-5, the city will be home to multiple Saluki-themed events. It starts at the Chancellor's Reception, which begins at 6 p.m. Wednesday at the Hilton St. Louis at the Ballpark and will mark the end of the SIU Day of Giving.
SIU Carbondale Chancellor Austin A. Lane, joined by SIU System President Dan Mahony and many other university officials, will give updates from the university's 24-hour fundraising marathon and make some major announcements.
"SIU is going to be all over St. Louis and the Metro East region, celebrating our alumni, building partnerships with community colleges and high schools, and cheering on the Salukis during Arch Madness," said Matt Kupec, CEO of the SIU Foundation.
Registration is free and includes two drink tickets and appetizers. The event will also be livestreamed on the SIU Alumni Association's Facebook page, facebook.com/siualumni. For a full schedule of events or to register for the Chancellor's Reception, visit siuf.org/stlouis.
Arch Madness
The SIU men's basketball team will take on Drake at 8:30 p.m. Friday at the Enterprise Center. Tickets can be purchased at siusalukis.com.
Every year, basketball fans, alumni, and the members of the Saluki Dawg Pound fill the arena to support the Salukis as they strive for an MVC championship.
"Our alumni are always terrific, and the Dawg Pound has been particularly vociferous this season," Kupec, who is also interim athletic director, said. "The Salukis have grown stronger as the season has progressed, and Coach Bryan Mullins and the players are ready to compete at the highest level."
A win on Friday would lead to a 5 p.m. tipoff on Saturday, and the championship game will be at 1 p.m. Sunday.
Alumni Celebration
The SIU Alumni Association will host its annual pregame event at the Shark Bar in Ballpark Village, 601 Clark Ave. This event will run from 5:30 to 7:30 p.m. Friday, March 4, before the Salukis game.
Tickets are $25 per person and cover hot appetizers and giveaways. A cash bar will be available. Registering ahead of time is highly suggested, as there will be very few tickets available at the door. To register, visit siualumni.com.
Building Partnerships
Chancellor Lane will also visit community colleges and high schools to announce partnerships that will engage students and educators in the St. Louis region.
The chancellor and others will be at Southwestern Illinois College in Belleville on Wednesday, Maplewood-Richmond High School on Thursday, and St. Louis Community College Forest Park on Friday. Other potential partnership announcements are still in the planning process.
"The goal is simple: Connect as many students with SIU as possible, and make the university accessible to all," Kupec said.
SIU Day of Giving
Each year the SIU community comes together for a 24-hour Day of Giving. Supporters are encouraged to visit siuday.siu.edu on Wednesday and make a gift of any size. Donations can be directed to any college, unit, program or initiative of the donor's choice.
"This is going to be one incredible day," Kupec said. "We're excited for it, and we know our alumni are as well."
Last year, more than $2.8 million was raised through more than 3,400 donations. There were donations from all 50 states and 11 countries. Donors can choose to be honored on the Donor Wall at siuday.siu.edu or give anonymously. All gifts are made securely and are tax deductible.
Much more
Former Saluki women's basketball coach Cindy Scott will be inducted into the MVC Hall of Fame during a breakfast at the Hilton on Friday.
Salukis will be represented in many other places throughout the week in St. Louis. Many events are still in the planning process, and some are dependent on the performance of the basketball team.
There will other invitation-only events and dinners across the city. Invitees should keep an eye on their email for more information about these exciting events.
For more information about the Forever SIU campaign or the Saluki Takeover Tour St. Louis, contact siuf@ia.siu.edu.