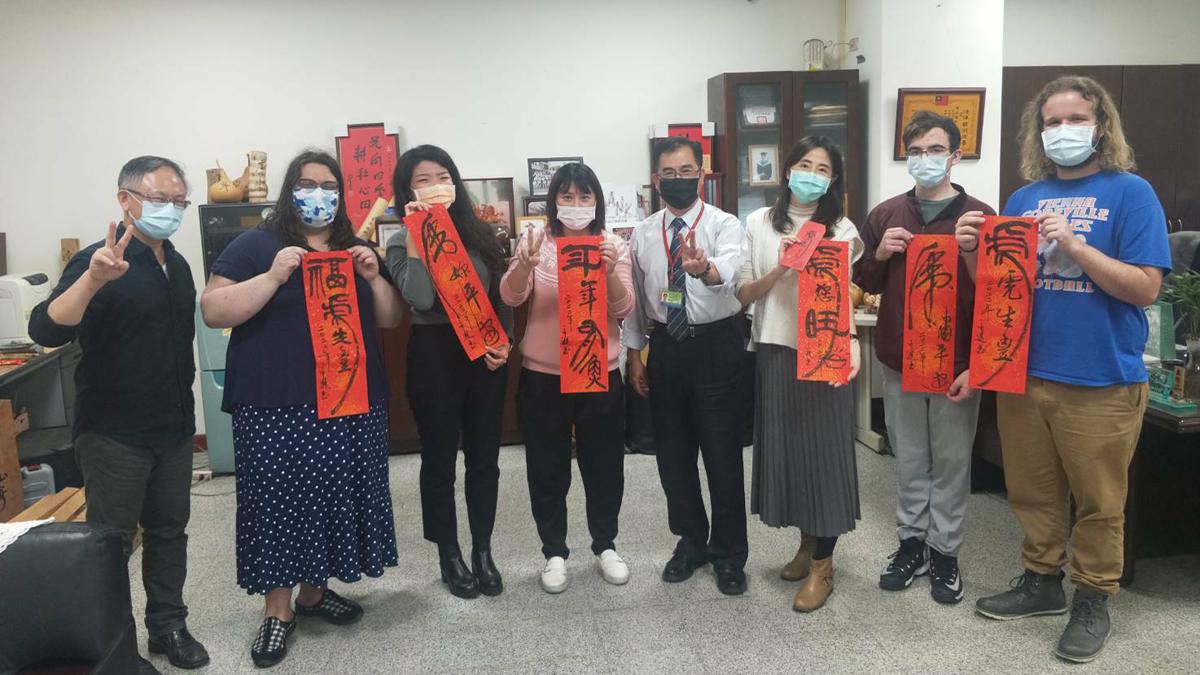 Three SIU students are in Taiwan studying Chinese language and culture at Wenzao University and teaching English to K-12 students. The SIU students, Jacque "Mina" DeVilliers, second from left, and Tyler Barnfield and Andrew Manier far right, are shown with faculty from Wenzao University holding Chinese calligraphy. (Photo provided) (Photo provided)
February 17, 2022
SIU students participating in valuable language, cultural exchange program with Taiwan
CARBONDALE, Ill. — Three Southern Illinois University Carbondale students are enjoying a rare immersive international learning experience in Taiwan, and additional Salukis could soon be part of it. SIU is one of just 23 institutions of higher learning in the United States, along with 10 leading Taiwanese universities, chosen to participate in the inaugural year of the Taiwan Huayu Bilingual Exchanges of Selected Talents (BEST) Program.
A Taiwan Ministry of Education grant supports a visiting instructor to teach at SIU, provides scholarships to enable SIU students to study the Chinese language and culture in Taiwan while also teaching language to younger children, and funds other efforts to promote cultural exchange and enrichment.
"This really is a wonderful opportunity for Salukis to learn, grow and experience something special," said Shu-Ling Wu, associate professor, head of the Chinese section and director of the Foreign Language and International Trade Program in the School of Languages and Linguistics and the grant administrator. "SIU is honored to be selected among the first group of U.S. universities, along with top-tier schools such as Harvard, MIT, Duke, Purdue and University of Illinois for this program. Mandarin Chinese is the most widely spoken language in the world. Despite any tensions between the U.S. and China in recent years, we cannot underestimate the close economic ties between the two countries and the increasing presence of Chinese-speaking regions in the world, so it's important to work to understand one another's cultures and languages."
SIU has partnered with Wenzao Ursuline University of Languages in Taiwan, where the SIU students are currently enjoying a study abroad learning and teaching experience. Meanwhile, Wan-Jun Wu, a visiting instructor from Taiwan, is teaching at SIU and leads the weekly Chinese Table, which provides language practice opportunities and cultural activities for SIU students.
"She has enriched our Chinese courses by offering independent study classes tailored for students' current proficiency level," Shu-Ling Wu said.
Immersive learning and teaching
Funding for the SIU students to attend Wenzao – the only university in Taiwan exclusively devoted to language education – comes through the scholarship program, which is covering their tuition, housing and a stipend for six months. They have been in Taiwan since mid-December – the first group able to enter the country to study since the COVID-19 pandemic hit, officials said.
SIU's study abroad in Taiwan group includes:
They say the host university has been very helpful, and the study abroad program provides a special supportive framework that enables them to accomplish their goals.
"It took me a little while to get settled, but I'm happy with this program," Manier said. "Trying new things and having an experience like this isn't something I would have ever done on my own. Study abroad allowed me to do what I always wanted."
The students are studying the Mandarin language and culture as they earn 15 college credit hours, transferable to SIU. In addition, they are teaching English for a few hours each week to K-12 students in Taiwan.
Students from any major can participate. They can study the Chinese language at various levels; little or no previous knowledge of the Chinese language is required, as some of the students currently there can attest.
"I've had nothing but amazing experiences so far," De Villiers said. "Most of the people have been more than accommodating. I've gone out to eat most days, so I've interacted a lot with people in local restaurants and service people. Even though most people here don't know much English, getting around hasn't been that hard, despite the language barrier. Recently, I've built up enough vocabulary to be able to order most things in Mandarin, which has helped a lot."
Forming bridges
SIU's connection to Taiwan goes back decades and SIU officials have conducted recruiting visits at Wenzao for the past few years.
"Our partnership with Wenzao Ursuline University of Languages represents the latest effort of SIU's College of Liberal Arts and the Center for International Education working to bridge two cultures through language training and academic exchange," said Andrew Carver, executive director for international affairs. "If the pandemic has taught us anything, it's that the world is more connected than ever before. By working more closely with our global partners, SIU better positions itself to solve the world's most pressing challenges."
The $59,215 grant from the Taiwan Ministry of Education was announced in early 2021. Last fall, details were finalized and the formal document signing ceremony was held at the Taipei Economic and Cultural Office in Chicago. Chancellor Austin A. Lane and SIU President Daniel Mahony were among the speakers at the ceremony, and representatives from Wenzao, five other participating Midwest universities and American dignitaries and elected officials attended as well.
A small portion of the grant funding goes toward other programs and activities such as helping support World Languages Day activities on campus, celebrated Nov. 16, along with other university-affiliated Chinese artistic, language and cultural activities.
Apply now to study in Taiwan
SIU recently learned the grant has been renewed through July 31, 2023. According to Shu-Ling Wu the $54,500 grant will cover a visiting instructor from Taiwan to SIU for another year. In addition, the money will fund study abroad scholarships allowing as many as 10 SIU students to study the Chinese language and culture and teach English in Taiwan for terms from 3-12 months during the summer or fall 2022 or spring 2023 semesters. Students can apply online for the program.
"I encourage students who have studied Chinese previously to seize the opportunity to put your language skills to real use, and those who haven't to start your language journey in an immersive environment," Shu-Ling Wu said.
Many opportunities offered
In addition to the Taiwan Huayu BEST Program, SIU's Study Abroad Programs Office can connect students with a vast array of opportunities throughout the world. Scholarships are available through colleges, the State Department, host countries and other organizations. Learn more by visiting the website, emailing studyabr@siu.edu or calling 618-453-7670.
"Due to the pandemic, many students missed study abroad experiences the last couple of years so they are enjoying finding ways to participate in various programs this year," said Ramesh Neupane, associate director of Study Abroad Programs in the Center for International Education. "We took a group to Egypt in December and the experience was a big success and two faculty-led programs will be going to Costa Rica during Spring Break. I encourage students to come check out the wonderful, diverse, living-learning academic and cultural experiences available to them through study abroad programs."