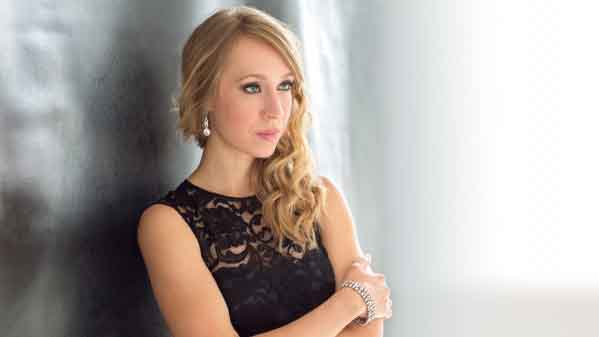 Grammy Award-nominated and SIU alumna mezzo-soprano Emily Fons returns to Southern Illinois to perform a recital in the Old Baptist Foundation Recital Hall with Yuko Kato, an associate professor of piano in the School of Music at 5 p.m., Friday, Feb. 4. The performance is part of a three-day winter weekend festival presented by the School of Music and Carbondale Community Arts. (Photo provided)
January 31, 2022
Winter Weekend Classical Musical Festival looks to warm the soul
CARBONDALE, Ill. — Area musicians and internationally acclaimed artists will look to warm everyone's spirit with the Winter Weekend Classical Musical Festival, Friday through Sunday, Feb. 4-6.
The SIU School of Music and Carbondale Community Arts are presenting the three-day festival with performances at the Old Baptist Foundation Recital Hall on Southern Illinois University Carbondale's campus, and ArtSpace 304, located at 304 W. Walnut St., Carbondale.
On Friday, Grammy Award-nominated and SIU alumna mezzo-soprano Emily Fons returns to Southern Illinois to perform a recital with Yuko Kato, an associate professor of piano in the School of Music. The 5 p.m. performance in the Old Baptist Foundation Recital Hall is free and the public is invited.
The performance by Fons and Kato will feature music from the Baroque era to the 21st Century. Fons earned her master's degree in opera and music theater from SIU in 2008.
"We have chosen works that focus on the lives of individual women — from Joan of Arc to Jacqueline Kennedy Onassis, and even the Statue of Liberty," Kato said. "These works by Gioacchino Rossini, Henry Purcell, Benjamin Britten, Lee Hoiby, and Jake Heggie display Emily Fons at her finest." 
Hailed as one of opera's rising stars by Opera News, Fons' worldwide performances the past few seasons include the Canadian Opera Company, Seattle Opera, Berlin Philharmonic, Lyric Opera of Chicago, the International Händel Festspiele, Cleveland Orchestra, Dallas Opera, San Diego Opera, Opera Omaha, Boston Lyric Opera, Florentine Opera, Madison Opera, Opéra de Lille, the Ongaku-Juku Festival, Los Angeles Philharmonic, and Opera Theatre of Saint Louis.
The weekends' performances move to ArtSpace 304 on Saturday and Sunday, Feb. 5-6. At 7:30 p.m., Saturday, the festival will feature the New Chicago Wind Quintet along with SIU alumna, pianist Kara Benyas.
Ed Benyas, a professor of oboe and conducting in the School of Music, said the highlight of this program is one of his sabbatical projects, transcribing Czech Antonín Dvořák's monumental "Piano Quintet" for a sextet of piano and winds. The program also features music by German cellist and composer Franz Danzi, the father of the wind quintet, Benyas said. New Chicago Wind Quintet members have performed with major ensembles and music festivals from across the United States, Europe and Asia, including the Chicago Symphony, Lyric Opera of Chicago, Milwaukee Symphony, Grant Park Symphony, St. Paul Chamber Orchestra, Florida Orchestra, Tianjin and Shenzhen Symphonies, and the Banff, Spoleto and Carmel Bach Festivals.
At 2 p.m. Sunday, Vanderbilt University's Eunoia String Quartet performs quartets by Austrian composer Joseph Haydn and Russian composer Sergei Prokofiev, along with a "rhythmically driving new work" by the young Black composer and violinist, Jesse Montgomery.
Ticket and mask information
The Feb. 4 performance is free. Tickets for the Feb. 5-6 performances at ArtSpace 304 are $30 apiece and include two free alcoholic or non-alcoholic beverages. Tickets are available only at the door by cash or check, and payable to SIU, Benyas said.
All of the artists, staff and audience members must fully comply with Gov. JB Pritzker's executive orders regarding vaccination, testing and wearing of masks in public indoor settings. Benyas noted while the hope is that all festival performances will take place, the right to cancel any or all of them in the event of a COVID outbreak among one or more of the artists does exist.
For more information, email Benyas at benyas@siu.edu.
Musical festival support is also coming from the SIU Foundation, SIU Alumni Association, the Student Fine Arts Activity Fee, Southern Illinois Music Festival, Southern Arts Fund and the Illinois Arts Council.