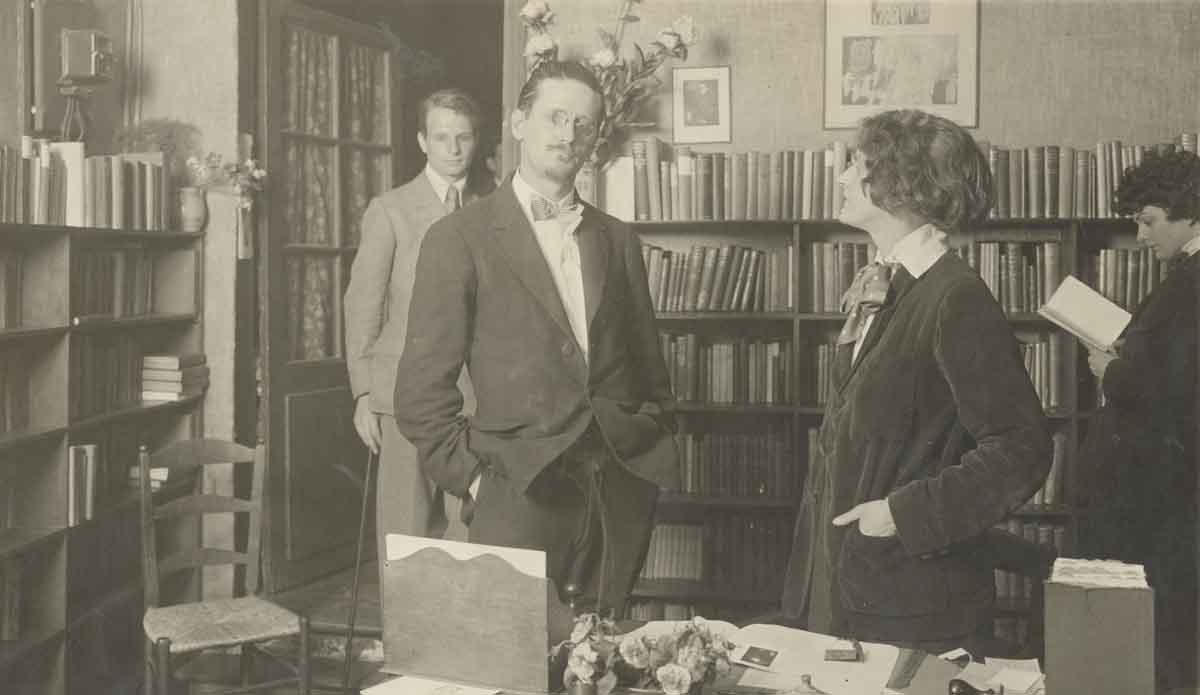 "Ulysses" author James Joyce and Sylvia Beach, center foreground, at Shakespeare and Company in Paris in 1921. (Photo provided by Special Collections Research Center, Morris Library)
January 28, 2022
Morris Library plans special events on Feb. 2 for centennial of "Ulysses"
CARBONDALE, Ill. — Southern Illinois University Carbondale's Morris Library will celebrate "Ulysses@100" with special events on Wednesday, Feb. 2, to mark the 100-year anniversary of James Joyce's epic modernist novel.
The library's Special Collections Research Center is a destination for Joyce scholarship. The center's collection includes two numbered first editions from 1,000 printed on Feb. 2, 1922. Inspired by Homer's "Odyssey," the book was published by Shakespeare and Company, the Paris bookshop owned by American expatriate Sylvia Beach.  
In addition to the first edition, posters and other materials related to "Ulysses" will be on display in the library rotunda. These include a very rare "decoy" copy, disguised as a biography of Ulysses S. Grant to smuggle the book into the United States, where the novel was banned until 1934 as obscene.
The signed first edition on display was purchased in 1934 by Harley Croessmann, a Du Quoin optometrist and Joyce enthusiast who donated his collection of letters, manuscripts and books to the library more than 60 years ago, according to Aaron Lisec, a research specialist at the Special Collections Research Center.
Between noon and 2 p.m., library staff members and other volunteers will read passages from "Ulysses," which follows its characters on their travels through Dublin, Ireland, on June 16, 1904. The public is welcome, and snacks will be served.
The university is committed to protecting the community, so visitors must follow current campus and state pandemic safety protocols and wear masks in shared indoor spaces.