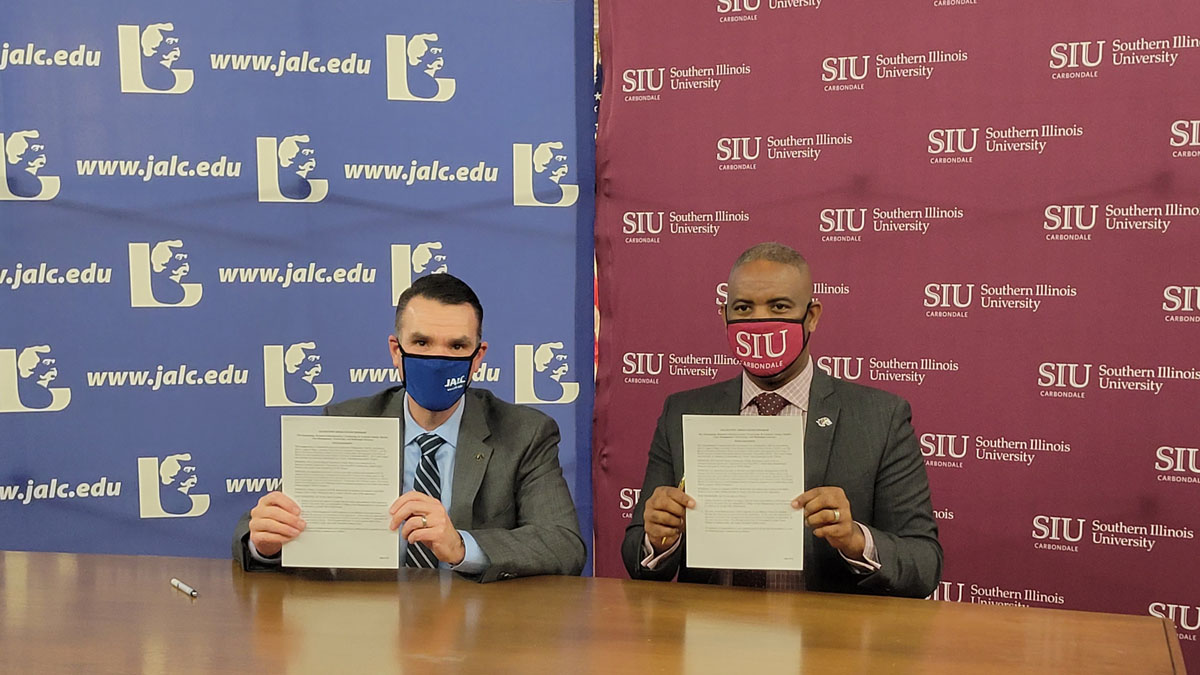 November 23, 2021
JALC and SIU leaders to sign Saluki Step Ahead agreement
John A. Logan College and Southern Illinois University Carbondale will formalize the Saluki Step Ahead agreement providing a more seamless entry into several SIU Carbondale online programs on Tuesday, Nov. 30 in the President's office on the John A. Logan College campus in Carterville. 
John A. Logan College students who take advantage of the agreement with SIU will receive automatic admission into one of SIU's online programs: accounting, business and administration, criminology and criminal justice, psychology, health care management, and radiologic sciences programs. 
The Saluki Step Ahead program is designed to provide place-bound community college students the option to earn their bachelor's degrees remotely and at a lower cost. Following graduation from their community college, students can complete their SIU bachelor's degrees online while still living in their hometowns. They pay the community college rate for their first two years. In the third and fourth years, they receive an annual $4,000 scholarship. The goal is to allow them to earn their degrees for $25,000 or less. 
John A. Logan College President Dr. Kirk Overstreet said the Step Ahead Program is a win for students and the region. 
"The Saluki Step Ahead program allows students to earn their bachelor's degree while remaining in their hometown and at incredible savings," said Overstreet. "When students have an opportunity to start at John A. Logan College, transfer to SIU, and they remain in the region after graduation, we all benefit." 
SIU Chancellor Dr. Austin Lane agrees with Overstreet that the program benefits students and strengthens the region. 
"We are excited to collaborate with John A. Logan College and provide another pathway to students right here at home who have limited options," said Lane. "This agreement fits well with our Imagine 2030 strategic plan, which includes pillars to improve student success and enhance partnerships." 
SIU also recently signed Saluki Step Ahead agreements with Danville Area Community College and South Suburban College in South Holland, Illinois.