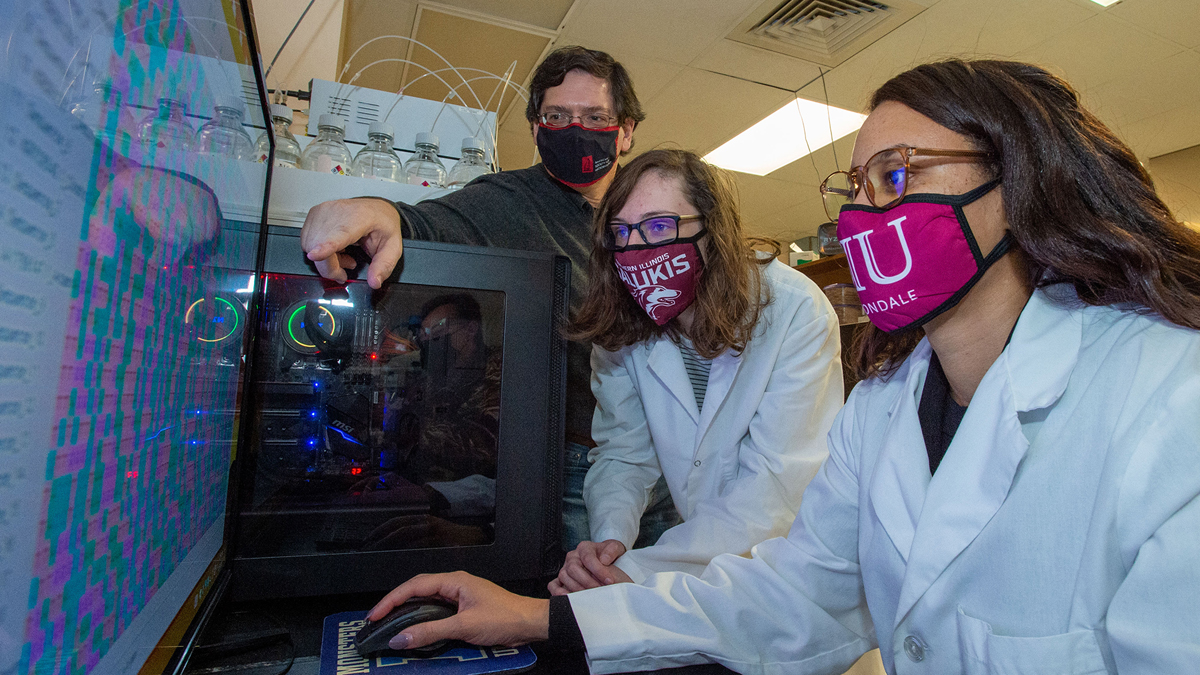 Scott Hamilton-Brehm, left, assistant professor of microbiology at Southern Illinois University Carbondale, works with graduate students Tia Zimmerman, center, and Jennifer Pierce. The three are among the elite number of researchers to win an XPRIZE funded by Elon Musk and the Musk Foundation for carbon sequestration technology. Their team, titled "Carbon Down Under," is one of just 23 worldwide to win the contest. (Photo by Russell Bailey)
November 10, 2021
SIU students among 23 teams worldwide to get XPRIZE funds to keep carbon in the ground
CARBONDALE, Ill. — A team of two Southern Illinois University Carbondale graduate students and a faculty member are among only 23 teams in the world to win the XPRIZE Carbon Removal challenge funded by Elon Musk and the Musk Foundation, officials announced today.
Jennifer Pierce, Tia Zimmerman, and Scott Hamilton-Brehm, assistant professor of microbiology, are working on a system that would liquefy everyday waste biomass – everything from grass clippings to scrap vegetables – for injection into underground voids, such as empty oil reservoirs. Once underground, their plan calls for hungry microbes to consume the carbon-rich liquid and sequester it, preventing it from re-entering the atmosphere where it could contribute to climate change.
The SIU team, "Carbon Down Under," and the 22 other winning teams – all of them led by students – were announced today at the COP26 U.N. Climate Change Conference in Scotland. XPRIZE Carbon Removal is aimed at finding working technologies to fight climate change and rebalance Earth's climate cycle. The $100 million contest is the largest incentive prize in history.
With its selection, the SIU team will receive an initial award of $125,000, contingent on it filing a satisfactory June 1 progress report. Another $125,000 could potentially follow that, assuming the research progresses as expected, with even bigger multimillion-dollar awards potentially available in later phases, which would see the technology leave the lab and enter the real world.
Ken Anderson, professor of geology and director of SIU's Advanced Coal and Energy Research Center, also is assisting the team. The team is co-sponsored by SIU and Thermaquatica, an SIU spin-off company started 10 years ago by Anderson. Because of the contest's structure, financial and insurance requirements, Thermaquatica will distribute and account for the prize money used for further research at SIU.
Prior to founding Thermaquatica, Anderson pioneered oxidative hydrothermal dissolution (OHD) technology, which now plays a major role in the carbon sequestration technique championed by the SIU team. The environmentally friendly technology uses heat, pressure, oxygen and water to convert low-value solid materials, such as coal or biomass, into water soluble products that can be refined to produce high-value products or plastics that would otherwise be made from petroleum-based sources. 
In this case, Carbon Down Under aims to use OHD technology to liquefy waste biomass for underground microbe consumption and ultimate sequestration.
A master's student in biological sciences, Pierce said she wanted to tackle the problem because she feels accountable for helping fix the "damage" done to Earth by humanity.
"Everything my teammates and I are doing is for the greater good of the planet," she said. "If these issues are not resolved, then the conditions on Earth that enable us to enjoy our lives will deteriorate and continue to put more species on the extinction list. I want to be present in this time, so we can have a future that includes action-driven work and research to reduce carbon emissions while making the planet a safer place for future generations to come."
A master's student in micro and biochemical molecular biology, Zimmerman said her excitement at finding a potential solution to climate change is tempered with caution. That's why doing solid research will be so important during the coming months, she said.
"Fundamentally, we are trying to reduce atmospheric carbon dioxide by putting carbon deep underground," she said. "But what if the tiny creatures that live down there don't like it? What if they start doing something that adversely affects us on the surface? We don't yet know what they will do with the carbon, and I want to help find that out."
The students met earlier this year while working in Hamilton-Brehm's lab, assisting him in his groundbreaking work on anaerobic microorganisms found deep underground. Hamilton-Brehm's previous work on such organisms, coupled with the potential of Anderson's OHD technology, helped frame the idea for the carbon sequestration technology they would eventually pitch to XPRIZE.
As the idea took shape, Zimmerman said the excitement rose, making the team members eager to start the initial research.
"There was a kind of eureka moment immediately followed by a bunch of questions," Zimmerman said. "What if 'X' is an incorrect assumption? Did we consider all the impacts of 'Y'? I kind of thought: 'Enough thinking on what could happen. Let's get started on the research and see what actually happens.'" 
Pierce recalled the satisfaction of watching the research yield results.
"Seeing the microorganisms grow over time when feeding them OHD liquid was a defining moment," Pierce said. "It is a great feeling to see your work pay off."
Challenges lie ahead
As today's announcement is made, the team continues experimenting with sediment samples, microbes, bioreactor sampling and other items, both at Hamilton-Brehm's lab and at Thermaquatica's laboratories. Zimmerman said the main challenges they face in the months ahead involve money and personnel – having enough trained researchers to speed the work along at an acceptable pace, as well as finding out how to scale up the processes they envision.
"There are some things in research that you just have to wait for, but there are some things that if you had enough money and people, you could do way faster," Zimmerman said. "That's not to say we don't have a good team now – we do. But we'll have to work extra hard since we are a smaller team."
Pierce said changing social attitudes and beliefs also remains a significant challenge. She believes many do not comprehend the urgency of climate change, nor the consequences of failure.
"Especially for underrepresented people in the world," she said. "As a woman of color, I am a huge advocate for equity in underrepresented and underprivileged people."