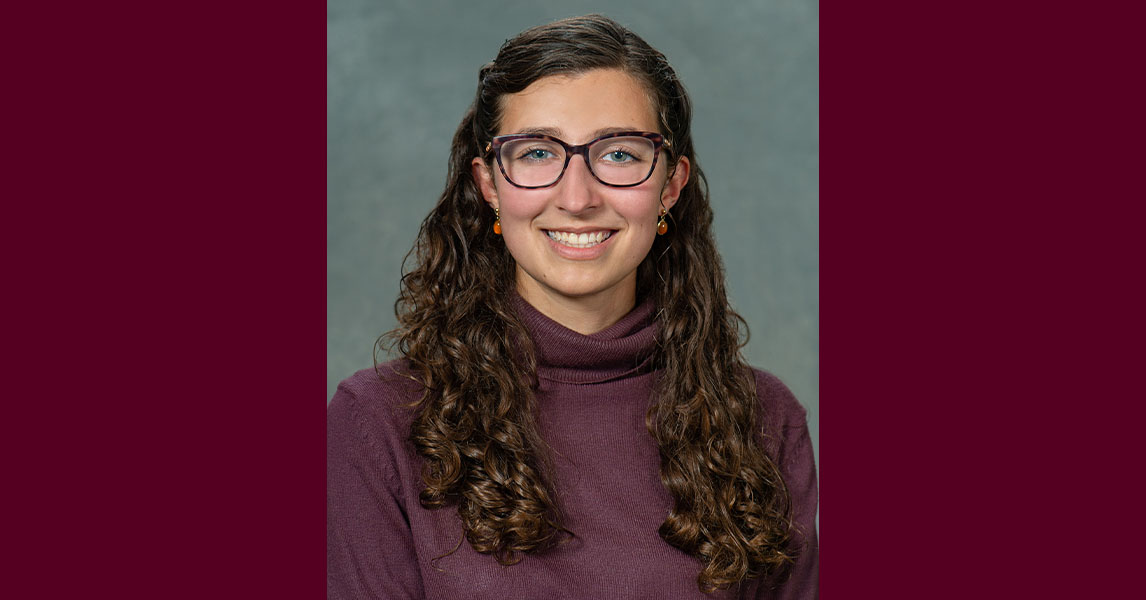 November 08, 2021
Geology and history major is SIU's 2021 Lincoln Laureate
CARBONDALE, Ill. — Francesca Burkett is the 2021 Lincoln Academy of Illinois student laureate for Southern Illinois University Carbondale. 
The homeschooled Carterville native will receive the Abraham Lincoln Civic Engagement Award this month. The Lincoln Academy of Illinois will present the award with $500 this year to one outstanding graduating senior from each of the state's four-year colleges and universities, as well as one from the state's community colleges. Students are honored for their leadership and service in the pursuit of the betterment of humanity and for overall excellence in curricular and extracurricular activities.
A double major in geology and history, Burkett said she was always deeply fascinated by both subjects.
"Geology and history tell stories," Burkett said. "Studying them allows us to investigate the past and give us insight into what is happening today."
As a recipient of the Vince Demuzio Internship at SIU's Paul Simon Public Policy Institute, Burkett worked the Jackson County state's attorney office to create a local music program, as well helping writing a policy for truancy. 
She also worked as a student researcher for the Illinois State Geological Survey, assisting geologists in the field and in the office. As a recipient of SIU's Research-Enriched Academic Challenge (REACH) grant award, she looked into the melt production at the mid-ocean ridges and subduction zones. She also worked at SIU's STEM Education Research Center doing both laboratory and field work using ground-penetrating radar.
Burkett is a member of the Phi Alpha Theta history honors society, as well as an honors student and a University Excellence Scholar all four years at SIU. She was on the dean's list 2018-2021.
Burkett participated in community service with Salukis in Action and Saluki Science Ambassadors, with local K-12 students and children at Carbondale Boys and Girls Club.
Burkett said SIU has allowed her to pursue research in many various interests, working with professors and students all across campus and in various disciplines. She singled out James Conder, professor in the School of Earth Systems and Sustainability, and Jonathan Bean, director of the School of History and Philosophy, as especially important to her.
"Both the geology and history programs have been wonderful, and I've enjoyed every class in both studies," she said. "Multiple professors have been instrumental in offering support and guidance in my studies and research. The University Honors Program has also offered support and endless opportunities to lead and to serve."
The university also has provided opportunities to be involved and serve in many groups and events across campus and community, including Undergraduate Student Government, New Student Orientation and leading studies at STEM camp for children, Burkett said. As a volunteer at the Center for English as a Second Language, she met students from other countries, including a young woman from Kuwait who has become a close friend.
"Most of all, SIU has provided a diverse learning community with students and professors from all over the world, which has allowed me to constantly learn about other cultures and ideas," she said.
Burkett plans to pursue postgraduate study in both geology and history, as well as continuing to mentor youth, teach and research.
"I will never be able to fully describe the impact SIU has had, and I'm proud to be a Saluki," she said.