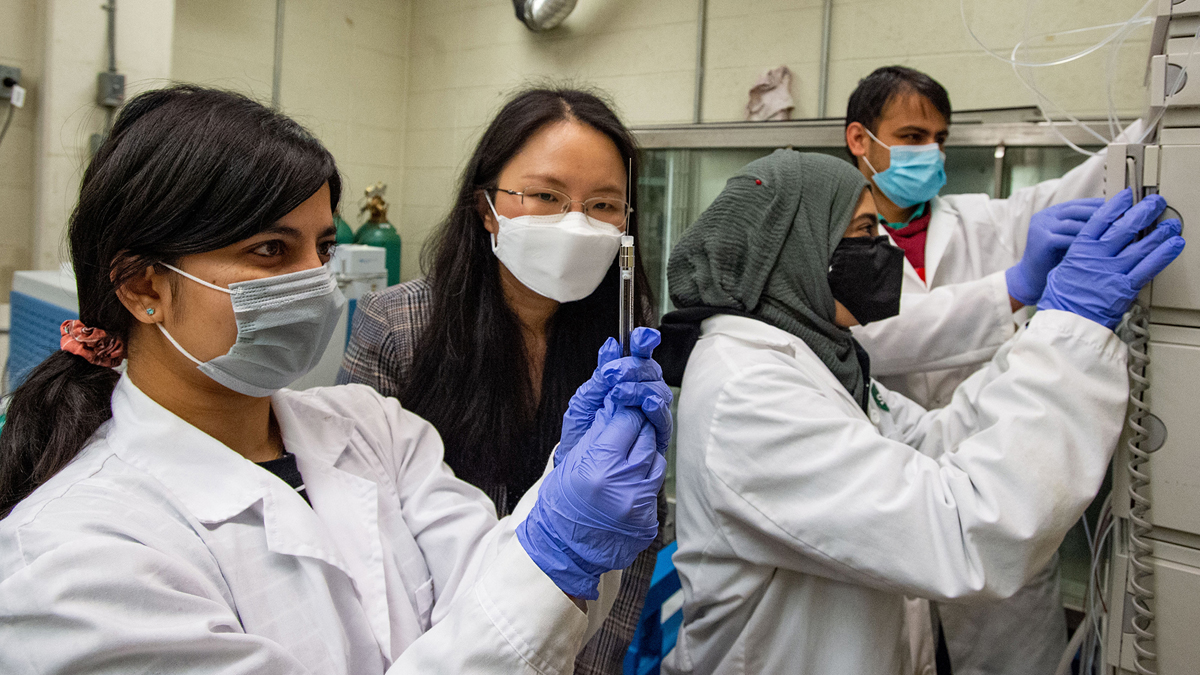 Jia Liu, associate professor of civil engineering, second from left, works with graduate students Sushmita Regmi, Nafeesa Khan and Sudip Baral, left to right, in her laboratory at Southern Illinois University Carbondale. The group is working with a second round of funding from the U.S. Environmental Protection Agency to develop a process that uses light to remove a contaminant from water. (Photo by Russell Bailey)
October 26, 2021
SIU nets $44.7M in research grants and contracts in 2020-21
CARBONDALE, Ill. — Southern Illinois University Carbondale in the last fiscal year remained a powerhouse of research, funded by millions of dollars in grants and contracts from government and private sources.
Despite the emergence of the COVID-19 pandemic, faculty researchers on the Carbondale campus brought in more than $44.7 million in outside research and service-based grants and contracts. That amount was an increase of more than $7 million beyond the previous five years following the state budget impasse.
The success kept SIU firmly included among Carnegie doctoral research universities in the country, as well as cementing it as the top-ranked "high research activity" institution in its class in Illinois.
Gary Kinsel, vice chancellor for research at SIU, said that the funding does much more than allow faculty to pursue their individual interests.
"These research dollars provide both graduate and undergraduate students opportunities to experience career-relevant, faculty-mentored research, service and scholarly work outside routine classroom instruction," Kinsel said, "and undergraduates get opportunities often reserved for grad students elsewhere. Ultimately, such experiences can have life-changing impacts on the future ambitions of these students."
The $44.7 million total excludes another $20.9 million the university received in one-time federal Higher Education Emergency Relief Fund (HEERF) as well as $16.5 million in external awards received by the SIU School of Medicine in Springfield. If all funding is combined, the total external funds received in fiscal year 2021 (July 2020-June 2021) was $82.1 million.
System-wide, SIU also ranks highly for its size in one important market value measurement of its research, Kinsel said.
In terms of raw intellectual property licensing income, the SIU System ranks about 100th of all university systems – including many with much larger research expenditures – that were included in a 2020 report by the Association of University Technology Managers. However, if that income is divided by research expenditures to find a return on investment, the SIU university system would find itself in the top 50 of those rankings, Kinsel said.
"I interpret this to mean that, despite our smaller footprint, the work our faculty is doing has remarkable market value," Kinsel said.
The funding pays for important research and public service efforts on behalf of SIU faculty researchers. Among those projects last year were:
Keith Gagnon and Koushik Sinha's $360,000 grant for a genome survey of the SARS-CoVID-2 viruses collected in the Chicago area, which led to early identification of a particular mutation of the virus that was rapidly spreading through the country and brought both national and international attention to research on campus.
Research grants in the areas of fish and wildlife management totaled $5.65 million in awards given to the Cooperative Wildlife Research Laboratory and the Center for Fisheries, Aquaculture and Aquatic Sciences. One notable award in this area was a $1.4 million grant for "Assessing and Improving Harvest as a Control Measure for Bigheaded Carp in the Wabash River Basin," a study headed by Jim Garvey, David Coulter and Alison Coulter.
The School of Education received $19.5 million for a broad range of services from early childhood development, to Head Start programs, to health education and other awards. One notable award in this area and also a collaboration within the SIU System was a $2.65 million "Illinois Science Assessment Partnership-Item Development and Scoring," headed by Harvey Henson.
The SIU Research Park and the Office of Innovation and Economic Development continued to provide confidential business consulting to emerging and expanding businesses, as well as training and development opportunities. These services directly support economic development in the Southern Illinois region and across the state. One notable award in this area was a $1.07 million grant for the "Illinois Manufacturing Excellence Center FY2021," headed by Lynn Andersen Lindberg.
Agricultural research efforts totaled more than $4.03 million from various state agencies and private foundations, as well as numerous commercial partners such as Monsanto, BASF and Syngenta, among others. One notable award in this area was a $31,000 grant for "Oilseed Pennycress – A new cash cover-crop for the Midwest (I-PREFER)," headed by Jason Bond, Ahmad Fakhoury and Dane Hunter.
Basic research in the College of Science (now part of the College of Agricultural, Life and Physical Sciences), the College of Engineering (now part of the College of Engineering, Computing, Technology, and Mathematics), and the School of Medicine on the Carbondale campus collectively brought in $5.28 million in research grants. Notable awards in this area included a $328,000 grant for "Ultrafast Dynamics in Enzyme Catalysis," led by Sean Moran, and a $442,000 grant for "Single-Molecule Approaches to Study Epiblast Stem Cell Fate Decision," led by Farhan Chowdhury.
---