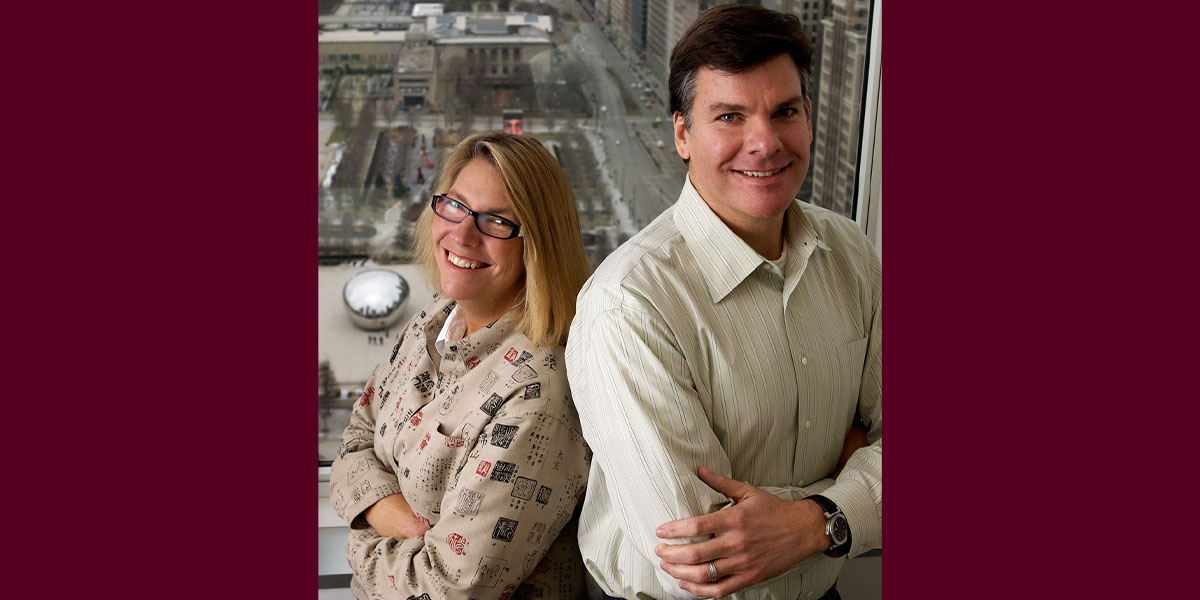 The Alumni Center will be named in honor of Julie Guida and Scott Moller, pictured during their time working as partners at their firm Marketing Werks in Chicago (photo provided).
October 13, 2021
SIU Alumni Association home in Woody Hall to become the Guida-Moller Family Alumni Center
Renaming honors $500K gift by alumni siblings
CARBONDALE, Ill. — The SIU Alumni Association's home in the C-Wing of Woody Hall will be renamed the Guida-Moller Family Alumni Center after a $500,000 gift from alumni siblings Julie Guida, '79, and Scott Moller, '85.
---
Media Advisory 
The SIU Alumni Association invites reporters, photographers and news crews to cover the dedication ceremony with Julie Guida and Scott Moller at 6 p.m. Friday, Oct. 15, in front of the Guida-Moller Family Alumni Center, located in the C-Wing of Woody Hall. (In the event of rain, the ceremony will move inside.) 
Both Guida and Moller, as well as SIU Alumni Association Executive Director Jeff Gleim, will be available for interviews and photos. 
The news media is also invited to a 4 p.m. event where the association will formally dedicate Saluki Alumni Plaza during a brief ceremony recognizing SIU alumni and friends who donated to the private fundraising effort that began in 2018. The plaza, which sits on the lawn in front of Pulliam Hall and is adorned by a centerpiece statue of three Saluki dogs created by alumnus John Medwedeff of Medwedeff Forge & Design in Murphysboro, Illinois, has become a favorite spot for students and alumni visitors to the SIU Carbondale campus. 
For more information, contact Caleb Hale, director of communications, SIU Alumni Association, at calebh@alumni.siu.edu or 618-453-2408.
---
The $500,000 donation is an endowed gift that will provide long-term support for the SIU Alumni Association, the university's oldest and largest organization, established in 1896 and today representing 250,000 alumni of Southern Illinois University Carbondale. The association facilitates a number of events and programs meant to connect alumni to their alma mater, as well as scholarships available for current students. 
"This being the largest gift in the history of the association, it's only fitting we honor the gesture by renaming our organization's home base," said Jeff Gleim, executive director of the association. "Even before now, though, both Scott and Julie have been wonderful advocates for SIU. They've done more than we could ever ask, and we're proud their names will become part of our beautiful campus." 
Moller presides over the Moller Family Foundation in Chicago, which he established in 2012 to support selected organizations. Moller is a former managing partner of Marketing Werks, an independent consumer engagement company he co-founded with Guida in 1987 and sold in 2013. Moller is a vice president on the SIU Alumni Association National Board of Directors, as well as a member of the SIU Foundation Board. He has established endowments benefitting students in what was formerly the College of Mass Communication and Media Arts and the College of Business. Moller currently co-owns AKA Partners, a Chicago-based marketing communications firm, with fellow Saluki alum Andrew Krause.  
Guida presides over the Guida Family Foundation, which was also established in 2012.  Guida and Moller co-founded Marketing Werks and were business partners for 26 years. Guida serves on Hyde Park Arts Center, a Chicago community organization committed to the visual arts, and is a major contributor. 
"We feel fortunate to give back to the university that gave so much to us," Moller said. "We're thrilled to have the opportunity to commemorate our time at SIU with this naming." 
"Julie and Scott have been amazingly dedicated alumni of SIU," said Matt Kupec, chief executive officer of the SIU Foundation. "We're proud to accept this generous gift and to rename the alumni center in their honor. It's a testament to how enthusiastic and loyal the Saluki nation really is." 
In 2019, the alumni association moved into a newly renovated space in Woody Hall. The center includes amenities that allow the alumni association to continue its mission of connecting with alumni and current students and sharing the success of SIU with the world. 
"Woody Hall is an iconic building on campus. It is centrally located and once served as a female dormitory," Guida said. "While we attended, the building housed class registration and the bursar's office. I definitely spent my fair share of time in Woody Hall." 
Guida and Moller can't help but laugh when talking about their experience as students inside Woody Hall. "We both remember the 'Woody Shuffle,' which was the term used to describe the rigmarole students were put through to put together a semester class schedule," Moller said. "The experience was nerve-racking." 
The Guida-Moller Family Alumni Center occupies the lower two floors of Woody Hall's C-Wing. It houses staff offices for the SIU Alumni Association, a meeting and activity room for the Student Alumni Council (the association's official registered student organization), as well as conference and business space available to all alumni. In addition, the center also houses a large outdoor tent in the Alumni Center Courtyard, a space renovated with funding from a gift by the Class of 1967. 
The center is open during regular university business hours, 8 a.m. – 4:30 p.m. Monday through Friday and by appointment for special events. For more information about facilities available to the alumni and campus communities, contact the association at 618-453-2408 or alumni@siu.edu.