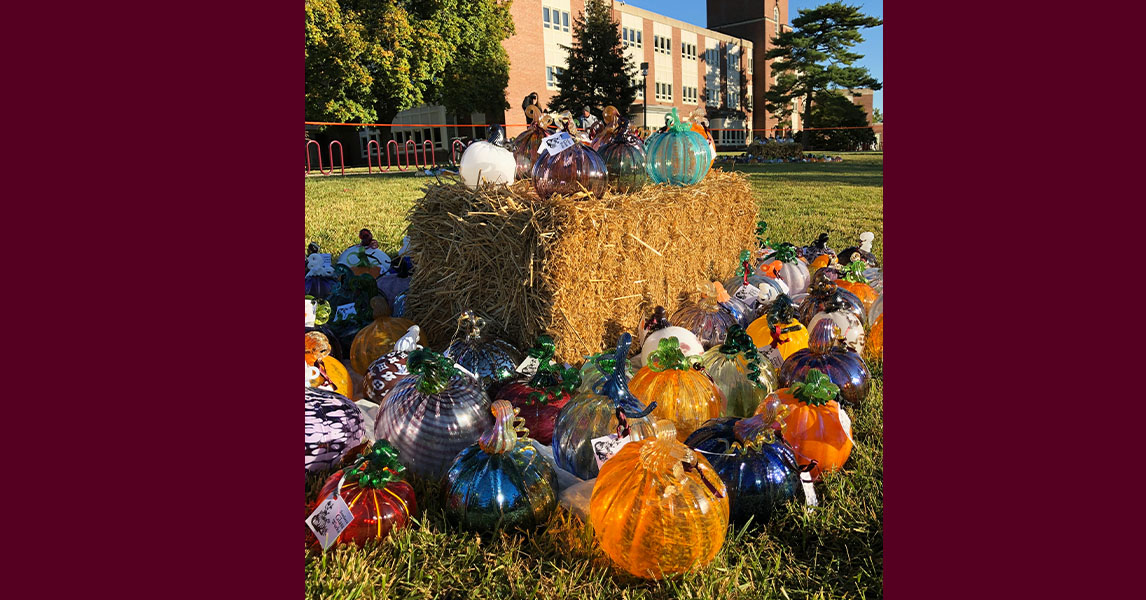 October 13, 2021
Great Glass Pumpkin Patch sale is Saturday
CARBONDALE, Ill. – The Great Glass Pumpkin Patch returns to Southern Illinois University Carbondale this week and will feature 500 glass pumpkins for sale.
The event will be held from 9 a.m. to 1 p.m., Saturday, Oct. 16, on the lawn near Pulliam Hall and the Pulliam Industrial Wing on the SIU campus, 580 W. Grand Ave., Carbondale.
Since 2006, both undergraduate and graduate students in the glass program at SIU have crafted the pumpkins that sell at this event. Each year about 400-600 pumpkins are available, with nearly 500 people from the local and regional community showing up for the anticipated event.
The traditional pumpkin patch sale was not held on campus last fall due to the COVID-19 pandemic. This year's event will be compliant with the Restore Illinois Plan. The university is committed to protecting the community, so all those attending must follow current campus and state pandemic safety protocols and wear masks in shared indoor spaces.
Proceeds support students
The pumpkin sale is hosted by Southern Glass Works, the glass art student organization in the School of Art and Design at SIU. It directly supports the students and their work.
Jiyong Lee, professor and head of glass program and craft area, sees the event as a way to further support the educational experience for the students. Proceeds fund programs including the Visiting Scholar/Artist-in-Residence Program, Visiting Artist Series, field trips, and conference trips that enhance the students' educational experiences in the SIU Glass program.