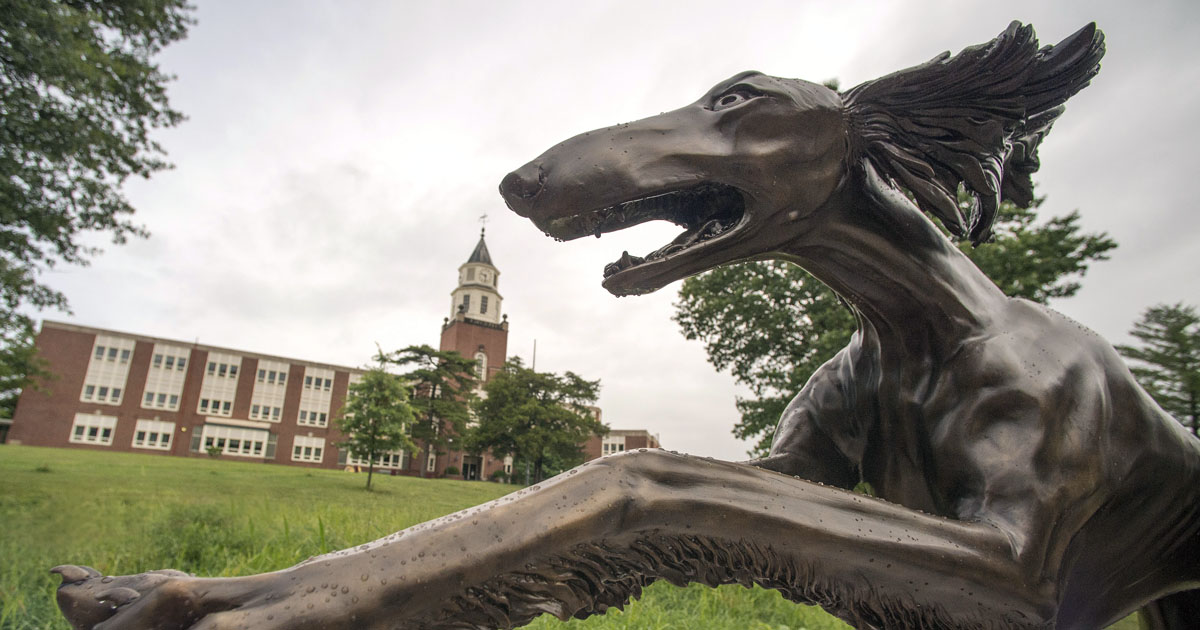 October 08, 2021
Jungle Dogs headline SIU Alumni Association Homecoming events
CARBONDALE, Ill. – The Jungle Dogs, a band legendary to the Carbondale music scene, is the headlining act of the SIU Alumni Association's Homecoming celebration, happening Oct. 15-16 at the Alumni Center on the Southern Illinois University Carbondale campus.
The Jungle Dogs will perform at the association's "Rocked & Rolled Homecoming Concert," starting at 7 p.m. Friday, Oct. 15, in the Alumni Center Courtyard, located on the central patio of Woody Hall. The event is free to enter, will feature several local food trucks, a cash bar serving a variety of beers, courtesy of Venegoni Distributing, Inc., and a selection of wine from the Shawnee Hills Wine Trail.
 SIU is committed to protecting the community, so all those attending homecoming events must follow current campus and state pandemic safety protocols and wear masks in shared indoor spaces.
The Jungle Dogs, which blends classic rock, reggae, funk, and ska, began in 1987 and played numerous performances in Carbondale and the Midwest throughout the 1990s and early 2000s. The band retired in 2003 but have periodically held reunion shows ever since.
The event follows the University Museum's "Rocked & Rolled Reception," from 4:30 p.m. to 6:50 p.m., featuring the work of several Illinois artists and photographers who created work around performers such as James Brown, the Grateful Dead, and Aerosmith. The museum will also host "Mimosas in the Museum" from 10 a.m. to 1 p.m. Saturday, Oct. 16. Drinks and light refreshments will be served.
 "SIU and Carbondale have such an incredibly rich history of music, and we're thrilled to be able to bring some of that back for Homecoming this year," Jeff Gleim, SIU Alumni Association executive director said. "We're also excited to bring people back in person to the Alumni Center for the first time since its grand opening in 2019. I think this is going to be a homecoming our alumni remember, so I hope as many people as possible can make it to cheer on the Salukis."
In addition to the "Rocked & Rolled" events, the association is hosting several other groups in the Alumni Center Courtyard:
Young Alumni Group Social, 7-9 p.m., Friday, Oct. 15. A social for SIU alumni 35 and younger. The Young Alumni Group is one of the association's newest official groups, dedicated to engaging new graduates and younger alumni in networking and professional development. The social is free and includes pizza from Quatro's.
2021 Alumni Band Group Reunion, 7 p.m., Friday, Oct. 15. Former SIU Marching Salukis will host its annual gathering Friday evening and perform during halftime of the football game on Saturday. (Due to COVID-19 restrictions, instrument rentals will not be available.) Tickets for the reunion are $25 and include a commemorative keychain, three tickets for drinks, and a specialty-made Alumni Band cookie from Larry's House of Cakes.
50-Year Reunion: Classes of 1970, '71. Reunion, 7-8:30 p.m. Friday, Oct. 15; Breakfast, 8-9 a.m., Saturday, Oct. 16. A reunion recognizing the 50-year mark for the classes of 1970 and 1971 will take place under the Alumni Center Courtyard Tent on Friday. A catered breakfast will also be served to the group in the same location on Saturday morning. These events are free to attend. A limited quantity of hotel rooms has been made available at the Home2Suites by Hilton, 200 W. Elm St., in Carbondale.
Carbondale in the '80s and '90s Tailgate: 11 a.m. Saturday, Oct. 16. The Carbondale in the '80s and '90s Facebook group will host a tailgate on Saluki Row prior to the football game. Tickets are $30 for those 21 and over, $20 under 21, and includes food, entertainment, beverages and soft drinks, as well as a game ticket. Alumnus Todd Thomas, "That One Guy" with the St. Louis Cardinals, will emcee the event.
Registration is available for all events by visiting siualumni.eventbrite.com. Drink tickets for all Friday events are available only through Eventbrite but can be purchased in advance.