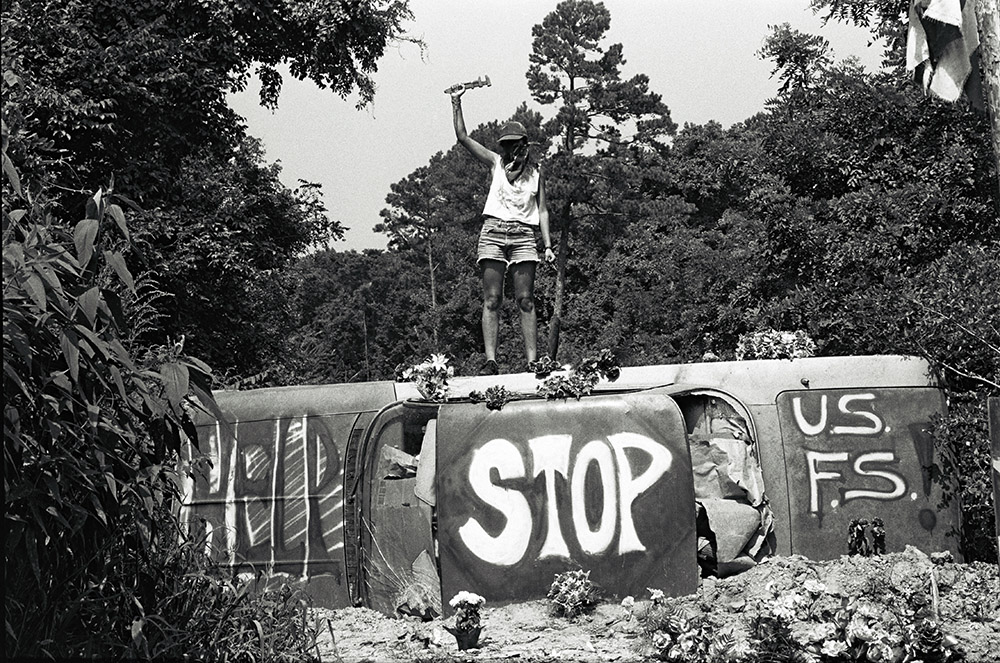 October 05, 2021
SIU faculty film focuses on Shawnee National Forest use
CARBONDALE, Ill. – An hour-long documentary that retraces the battle over commercial logging within the Shawnee National Forest more than three decades ago and raises concerns over present public land use will premiere at Southern Illinois University Carbondale this month.
Cade Bursell, a professor in the School of Media Arts, will present her film "Shawnee Showdown: Keep the Forest Standing" at 6 p.m., Oct. 13, in Morris Library's John C. Guyon Auditorium. A panel discussion and Q&A with Bursell and local environmental activists who participated in the protests in the late 1980s and early 1990s and who remain active today follows the screening.
This event is free and open to the public. SIU is committed to protecting the community, so all those attending must follow current campus and state pandemic safety protocols and wear masks in shared indoor spaces.
Film retraces history, court case
Bursell said the film features the work of a "small, dedicated group of activists" who initially successfully fought in federal court to stop clear-cutting, oil and gas drilling and ATV use in the Shawnee National Forest in Southern Illinois. The film also notes the 17-year injunction barring timber cutting and oil and gas drilling was lifted in 2013.
"The film examines the ways the past struggle can serve to inform the public and activists today in responding to Forest Service management projects," Bursell said. The documentary includes interviews with local activists, photographs, news footage, VHS footage of the protests, archival footage, and present-day footage of the Shawnee National Forest. The film trailer is available for viewing.
Panel discussion participants
The documentary's goal is to inform the public about the Shawnee protests and current conditions, and to bring more collective thinking "about public land use given the context of climate change and the most recent research in forest ecology," Bursell said.
The panelists available during the Q&A include Deb Boutan, Rene Cook, Mark Donham, Sam Stearns, John Wallace, and Jan Wilder.
Documentary important in several ways
Rob Spahr, School of Media Arts interim director, notes that Bursell's work "demonstrates that the faculty in the School of Media Arts are not only teachers but actively working artists and scholars producing creative and scholarly research."
"Professor Bursell's film addresses some of the challenges inherent in the Shawnee National Forest, both as an ecological sanctuary and as land that has continued to be used as a resource for logging," Spahr said. "This film documents the years-long activists' struggle to protect the forest and preserve it for future generations. It is imperative that the students in the School of Media Arts, and everyone in our Southern Illinois community, understand the issues surrounding the Shawnee National Forest, as well as the power of media and story-telling to bring about awareness and positive change."