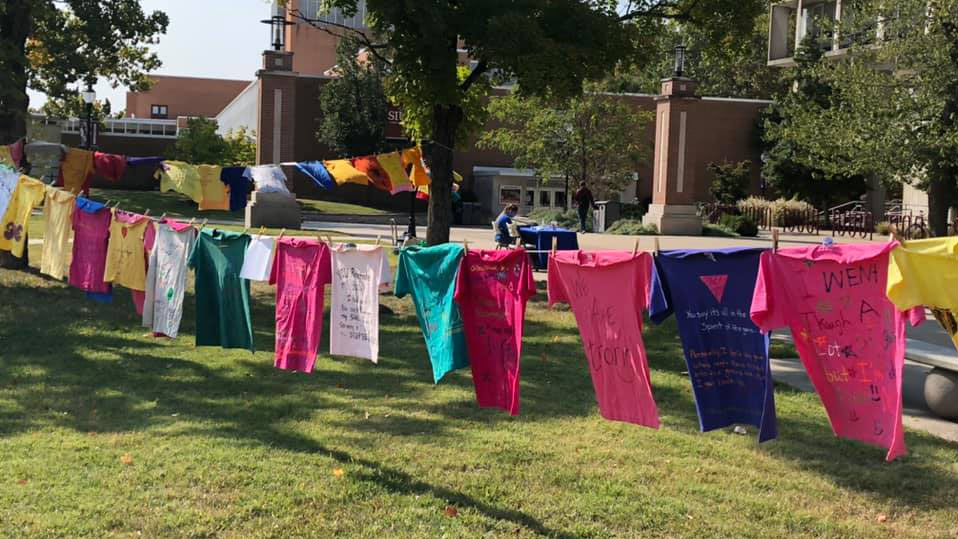 September 30, 2021
SIU commemorates Domestic Violence Awareness Month in October
CARBONDALE, Ill. — "#Every1KnowsSome1" is the theme for Southern Illinois University Carbondale's commemoration of Domestic Violence Awareness Month in October.
A variety of events is slated to increase awareness of the issue with a goal of educating people and working to break the cycle of domestic violence, according to organizers. One in three women and one in four men experience domestic violence at some point in their lives, according to the National Council Against Domestic Violence. Domestic violence also impacts their families and friends.
 "During the month of October, as part of our efforts to become a more inclusive and supportive institution, we will provide events and activities to increase awareness about domestic violence and educate people about ways to address and help put an end to the problem," said Paul Frazier, vice chancellor for equity, diversity and inclusion.
Kickoff is Friday
A luncheon, which is free and open to everyone, will begin the monthlong commemoration. Set for noon to 1:30 p.m. on Friday, Oct. 1, in the Cambria Room at the Student Center, the luncheon is a joint campus event marking the start of Domestic Violence Awareness Month and LGBTQ+ History Month.
Co-sponsors include the Women's Resource Center and the Rainbow Café.
Everyone is encouraged to wear purple on Friday to show support for domestic violence survivors and unify for an end to abusive relationships. Participants wearing purple are encouraged to post online and tag the Women's Resource Center.
Discussion, Take Back the Night and remembrance ceremony
"The Secrets We Keep" is a special roundtable discussion highlighting the domestic violence problem within the Black, Latino and LGBTQ+ communities. It is set for noon on Oct. 14 in the Student Services Building, Rooms 150/160.
SIU will be hosting its inaugural Take Back the Night event from 7 to 9 p.m. Oct. 20, in the Student Center, Ballroom D. Survivors will have the opportunity to share their stories and experience support from the community.
Then, a special candlelight vigil will take place at 6 p.m. on Oct. 25 at the Becker Pavilion on Campus Lake honoring the many people who have lose their lives to domestic violence.
Ongoing awareness projects
The Clothesline Project will launch on Monday, Oct. 4, from 11 a.m. to 1 p.m. in Faner Plaza. Domestic violence survivors and their allies are welcome to create and post their stories of survival and support, depicted and written on apparel and hung for all to see. The project wraps up beginning at 11 a.m. Oct. 26 at Faner Plaza.
Registered student organizations on campus also have an opportunity to show support by participating in a Domestic Violence Awareness Month competition. Prizes will be awarded to the RSO that is the most engaged in events during the month and the RSO that best helps to increase awareness about domestic violence and SIU's activities during the month.
Free and open to all
All of the events are free and open to the public with the exception of the "Sexual Healing Workout" sessions. A session for students is set for Oct. 10 with another for faculty and staff on Oct. 17.
Find the complete schedule of events and additional information on the Women's Resource Center website at smrc.siu.edu/wrc. Follow the center on social media as well to learn more:
Instagram – wrc.siu.
Facebook - @SIUWomensResourceCenter.
Contact Bethany Peppers at 618-453-4281 or wrc@siu.edu with any questions.
SIU is committed to protecting the community, so all those attending Domestic Violence Awareness Month events must follow current campus and state pandemic safety protocols and wear masks when indoors.  
Sponsors of DVAM include the Vice Chancellor for Diversity, Equity and Inclusion, including the Women's Resource Center, the Office of Student Engagement, Student Affairs and Student Health Services, Recreational Sports and Services, the LGBTQ+ Resource Center, SIU Sustainability, the Women's Center, Wellness and Health Promotions Services and Sacral Space for Women.