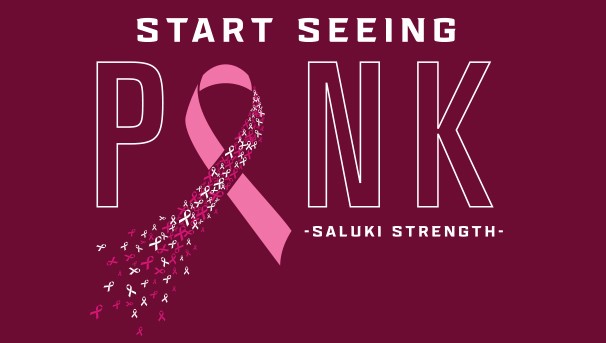 September 24, 2021
SIU's "Start Seeing Pink" campaign raises awareness, scholarship funds
CARBONDALE, Ill. — As a part of Breast Cancer Awareness Month in October, Southern Illinois University Carbondale is again sponsoring special events, including the sale of "Start Seeing Pink" apparel, to raise scholarship funds for SIU students affected by the disease.
Order now to help students
The online "Start Seeing Pink" apparel shop is offering a variety of shirts and sweatshirts in adult sizes and is open for orders through Oct. 3. For more information or to place an order visit shopsilkworm.com/startseeingpink. Orders will be available for pickup in the Student Center administrative office on Oct. 15 or shipping is available for a small fee.
All proceeds go to the SIU Saluki Strength Breast Cancer Fund, which has awarded more than $10,000 in scholarships to students affected by breast cancer. The disease strikes one in eight women in the United States and kills about 43,600 American women and 530 men annually. There are an estimated 3.8 million breast cancer survivors in the United States.
All of the SIU students who have received assistance from the fund have either personally suffered from the disease or their spouses, parents or other close family members have. To read more about their personal stories or to make donations, go to salukifunder.siu.edu/project/27765.
This year's goal is to raise $5,000, which is enough to establish a self-sustaining endowed scholarship. Plans call for awarding an annual $1,000 scholarship, or potentially more if the funds allow.
Tie-dye event
There will also be a tie-dye T-shirt event from noon to 2 p.m. on Oct. 21 at the Student Services Building pavilion to raise awareness of breast cancer and funds for the scholarship. For a $5 donation, people can make their own dyed shirt.