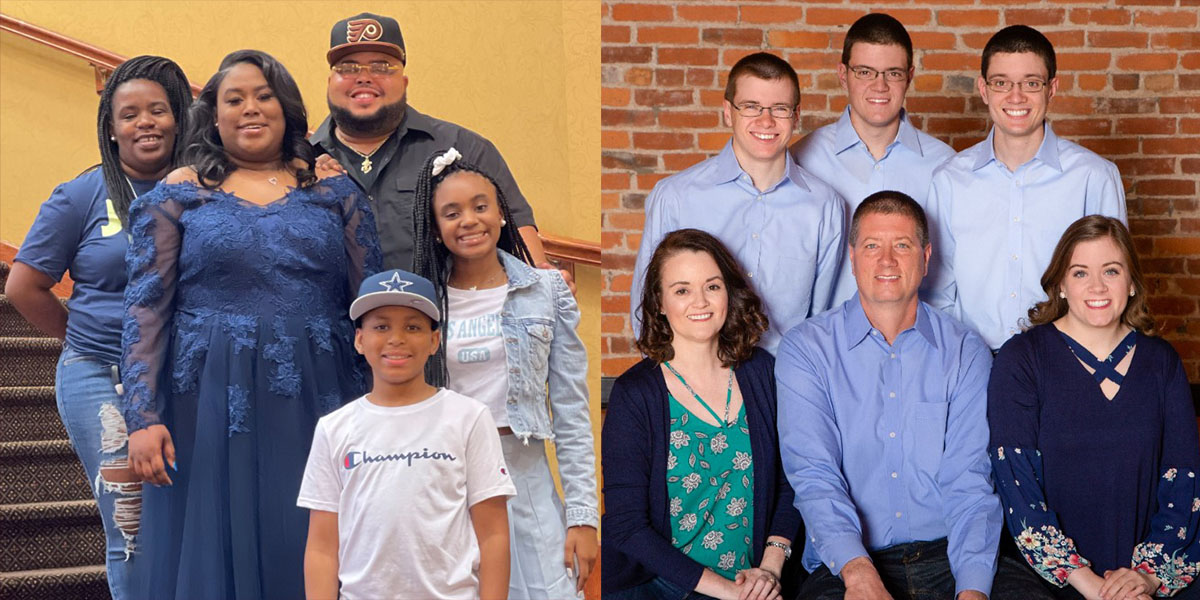 September 22, 2021
SIU honoring Hartke, Glasper families as the 2021 Saluki Families of the Year
CARBONDALE, Ill. — Southern Illinois University Carbondale's Saluki Families of the Year for 2021 are the Taylor Hartke family of Teutopolis, Illinois, and the Terielle Glasper family of O'Fallon, Illinois.
Both will receive prize packages and special recognition during SIU's Saluki Family Weekend, set for Friday through Sunday, Sept. 24-26. 
New Student Programs is honoring two special families: a "legacy" Saluki Family of the Year – that's a family in which at least one parent or guardian is an SIU Carbondale alumnus – and a "non-legacy" Saluki family of the year.
Dozens of entries
There were 56 entries in the competition this year with 22 coming from legacy families and 34 non-legacy families.
"We had a strong pool of candidates, so I know it was a hard decision for the committee," Rachel Brewster, associate director of New Student Programs, said.
A committee comprised of campus constituents selected the winners on the basis of creativity, family support, enthusiasm and execution. The families will each receive a prize package that includes a two-night stay at the Hampton Inn in Carbondale, tickets to the SIU vs. Illinois State football game on Saturday, Sept. 25, and assorted Saluki swag and other gifts.
Hartke family includes several SIU alumni
Taylor Hartke is a senior agricultural systems major specializing in agricultural communications who transferred to SIU from Lake Land College. She is a part of a set of quadruplets and two of her three brothers are Salukis, too. Garrett is a senior crop, soil and environmental management major and Alex earned his agribusiness economics degree earlier this year. All three have been very active at SIU, holding on-campus jobs and getting involved in organizations including Saluki Ambassadors, Agbassadors, Sigma Alpha, Ag Student Advisory Council, Collegiate FFA and Collegiate Farm Bureau.
Taylor won the inaugural Illinois Farm Bureau State Collegiate Discussion meet in 2020, with Alex taking fourth place. Taylor went on to become a Sweet 16 finalist in the American Farm Bureau Collegiate Discussion meet representing Illinois. She is also the recipient of the School of Agricultural Sciences Leadership Scholarship and Transfer Achievement Award.  A former state FFA treasurer, Taylor is a student employee for agricultural sciences, part of the Student Center's social media team, and has interned with the Illinois Farm Bureau. Alex also received the Transfer Achievement Award  and worked in the agricultural advisement office while at SIU. Garrett currently works on the University Farms and is active in SIU's Block and Bridle student organization.
Their parents, Korrie McCain Hartke and David Hartke also are SIU alumni. Korrie earned a bachelor's degree in radio and television in 1994 while David completed his bachelor's degree in animal science the previous year.
The Hartke children have been Salukis since birth, according to Taylor, who notes that the quadruplets accompanied their parents to SIU at the age of five months when their mom marched with the Marching Saluki Alumni Band.
"These visits continued and provided us with opportunities to recognize what being a Saluki meant," Taylor wrote in her entry. "To be a Saluki is to be resilient, dedicated and loyal. My parents, both proud SIU alumni, live out these qualities even after graduation. They've instilled in my brothers and me the need to be resilient in all things we are pursuing, the need to be dedicated to bettering ourselves and the world around us, and the need to be loyal to one another and our commitments. Our parents are still both proud to be the first ones in their families to attend a university and as the next generation, we're proud to continue that legacy and SIU's legacy of excellence."
Glasper finds support at school and home
Terielle Glasper is a freshman exploratory student who plans to major in physical therapy. She attended SIU's Dr. Seymour Bryson Future Scholars Program this summer and said the four-week, on-campus program created to give students a head start toward college success, was "one of the best experiences of my life."
She and 27 other newly admitted students were on campus in July, attending classes for credit while also enjoying mentoring, tutoring and exploring the campus and the region.
"I love SIU has given me and so many others the opportunity to be the best version of ourselves through education," Glasper said. "I love that Carbondale meets your needs, supports you, and encourages you to make every day great and not give up on your dreams."
Glasper's parents, Teresa Lowery-Glasper and Terrell Glasper Sr., have always been "extremely supportive" and pushed her to be great in all aspects of her life, Glasper wrote in her application. Her family also includes her sister Ta'Myjah, a freshman at the O'Fallon Township High School Milburn campus, and brother Terrell Jr., a seventh-grader at Carriel Junior High School.  Glasper said education is important to her family, as her dad attended Vatterott College and her mom graduated from Capella University in preparation for her career as a Response to Intervention (RTI) reading teacher.
In high school, Terielle was part of the O'Fallon Township High School girls' bowling team that qualified for the state tournament several consecutive years and took the state title in 2018-2019, following fourth place finishes the two previous years. A self-described introvert, Terielle said she is enjoying getting acquainted with SIU and exploring all of the different organizations and activities she can become involved in. She said she's focusing on her coursework as she makes plans to get more involved in campus life, find a job and expand her horizons.
Join in the Saluki Family Weekend fun
Everyone is welcome to join the Hartke and Glasper families for SIU's Saluki Family Weekend celebration Friday through Sunday. Activities include an outdoor film festival, arts and crafts sale, concert, Greek Sing, tailgating, football and more. Visit familyweekend.siu.edu for the complete schedule of events and more information.