September 17, 2021
International Guitar Festival offers concerts, workshops and classes
CARBONDALE, Ill. – Sounds of music for all to enjoy once again will fill the air next week as the Southern Illinois University Carbondale International Guitar Festival returns for a seventh edition.
Hosted by the School of Music, the festival will feature visiting faculty and artists from Puerto Rico, Brazil, Mexico, Serbia and the United States, exploring various traditions of the guitar in concerts as well as master classes and lectures.
The festival runs Wednesday and Thursday, Sept. 22-23 and Oct. 27-28. The festival aligns with many of the activities during Hispanic/Latinx Heritage Month. The festival will once again provide a wide variety activities and events for anyone who loves guitar music, said Isaac Lausell, associate professor of guitar and jazz and coordinator of the School of Music's guitar program.
This year's featured artists, performance times and locations are:
Sept. 22 – 7:30 p.m., Marcus DeJesus, SIU Carbondale alumnus, classical guitar recital, Old Baptist Foundation Recital Hall.
Sept. 23 – 7:30 p.m., Christopher Allen, SIU Carbondale alumnus, classical guitar recital, Old Baptist Foundation Recital Hall.
Oct. 27 – 7:30 p.m., Freddie Burgos and Aldemar Valentín featuring Dick Kelley, interim director, SIU School of Music, Shryock Auditorium.
Oct. 28 – 7:30 p.m., Zvonimir Tot and Isaac Lausell, Shryock Auditorium. 
Lectures will include:
Sept. 22 – 11:15 a.m., "Composing for Guitar," Christopher Walczak, Altgeld Hall, Room 117.
Sept. 23 – 11:10 a.m., "History of Rock," George Brozak, Altgeld Hall, Room 114.
Oct. 27 – 11:10 a.m., "The study of rhythm for guitarists, Freddie Burgos, Altgeld Hall, Room 117. 
The complete event schedule is available on the festival website. 
Admission is $6 for students and $12 for the general public, with single-day and festival passes available. The day and festival passes also include lectures.
SIU is committed to protecting the community, so all those attending the performances must wear masks and follow current campus and state pandemic safety protocols.
For more information on the festival, contact Lausell at isaac.lausell@siu.edu or call the School of Music at 618-536-8742.
Festival sponsors are the SIU Foundation and the SIU Center for International Studies in partnership with higher institutions in the United States and abroad.
---
Marcus DeJesus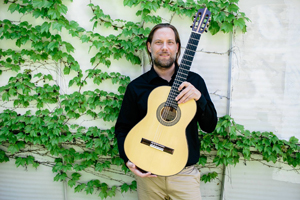 Christopher Allen