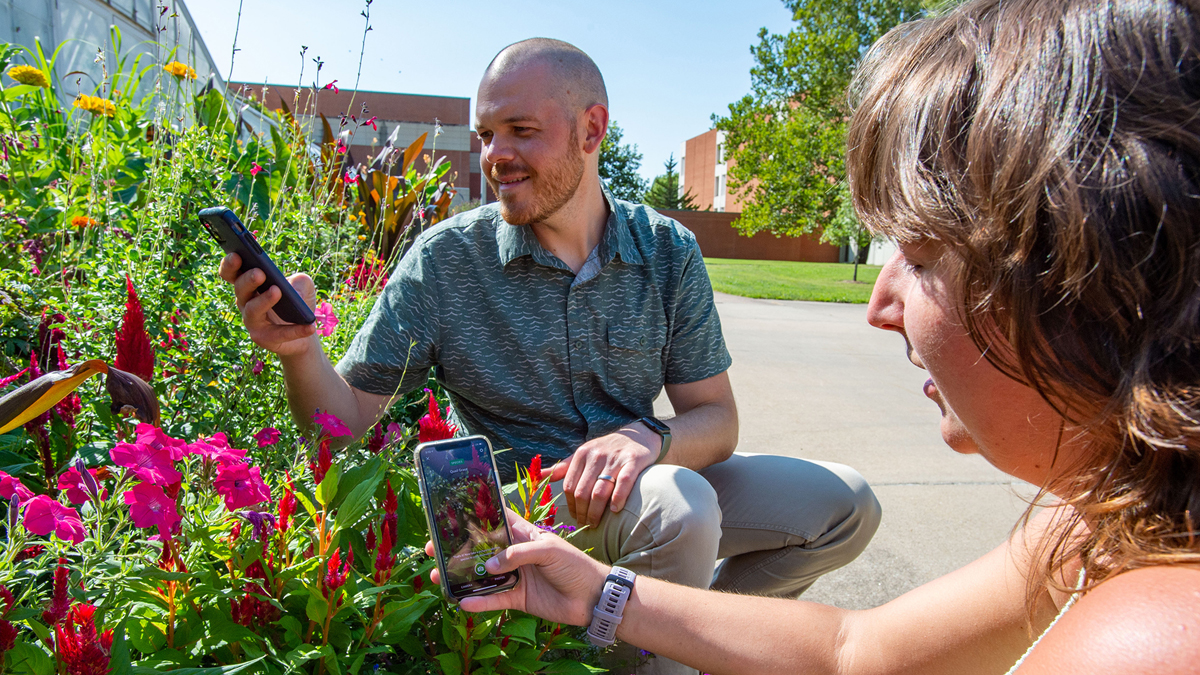 Brent Pease, assistant professor in the School of Agricultural Sciences, and Elaine Metz, graduate research assistant, demonstrate how to collect and upload different species for identification. Pease recently organized Southern Illinois University Carbondale's first BioBlitz, a 24-hour effort to collect and identify every possible species of plant and animal on campus. (Photo by Russell Bailey)
September 16, 2021
SIU's 24-hour BioBlitz yields 300 plant and animal species on campus
CARBONDALE, Ill. – Southern Illinois, you might be surprised by what's living right under your nose.
A 24-hour BioBlitz, the first one held among the campus community at Southern Illinois University Carbondale, found more than 300 species of flora and fauna living in the area. The effort not only highlighted the diversity of plants and animals, it also was a good way to spot invasive species that might potentially alter the native Southern Illinois ecosystems.
A BioBlitz is a concentrated effort to record as many species as possible within a designated location and time period, which can vary from 24 hours to a month. The designated location can be anywhere but is usually a clearly defined place, such as a park or university campus.
Brent Pease, assistant professor in the Forestry Program in the School of Agricultural Sciences, organized the event, held Aug. 20. Some aspects of Pease's research program involve a "citizen science" approach – the practice of involving the general public and all ages in any part of the scientific process.
Participants recorded their observations via a phone app to an online platform called iNaturalist. The online community then worked together to identify all the observations to the highest taxonomic resolution possible.
"BioBlitz is a great introduction to this approach," Pease said. "Several annual BioBlitzes exist across the country with organizations such as the National Park Service or even state museums. To my knowledge, this is the first effort to document the campus' biodiversity in such a concentrated effort."
By the numbers, it's clear the Saluki community got behind the 24-hour effort.
-145 students, volunteers and members of the public were involved.
-1,349 observations were recorded.
-302 different species were identified, though that number may increase or decrease as the data are studied further.
Plants made up the vast majority of the observed species, followed by insects. Fungi and mammals were approximately tied for third, with birds, spiders, amphibians and reptiles bringing up the rear.
Pease said BioBlitz gives a community and researchers a wildlife snapshot. Once researchers collect several years of data, they can start to build a better picture to understand where and how species composition is changing across time and space.
The SIU BioBlitz results will remain online in open-access biodiversity databases, Pease said. This allows researchers, wildlife managers, practitioners and the general public to use the information to understand when and where a given species occurred in history.
"Ideally, we can link the change in species occurrence to large-scale environmental change, such as climate change or landcover change," he said.
The BioBlitz effort also typically results in members of the public learning more about the wildlife and biodiversity living all around them, Pease said.
"As participants travel across the targeted area looking for interesting species around them, they are typically moving slower, listening for unusual sounds, or noticing plants, insects, or fungi that they may have not seen before."
Pease said all the species documented are important, but he particularly enjoys seeing the green heron and spotted sandpiper on Campus Lake, among others.
"It is always nice seeing monarch butterflies, which we documented just outside of the Agricultural Sciences building," he said. "I also was a bit surprised by seeing observations of an eastern chipmunk on campus. We are well within their range across the United States but I don't recall seeing one on campus before, so that was kind of fun."
And although not necessarily a highlight for some, BioBlitzes can also document non-native, invasive species, which is important information for managers and researchers, Pease said.
"Our students documented bull thistle, Japanese stiltgrass, autumn olive and garlic mustard, among others," he said.
The SIU campus is the perfect location to begin a long-term BioBlitz effort, Pease said, because of its many natural areas including Thompson Woods and Campus Lake.
"With the size and location of our campus we get unique birds, insects and plants," he said. "We have a great walking path system that allows participants to easily survey several areas across campus. It's important that folks do not have to travel very far and they will likely encounter a species that they have not seen before. That is useful information for scientists studying species distributions and for the general public that enjoys learning about the flora and fauna in our area."