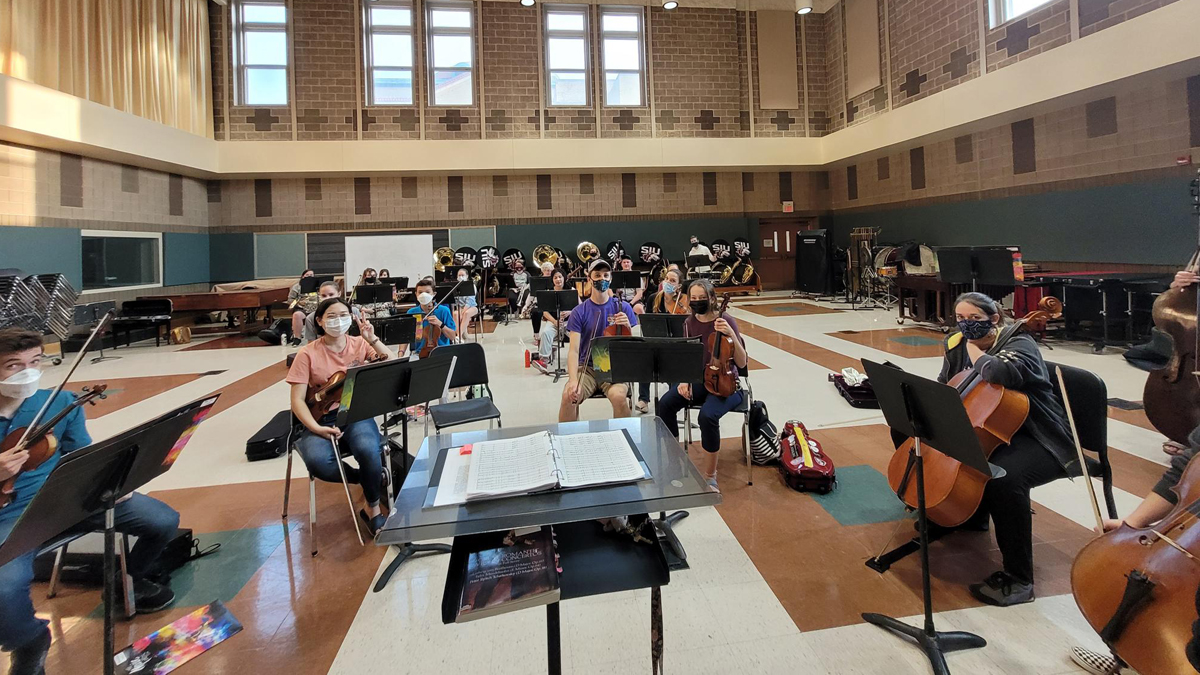 Southern Illinois Symphony Orchestra members practice recently in SIU Carbondale's Altgeld Hall. The 2021-22 season opens Sept. 21. (Photo provided)
September 10, 2021
Southern Illinois Symphony Orchestra season features works by Tchaikovsky
CARBONDALE, Ill. – An exciting fall lineup is ahead as the Southern Illinois Symphony Orchestra's 2021-22 season gets underway later this month.
The series, "Tchaikovsky Bookends," starts Sept. 21 in Southern Illinois University Carbondale's Shryock Auditorium with the Tchaikovsky Violin Concerto, featuring SIU alumnus and violinist Kiril Laskarov, concertmaster with the Arkansas Symphony Orchestra.
In addition to music from Tchaikovsky, works by Felix Mendelssohn, Cécile Chaminade, Arturo Marquez and William Grant Still will be featured. Jace Kim, associate conductor and a graduate assistant in the School of Music, will serve as conductor.
"We have a diverse program for the September concert, ranging everywhere from a classic Mendelssohn orchestral overture, 'Fingal's Cave,' to much lesser-known pieces," Kim said. "Most of our program, excluding the Tchaikovsky Violin Concerto, of course, is foreign to most of our veteran musicians as well."
Kim said the program will begin with Mendelssohn's musical painting of the Fingal's Cave, located off the coast of Scotland, in his "Hebrides Overture." A couple movements out of a not very well-known ballet suite by Cecile Chaminade will follow. The program continues with a short piece by an American William Grant Still titled "Summerland," as well as Arturo Marquez's "Danzon No. 2," a popular Mexican contemporary classical piece.
The Southern Illinois Symphony Orchestra, which includes SIU faculty and students along with talented community musicians and professionals from the region, has been providing high-quality musical entertainment in Southern Illinois since 1903.
All performances are at 7:30 p.m. in Shryock Auditorium.
On Nov. 2, the symphony will present "Reawakening," which will include works by Beethoven, Rossini, Wagner, Grieg, Holst and Tchaikovsky. Kim will also conduct that performance.
Three performances are set for the spring 2022 semester. They are:
March 29 – "Hooray for Hollywood." The symphony orchestra will present 100 years of music from Hollywood. The performance will be conducted byEdward Benyas, professor of oboe.
April 12 – "Mozart Requiem." The symphony orchestra will accompany the SIU Concert Choir and Choral Union. Susan Davenport, professor and director of choral activities in the School of Music will conduct.
April 26 – "Tchaikovsky 5th." The symphony orchestra and the Southeast Missouri Symphony combine for Tchaikovsky's 5th Symphony and Rachmaninov's 2nd Piano Concerto, featuring Evan Wong, piano. Benyas and Sara Edgerton, professor of cello and string bass at Southeast Missouri State University, are conductors.
Season tickets available online
Season tickets are available in advance online through the SIU Ticket Office. Season passes are $100 apiece; $85 for patrons under 50 and $50 for students of any age. All seating is general admission to allow for social distancing if required or desired. Individual performance tickets are available only at the door: $20 for general admission and $10 for students.
SIU is committed to protecting the community, so all those attending the performances must wear masks and follow current campus and state pandemic safety protocols.