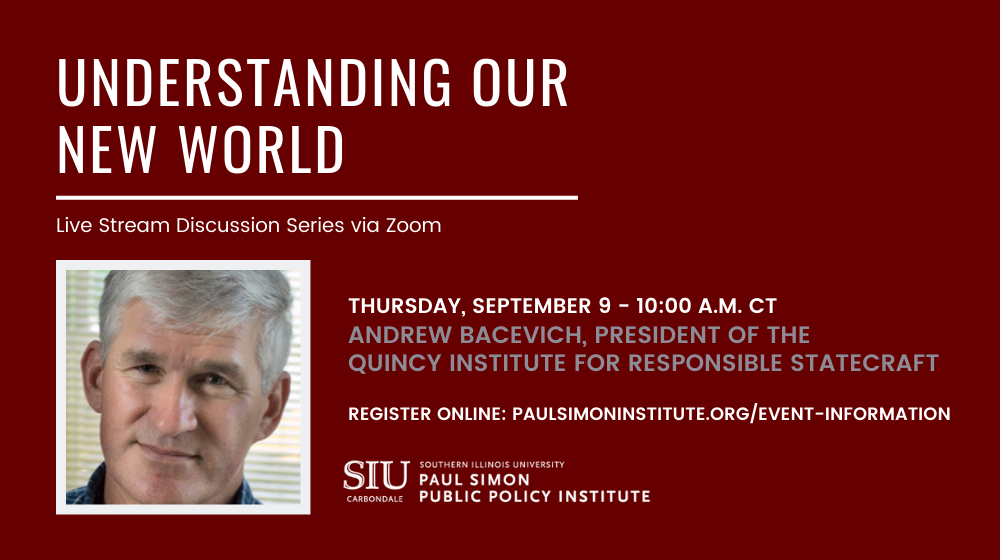 September 02, 2021
Foreign policy expert to speak on America's post-9/11 security policies, withdrawal from Afghanistan
CARBONDALE, Ill. – Author and foreign policy expert Andrew Bacevich is the next guest in the virtual conversation series hosted by Southern Illinois University Carbondale's Paul Simon Public Policy Institute.
Bacevich, a professor emeritus of history and international relations at Boston University and president of the Quincy Institute for Responsible Statecraft, will join the institute for the virtual conversation via Zoom at 10 a.m. Thursday, Sept. 9.
John Shaw, institute director, will interview Bacevich about his new book, "After the Apocalypse: America's Role in a World Transformed," his work at the Quincy Institute, and his perspective on the United States' 20 years in Afghanistan.
"After the Apocalypse" explores how the events of 2020 have exposed shortcomings in the nation's national security policy.
Bacevich has written or edited more than a dozen books, including New York Times bestseller "The Limits of Power: The End of American Exceptionalism." He is the founder and president of the Quincy Institute for Responsible Statecraft, which, according to its mission statement, "promotes ideas that move U.S. foreign policy away from endless war and toward vigorous diplomacy in the pursuit of international peace." He served in the Army and taught at West Point and Johns Hopkins before joining the faculty at Boston University.
"Andrew Bacevich is a bold, bracing, and penetrating analyst of American foreign policy," Shaw said. "He is unafraid of challenging conventional wisdom and taking on sacred cows. He will help us understand a world – and a nation – in turmoil."
The event is free and open to the public. Registration is required for access to the Zoom webinar. Attendees are encouraged to submit questions for Bacevich with their registration or email questions to paulsimoninstitute@siu.edu.
The event is part of the institute's Understanding Our New World virtual conversation series with government and private sector leaders, policy experts, political analysts, authors, and journalists. For more information, visit paulsimoninstitute.org/event-information.