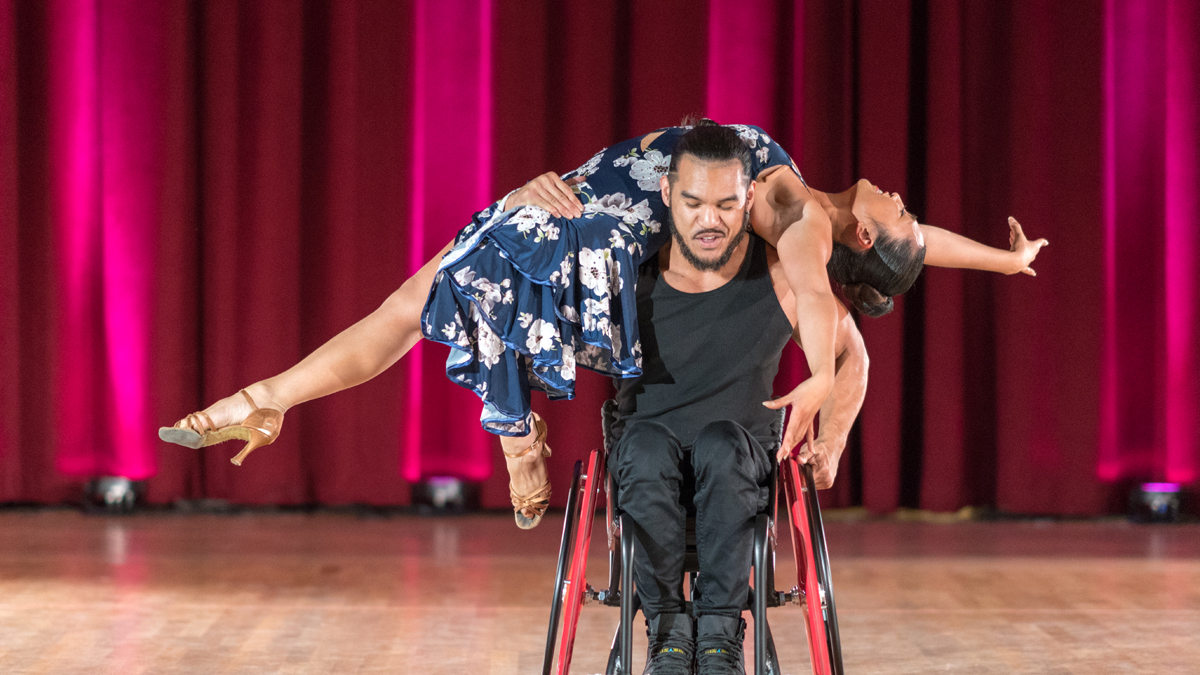 August 26, 2021
SIU's Diversity Week events look toward a more inclusive future
CARBONDALE, Ill. — Southern Illinois University Carbondale will celebrate its rich history of diversity and inclusion while also looking toward a more diverse, equitable and inclusive future during Diversity Week 2021. The activities start Monday, Aug. 30, and run through Sept. 3.
Known for a longstanding tradition of diversity dating back to the university's inaugural class of 143 students, SIU's 2021 celebration will include guest speakers, discussions, special presentations, training sessions and a dance performance from the award-winning Infinite Flow Dance group. All of the events are free and open to the campus community and the public.
"We have the unique opportunity to educate our community on diverse cultures and address the differences that exist among us, all the while seeing our inclusive excellence on display," said Paul Frazier, vice chancellor for diversity, equity and inclusion.
"Envisioning Inclusivity" is the theme for the cross-campus collaborative celebration. Frazier encourages students, faculty, staff and community members to check out the schedule of events and plan to attend those "that will challenge and inspire you." Find the complete schedule of events for Diversity Week online. For more information, email diversity@siu.edu or call 618-453-1186.
Meet and greet, dance performance launches celebration
Noting last year's inaugural celebration was completely virtual, organizers are excited this year's Diversity Week features a mix of in-person activities and online and hybrid events.
Chancellor Austin Lane kicks off Diversity Week as he and a variety of guest speakers share their visions for diversity, equity and inclusion at SIU during a campus meet and greet from 3 to 4:30 p.m., Monday, Aug. 30 in the Student Center Ballrooms.
Participants will also be able to check out the assorted tables and booths, meet with representatives of SIU student organizations, units and departments as well as campus and community organizations while learning about resources and efforts to create a more inclusive environment.  
Then, the celebration moves to Shryock Auditorium for the Infinite Flow Dance performance at 6 p.m.  Infinite Flow, an award-winning inclusive dance company established by Marisa Hamamoto, features dancers with and without disabilities. The group's mission is to promote inclusion, dismantle biases, help people learn about themselves and bring everyone together through their dance experience.
Promoting justice, designing change
On Tuesday, Aug. 31, Sasha Costanza-Chock, director of research and design at the Algorithmic Justice League, will lead a hybrid "Design Justice" presentation from 5 to 6 p.m. in Morris Library's John C. Guyon Auditorium. The discussion will focus on how to create and promote community-led practices that promote justice. It can also be viewed remotely via the event link at diversity.siu.edu/diversity-week.
SIU's strategic plan, diversity initiatives highlight Sept. 1 events
SIU President Daniel Mahony and Sheila Caldwell, the SIU System vice president for antiracism, diversity, inclusion and equity, will host a virtual conversation from noon to 1 p.m. on Sept. 1. The discussion will highlight steps each of the SIU campuses will take to fight racism. The link to the event will be at diversity.siu.edu/diversity-week.
Disability advocate Haben Girma, the first deaf and blind graduate from Harvard Law School, is a guest speaker at 5 p.m. in Guyon Auditorium at Morris Library. A disability rights advocate and author, Girma's honors include being recognized in 2013 as a "Champion of Change" by President Barack Obama. The presentation can also be viewed by a Zoom link on SIU's diversity website.
Chancellor Lane and guests will then host a panel discussion from 6 to 8:30 p.m. in Guyon Auditorium on "Envisioning Inclusivity: A Campus Conversation on Diversity."  The discussion will focus on equity and inclusion issues and goals for the campus.
Focus on inclusivity, diversity continues Sept. 2
An eclectic mix of events throughout the week will address various issues pertaining to inclusivity, racism, diversity and equity. The schedule includes:
"Teaching in a World of Bad-Faith Actors and Arguments" – a virtual presentation by Jonathan Friedman of PEN America, 11-12:30 p.m. While campuses are often a place for the exchange of ideas, they can also became a place of polarization, heated disagreement, trolling, harassment and bad-faith arguments, so Friedman will help people realize the importance of a "good faith" approach to the exchange of ideas and opinions.
"The City We Became" – 3:30-4:30 p.m., Communications Building, Kleinau Theatre. A live presentation by Reynaldo Anderson, associate professor of communication at Harris-Stowe State University and executive director of the Black Speculative Arts Movement. His presentation examines the intersections of identity in the five boroughs of New York City and how this relates to issues of intersectionality, in general and how we individually embrace inclusivity. He will discuss his work, his vision for Afrofuturism and his own family legacies that trace back to Africa.
"Navigating a Biracial Identity through Art" – 5-6 p.m., SIU School of Law, Hiram H. Lesar Law Building Auditorium. J. Leigh Garcia, a biracial Dallas artist, will explore the artistic expressions of identity, and in keeping with her own ancestral roots, the complex relationships between Texans and Mexicans, especially regarding the racialization and displacement of unauthorized Latinx immigrants. Garcia has worked collaboratively with various art partners on projects including: Women Against Hate United By Love, Resiliencia and Soñé Milpa.
The Diversity Week closing ceremony and mixer is from 1 to 3 p.m., Friday, Sept. 3, in Morris Library's first floor rotunda.  Everyone is invited to join Meera Komarraju, provost and vice chancellor for academic affairs, and the Chancellor's Task Force on Diversity and Inclusion in a time of reflection on the week's activities and conversations about personal visions and goals for inclusivity, diversity and equity on the SIU campus for this academic year and the future.
Sponsors include the Office of the Chancellor; Vice Chancellor for Diversity, Equity and Inclusion; Disability Support Services; Office of Student Engagement; Graduate and Professional Student Council; Undergraduate Student Government/Black Affairs Council; College of Liberal Arts; Paul Simon Public Policy Institute; Women, Gender and Sexuality Studies; Sustainability Office; School of Law; School of History and Philosophy; and Library Affairs.
SIU is committed to protecting the community, so all those attending the Diversity Week events must wear masks in shared indoors spaces and follow current campus and state pandemic safety protocols.