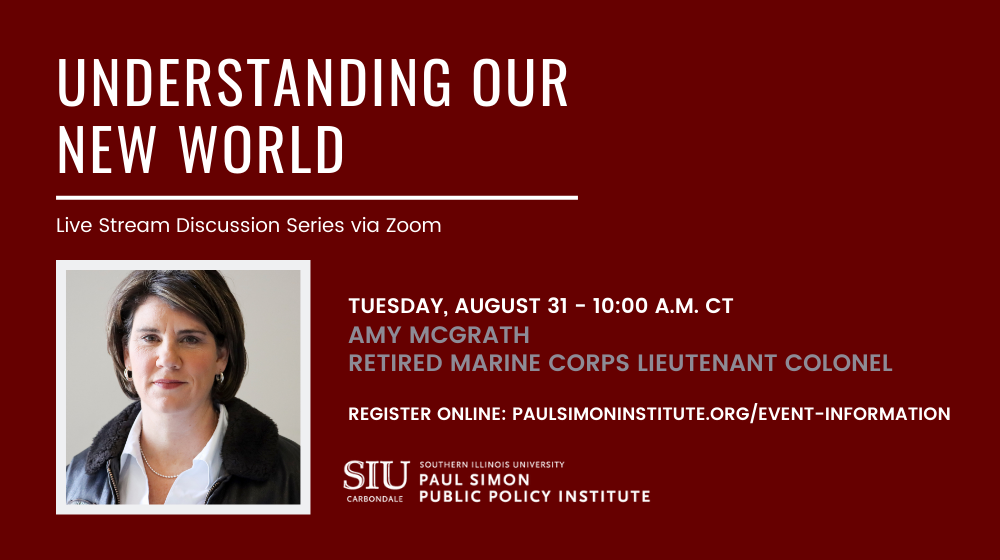 August 25, 2021
Retired fighter pilot, former U.S. Senate candidate to discuss lessons from Afghanistan and Iraq

CARBONDALE, Ill. – Amy McGrath, a retired fighter pilot who served in Afghanistan and Iraq, will share her thoughts next week on lessons the United States should learn from the nation's withdrawal from Afghanistan. Southern Illinois University Carbondale's Paul Simon Public Policy Institute is hosting the virtual discussion.
McGrath, a retired U.S. Marine Corps lieutenant colonel and former candidate for U.S. Senate in Kentucky, will join the institute for a virtual discussion at 10 a.m. Tuesday, Aug. 31. John Shaw, institute director, will discuss with McGrath her military service in the Middle East and her foray into electoral politics.
The event is free and open to the public; registration is required at paulsimoninstitute.org/event-information to receive the link to the Zoom webinar.
McGrath is a graduate of the U.S. Naval Academy, where she later taught. She flew 89 combat missions in Iraq and Afghanistan, and in 2002 became the first woman in the Marines to fly a combat mission in an F/A-18 combat jet. She later served as a congressional fellow and as a Marine Corps liaison to the U.S. Department of State.
After her retirement, McGrath ran for the U.S. House and Senate in Kentucky, most recently vying to unseat Mitch McConnell, the highest-ranking Republican in the Senate. She has also founded Honor Bound, a nonpartisan organization that supports women running for public office. Her memoir, "Honor Bound: An American Story of Dreams and Service," was published Aug. 3.
"Amy McGrath has had an inspiring and iconic career that has taken her from a childhood in Kentucky to the Naval Academy in Annapolis to flying fighter aircraft over Iraq and Afghanistan," Shaw said. "Amy will help us grasp the strategic consequences of the recent tumultuous developments in Afghanistan. She will also help us understand how these recent developments are viewed by America's current soldiers and veterans."
The event is part of the institute's "Understanding Our New World" virtual conversation series with government and private sector leaders, policy experts, political analysts, authors and journalists.

Attendees are encouraged to submit questions for McGrath with their registration or email them to paulsimoninstitute@siu.edu.