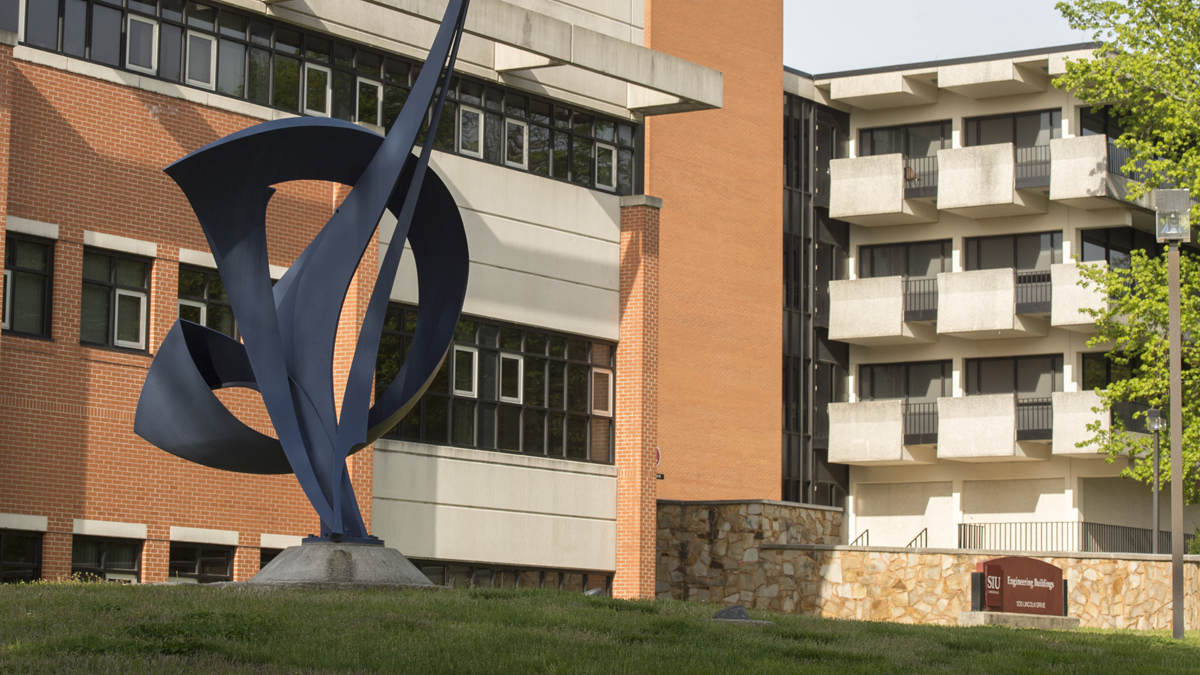 August 19, 2021
SIU faculty member, student receive honors for innovation
CARBONDALE, Ill. – A Southern Illinois University Carbondale faculty member and an undergraduate student received statewide awards for innovation during the Illinois State Fair on Wednesday.
Professor Ken Anderson, director of the Advanced Coal and Energy Research Center, and Nelson Fernandes, a senior in mechanical engineering, were honored by the Illinois Innovation Network with the organization's inaugural awards. The awards celebrate advances in research, technology commercialization and education across 12 public universities and 15 innovation hubs throughout Illinois.
The Illinois Innovation Network is a group of public universities and community colleges working together to improve the state's economy through an inclusive approach to innovation, research and education. It works with businesses, governmental agencies and community groups to grow Illinois' workforce, bring new technologies to market faster, and utilize research to make better decisions through an equity approach for the state.  
The organization made the awards based on each entry's novelty, potential impact on society, contribution to the field, feasibility and support of its principles.
The awards ceremony was Aug. 18 on the main stage at the Tech and STEAM Expo at the Illinois State Fair in Springfield.
Long-term service
Anderson has a long record of accomplishment at SIU.
After working as a postdoctoral fellow and organic geochemist at Argonne National Laboratory, as well as in the private energy sector as a research scientist, Anderson arrived at SIU in 2003 as an associate professor of geology, becoming a professor in 2007. He was appointed director of ACERC in 2020.
In 2010, he founded Thermaquatica Inc., an energy company focused on his patented process that treats coal, wood or agricultural byproducts with oxygen in superheated water, breaking it down into useful products in an environmentally friendly way. Based in Carbondale, Thermaquatica that has created a substantial patent portfolio that resides in several jurisdictions across the globe and has a global network of collaborating entities.
Showing great promise
Fernandes has been extensively involved in the innovative Green Roof sustainability project at the Agriculture Building. It features space for native plants, growing vegetables and flowers and conducting research while demonstrating the benefits of sustainable roofs.
He is receiving the award for his work on expanding the Green Roof's vision by fostering an interdisciplinary, virtual team of students from SIU and other universities.  The students designed and manufactured a temporary wind turbine, installed in May.
In 2018, Fernandes, a senior in mechanical engineering from Skokie, also won the university's first Energy Boost Scholarship from the ACERC. The scholarship provides $20,000 for tuition and fees -- $5,000 annually for four years – and is available on a competitive basis for all students pursuing mechanical engineering with specialization in energy engineering or a minor in energy engineering.
Fernandes' other campus activities include Undergraduate Student Government, Engineering Student Council, and the Robotics Team. He also completed the SIU's highly competitive Leadership Development Program in 2019, as well as summer internships with Berkshire Hathaway Energy Pipeline Group and Dominion Energy, with projects targeting energy cost savings.