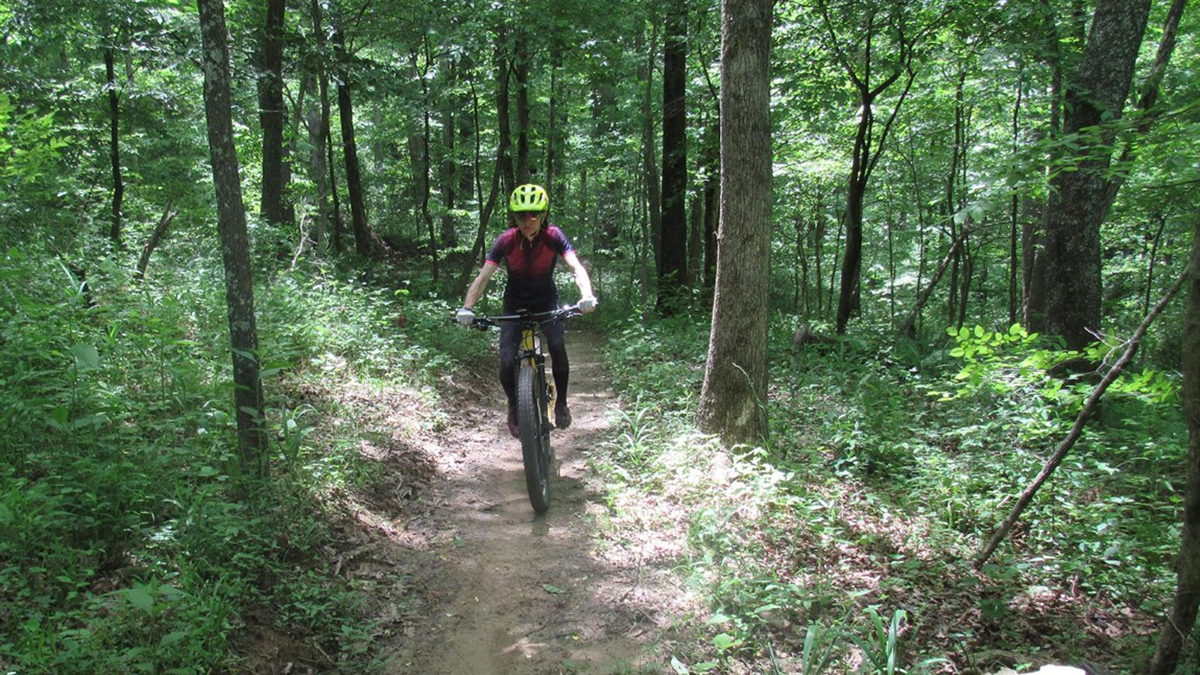 August 12, 2021
SIU's new Multiuse Trail System hosting Catalyst bike races this fall
CARBONDALE, Ill. — The new Catalyst Race Series is your chance to try out one of the Midwest's newest mountain biking trail systems and help raise funds to expand Southern Illinois University Carbondale's Touch of Nature Multiuse Trail System.
Touch of Nature Environmental Center, in partnership with the Bike Surgeon and the Shawnee Mountain Biking Association, is hosting a series of three cross-country style mountain bike races this fall, designed to appeal to a wide variety of riders.
First race is Aug. 28
The fall mountain bike race series kicks off on Aug. 28 with divisions for racers of every age and experience level. Racers must wear helmets and will compete with staggered start times on varied course lengths. The divisions include:
Kids (boys and girls), ages 13 and younger.
Junior men, ages 14-17.
Junior women, ages 14-17.
Beginner men.
Beginner women.
Sport men.
Sport women.
Expert men.
Expert women.
Winners will claim prizes in each division. Register online by Aug. 26 for $35. The fee includes lunch.
Race 2 in September
The second race is on Sept. 18 and will feature the same race divisions and format as the August race. Registration is also $35 per person and required no later than Sept. 16.
For both races, race packets will be available at 8 a.m. at Freeberg Hall at Touch of Nature's Camp 2 and a pre-race meeting starts at 8:45 a.m.
The races for both the August and September events include:
Men and women expert races at 9 a.m. including three 8-mile laps.
Men and women sport races at 9:30 a.m. featuring two 8-mile laps.
Men and women beginner races at 10 a.m. consisting of one 8-mile lap.
Races for juniors ages 14-17 at 10:10 a.m. and children ages 13 and under beginning at 10:20 a.m.
All race start times are subject to change. Check the website for updates.
More event details
Parking for riders and spectators is available at the upper and lower parking lots at Camp 2 with additional parking at the main trailhead near the entrance to Touch of Nature Environmental Center, about eight miles south of Carbondale off Giant City Road. Viewing locations will be available along the course but spectators will need to walk to various locations from the main trailhead parking lot. Food and beverages will be available beginning at 10 a.m. The awards ceremony is slated to start about noon.
Final race of season in November
The last race of the 2021 Catalyst Race Series is Nov. 20 and will be part of a full weekend of biking activities. More details about this exciting weekend are coming soon at ton.siu.edu/.
Annual race series will help expand trail system
The series serves as the official launch for Touch of Nature's trail system, created after years of planning and thousands of hours – including many donated by volunteers from the community and students – of hard work. The first phase of the nation's only university-affiliated multiuse trail of this scope includes 10 miles of natural surface single-track trail for use by bikers, hikers, runners and walkers.
The trail system officially opened for the public to use in May and it has already proven quite popular. When completed, the trail system will encompass about 30 miles of stacked loop trails, an adult terrain park, a children's terrain park, an event center space and other trail features.
Proceeds from the race series will go toward continuing work on the trail system project.
Sponsors include Touch of Nature Environmental Center, the SIU Credit Union, the Bike Surgeon and the Shawnee Mountain Bike Association.
For more information about the new multiuse trail system or Touch of Nature, visit ton.siu.edu, call 618-453-1121 or email tonec@siu.edu.