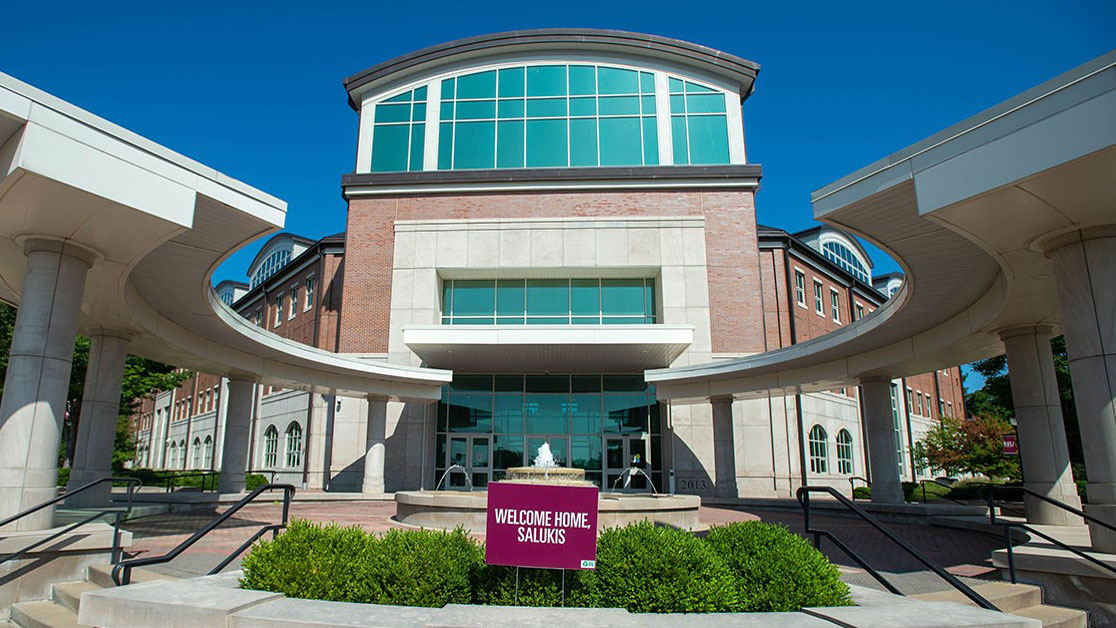 August 05, 2021
SIU welcomes new and returning students to campus next week
CARBONDALE, Ill. — Southern Illinois University Carbondale is rolling out the maroon carpet to welcome new and returning students to campus, Saluki-style, with a wide variety of special activities during Saluki Startup and Weeks of Welcome.
Move-in starts Thursday, Aug. 12, with classes beginning Aug. 16. Preparations have been underway for months to make sure students feel welcome and become acclimated to campus. Event schedules are constantly being updated with more activities, but students can keep abreast of what is happening by visiting wow.siu.edu or downloading the Saluki Superfan app, their portal to keep tabs on student life all year long.
"We're excited to welcome not only our new, incoming class, but also our returning students," said Emily Spann, director of New Student Programs, which coordinates the events. "Some students haven't physically been on campus in a while because of the pandemic so we're really excited to be hosting great events for all of our students."
The university's COVID safety protocols will be in place. More information is available at siu.edu/coronavirus. The events and schedule are subject to change; check the website and app for the latest information. SIU Carbondale faculty and staff are volunteering their time and energy to help with the scores of special events to help make sure the fall semester kicks off on the right note for students.
Dawg Days helps new students successfully transition to college
Freshmen and transfer students age 25 and younger are welcome to participate in the Dawg Days New Student Retreat, set for Sunday through Thursday, Aug. 8-11, at Touch of Nature Environmental Center. Organized and led by students, this action-packed retreat is designed to help their peers successful transition to college life. Participants learn about SIU traditions, services and the SIU network and support system before they arrive on campus for classes. There will also be an assortment of fun activities, including battleship games played in canoes, duct-tape dodgeball, themed evening socials, swimming, pizza parties, kayaking, canoeing, hiking, rock climbing and much more. Students will have a chance to meet with Chancellor Austin Lane and other campus administrators, faculty and staff during the retreat.
---
­­­­­­­­­­­­­­­­­­­­­­­­­­­­Media advisory
Reporters, photographers and news crews are welcome to cover many of SIU's Dawg Days New Student Retreat activities at Touch of Nature Environmental Center. Opportune times to capture good stories, photographs and video include:
SIU Athletic Director Liz Jarnigan will welcome new Salukis with an ice cream social at 6 p.m. on Monday, Aug. 9, at Freeberg Hall.
Chancellor Austin Lane will visit with the students at 5 p.m. on Tuesday, Aug. 10, at Freeberg Hall.
Students will rotate between duct-tape dodgeball, canoe battleship, Ichi Meany How and broomball games from 9 a.m. until noon on Monday and Tuesday, Aug. 9 and 10 in Camp 2.
New students will enjoy leisure time activities such as climbing Touch of Nature's rock wall, swimming, nature hikes, and paddling in the lake beginning at 3 p.m.,Monday, Aug. 9, and from 1 to 2 p.m., Tuesday, Aug. 10 in the Camp 2/Camp 2 beach area.
For more information, or to arrange a visit at another time, contact Brian Croft at 618-453-1121 or bcroft@siu.edu.
---
Saluki Startup
Creating a Saluki family connection is the focus of Saluki Startup, designed especially to help students get acquainted with one another and the campus. Incoming students can participate in a variety of activities including vaccination clinics, a resource fair, movie night, a Saluki Service Day at Brehm Preparatory School in Carbondale, along with numerous meet-and-greet events within various colleges and groups. 
One of the most popular events added to the schedule in recent years is Light up the Lake, set for 7-10 p.m. on Aug. 12 at Campus Lake/Becker Pavilion. The night features a DJ, freebies, glow-in-the-dark games and activities, snacks, inflatables and tons of fun.
New students – from the classes of 2024 and 2025 – won't want to miss the kickoff event at 6 p.m. on Aug. 13 at Shryock Auditorium. It's a good old-fashioned pep rally, complete with inflatables, a DJ and food. A class picture that includes  first- and second-year students will be taken since the pandemic prevented last year's class photo. 
Dawg's Nite Out from 7 to 11 p.m. Aug. 14 at the Student Center is a long-time SIU tradition, featuring laser tag, a photo booth, bingo, food and inflatables.
Another Saluki Startup highlight is the traditional Chancellor's Welcome Fest on the Morris Library lawn from noon to 2 p.m. on Aug. 15.  The event will offer a cookout for students, a DJ, climbing wall, yard and watermelon games, giveaways and the chance for students to get better acquainted with Chancellor Lane and other campus administrators, faculty and staff.
Weeks of Welcome
New and returning students can connect with other students, faculty, staff, campus departments and SIU and community organizations through a very diverse six Weeks of Welcome, or WoW, as we like to call it at SIU.
Activities will include open houses, job fairs, registered student organization events, movies, bonfires, barbecues and workshops. Each week's schedule is at wow.siu.edu/schedule. Highlights include:
Aug. 21 — 10 a.m. to noon, family carnival, Student Recreation Center. Geared toward non-traditional families, the event is a great way to learn about campus and the community and enjoy games, a bounce house and snacks for free.
Aug. 30-Sept. 4 — Diversity Week. Events include LGBTQIA+ terminology and pronoun training, a discussion of military culture, Infinite Flow Dance performance, and numerous virtual or live special guest presentations. Chancellor Lane and panelists from the SIU community will have a discussion, "Envisioning Inclusivity: A Campus Conversation on Diversity," at 6 p.m. Sept. 1, in the Morris Library Rotunda. The panel will discuss  issues and goals pertaining to diversity, equity and inclusion on campus.
Sept. 16 — 7 p.m., Shryock Auditorium. "Jeopardy!" champion and author Ken Jennings.
Weeks of Welcome wrap up with Saluki Family Weekend, Sept. 24-26. That includes a craft sale, a Greek Sing, and the football Salukis hosting Illinois State.
Spann said all of the activities are a great time for the community to embrace SIU students and make them feel a part of the Saluki family.
"As the fall semester approaches, we're encouraging not only the campus community, but also the regional community to put out their SIU flags and banners, wear their Saluki apparel and truly paint the area maroon," she said. "Let's give our SIU students a great Southern Illinois welcome!"